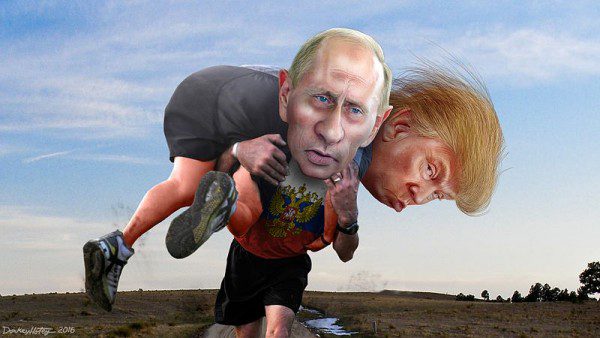 The New York times broke a story yesterday that fits the pieces of Donald Trump's bizarre foreign policy together. It also makes this election about a lot more than issues. It raises an ugly and unthinkable question: Is Mr Trump a Manchurian candidate of sorts?
Let's talk background. What "pieces" am I referring to?
1. Mr Trump fired the campaign manager who had brought him successfully through the primaries and replaced him with a "professional" campaign manager of the right. This new campaign manager has a well-known background of working for campaigns in the Ukraine.
2. Mr Trump has said that he will truncate our NATO allegiances in favor of allying this country with President Putin and the Russians. Think about that: He's talking about changing our historic alliances with Great Britain, France, Germany and Italy, and switching — willy-nilly — to allying this country with Russia, presumably at least somewhat against our former allies.
3. He's blathered so much about his favorable feelings for President Putin that the press has talked about a "bromance" between the two men.
4. Now, according to yesterday's New York Times article, he fired the campaign manager who successfully brought him to the nomination and replaced him with one of the most dubious of political hacks, who, it turns out, may have been given millions of dollars in cash from — you guessed it — the Russians.
I've been appalled ever since I first read about it about his 
his constant hinting at an incestuous relationship with his daughter
, the fact that he
put his wife in porn photo shoots
, and
the way he talks about women
.
Christians need to be very careful about endorsing Mr Trump. Other people judge Jesus by the things we do and say, and they will inevitably conclude that our faith is worthless if we excuse behavior like this for political expediency.
There are certain levels of misogyny that Christians can not align themselves with, even indirectly and for what seem to be noble reasons such as the right to life. If they do so, they destroy the integrity of their witness for Christ and besmirch the causes they hold dear.
A man who hints at incest with his daughter and who puts his wife in porn photo shoots and who talks about women the way Mr Trump does has to be an example of one of them. His behavior is anti-Christ and we may not condone it, even indirectly.
Having said that, I want to go back to the points I made about Mr Trump's foreign policy ideas and his campaign manager's possible money ties to Putin. The question which comes to mind is simple and straightforward: Did Mr Trump sell this country out to Putin? Is he a Manchurian candidate?
If this story turns out to be true, it raises questions that are even uglier than the questions about Mr Trump's hatred of women and use of them as sexual things. It raises questions that are worse (if such a thing is possible) than the degradation this nation will suffer if we elect a president who jokes about incest with his daughter and has put his wife in porn photo shoots. The question is, quite simply, is he a traitor to this country?
Is he talking about changing our foreign policy in draconian ways to the harm of this nation because of some nefarious money connection between him and the Russian leadership?
I want to emphasize that I don't know that this is true. But the story in the New York Times, if it turns out to be true, points toward that being a possible explanation of Mr Trump's outlandish foreign policy ideas, as well as his "bromance" with President Putin.
I do know that Mr Trump is not only unfit for the presidency, he is unfit for the endorsement or support of any Christian organization. I include in that organizations that are not specifically Christian but which hold Christian ideals.
I understand what I am saying. I know full well the debacle many of our causes face if Secretary Clinton wins this election.
But I am an American. From the top of my fuzzy hair, to the soles of my Okie feet, I love this country.
Mr Trump is unfit at any level to lead America.
Note: This post originally contained references to lawsuits filed against Mr Trump alleging that he held sex parties with teen-aged girls. A Public Catholic reader brought this story to my attention, calling that into question. For that reason, I removed references to the articles I had read from this post.