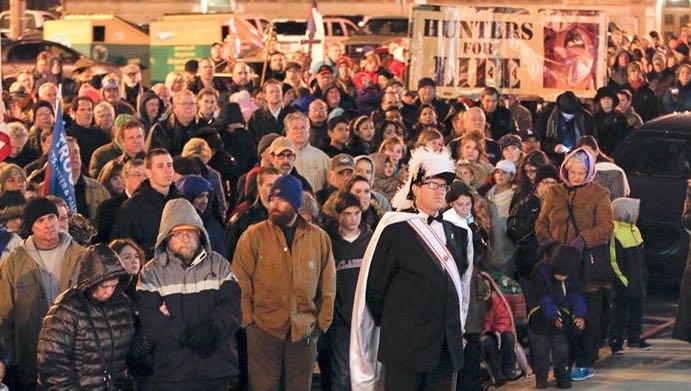 Every year we march. Tens of thousands of us march for life in the cold and the mush, year after year. We march in Tulsa and San Francisco and Washington, DC.
And every year the news folk ignore us. This unprofessional black out is a big part of why so many pro life people do not believe them when they try to tell truth about other things. They have destroyed their own credibility with these people by decades of denial of what the marchers themselves have experienced, which is a huge outpouring of protest of Roe and love for the unborn.
This has alienated and bred mistrust in generations of pro life people concerning the mainstream media.
mrcNewsBusters is trying to do something about this. They have issued a call for the news networks to cover this year's annual March for Life. Hopefully, it will bear fruit.
From mrcNewsBusters:
RESTON, VA – The Alliance for Fair Coverage of Life Issues announces its second annual #CoverTheMarchcampaign today, calling on the media to cover the 2017 March for Life and cover it fairly. The annual event held in Washington, D.C. draws hundreds of thousands of peaceful participants from all over the country. This year's March for Life, Friday, January 27, marks the 44th anniversary of Roe v. Wade, the Supreme Court decision that legalized abortion on demand.

The Alliance for Fair Coverage of Life Issues, a coalition of 25 pro-life organizations and two members of Congress was formed in 2016 in response to the consistently poor coverage media outlets have given to important, newsworthy life issues. Last year's censorship of the March for Life (which received a total of only 35 seconds of coverage from the broadcast networks) confirmed the media's contempt for those who don't share their liberal social agenda. Since the media covered the pro-abortion "Women's March on Washington" this year for 4,518 seconds, they should give comparable coverage to the hundreds of thousands of peaceful pro-life marchers.

Brent Bozell, President of the Media Research Center:
"This Friday is a true test for the media. They provided massive, and fawning coverage of the pro-abortion 'Women's March' just four days ago. The media's coverage of the 'March for Life' in two days, both in time and tone, will tell you everything you need to know about their support for abortion. With media's trust in the basement, they will be exposed for the partisan hacks they are if they don't give pro-lifers the same amount of coverage. I'm not holding my breath."