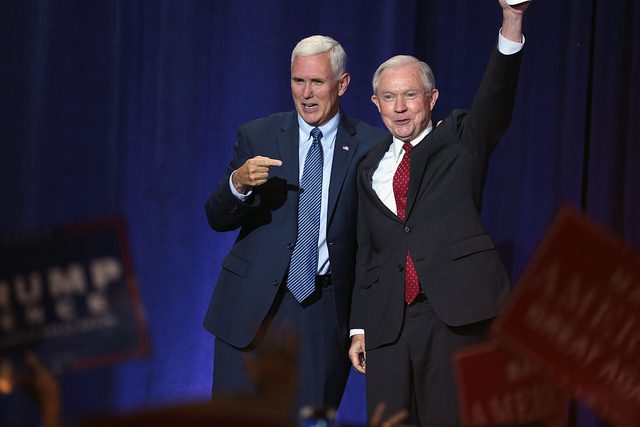 Did the same NAACP that came out swinging against Senator Jeff Sessions' nomination as Attorney General of the United States give him an award in 2009?
A photo of a plaque containing the words "NAACP Award for Governmental Excellence" is making the rounds today. The plaque, dated 2009, was found by an employee who was clearing out an office of Sessions'. It appears, from some of the photos, that the plaque was still in its box when it was found.
This photo is enough for those who want to be persuaded to decide that Attorney General Sessions is a changed man from the one Mrs Coretta Scott King wrote about in 1986. If you would like to read her letter, go here. You'll have to click through to get to it, but I encourage you to read it in full.
For the record, and on the record, Attorney General Sessions labeled this letter "damnable lies." That, and not this plaque, was his defense.
Personally, I don't find the photo of a forgotten plaque all that persuasive, even if it turns out to be genuine.
Here's why.
Public officials get awards all the time. They come in the mail, they are handed out at functions. They come raining in from everywhere. I myself have received awards from just about every group you can name, including groups that are diametrically opposed to one another. A photo of a plaque does not mean much, especially when the plaque meant so little to the recipient that they never took it out of the box and never produced it in their favor later.
I can tell you for sure that the awards that mattered to me got and continue to get more care than Attorney General Sessions gave this award. I cherish every award I got for pro life activities. I hung them on my office walls and have them still. I also cherish the awards I got from the firefighters and LULACS and for my efforts against violence against women. No one would ever find them in their original box. I'm proud of them and what I hope they say about me.
If Attorney General Sessions is indeed a changed man, we will know soon enough. We'll know because a man who is not a racist cannot support some of the policies of this president. We'll know because of what he does with the power of his office.
The plaque photo has caused quite a stir. A lot of people running are trying to trace it down. But the question of whether or not the National NAACP gave Attorney General Sessions this award appears to be settled. They did not.
Here is the NAACP's statement concerning the plaque photo, emphasis mine:
"The NAACP is composed of more than 2,000 local and state units around the country. Upon learning of the allegation that one of those units bestowed an award on Senator Jefferson Sessions in 2009, the National Office of the NAACP immediately undertook an investigation. While we already have strong reasons to doubt that any such award was given to Senator Sessions, we will continue our investigation until we are confident that we know all of the facts. What remains true and unchanged is the NAACP's strong opposition to the nomination of Senator Sessions to become the next Attorney General of the United States. The NAACP's position against Senator Sessions is based on his decades of conduct as a prosecutor and, later, U.S. Senator from the State of Alabama. In matters of civil and human rights, civil liberties, fair policing, voting rights, sentencing fairness, women's rights, hate crimes and more, Senator Sessions has repeatedly demonstrated that he is clearly unsuited to perform the duties of an Attorney General in these crucial times."
Snopes has been investigating the plaque photo and had this to say about it:
However, the above-displayed award has some unusual aspects to it. For instance, we found no record of anyone else's having received an "NAACP Governmental Award of Excellence," nor were we able to locate any reports (from 2009 or otherwise) regarding the NAACP's honoring Sessions with such an award.

When we reached out to the NAACP for more information about the award, a staffer confirmed to us that the national NAACP office does not give out an award by that name as part of their regular honors.
Did a local NAACP office give Jeff Sessions an attaboy? That would be the same Alabama NAACP that staged a sit-in against his confirmation as Attorney General. Was it a gag gift from one of Sessions' friends?
We don't know yet.
We do know that he did not produce it in his defense, and he did not claim to be an award-winning civil rights supporter during his confirmation hearings or the debate that followed. We do have the NAACP's confirmation of their opposition to his nomination based on what they say is a decades-long history of racism.
Whatever this plaque was or is, it appears that it did not mean all that much to Attorney General Sessions. He didn't think it meant he wasn't a racist. If he did, he would surely have used it to clear his name.