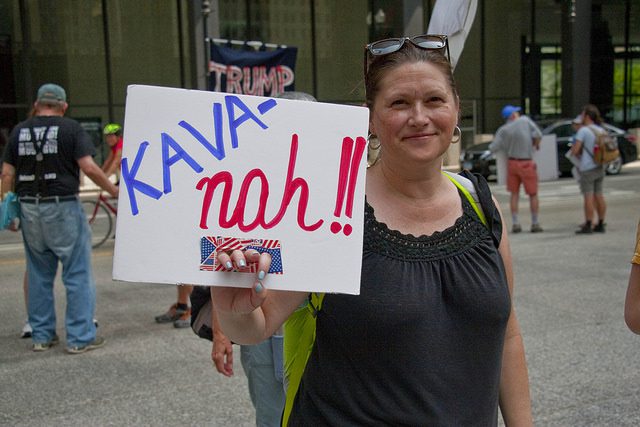 Back in 1991, Senate Republicans behaved like brutes toward Anita Hill. Of course, they got away with it.
Brutalizing women who have been victims of sexual assault to punish them for coming forward is a time-honored practice around the globe. It's all part of keeping them from coming forward. It's about forcing them to take it.
Lots of woman-hating women join in with these attacks, including, sadly, some of them have been victims themselves. My theory is that they have a sort of Stockholm syndrome going. Somewhere down in their miserable little psyches they hope that siding with the attackers will protect them from being attacked, or at least from being attacked again.
Will things be different for Dr Christine Ford than they were for Anita Hill?
This nation elected a known serial sexual predator to the presidency just two years ago, and the Republican boys' club has been churning, trying to find the way to demolish Dr Christine Ford without losing any votes for themselves this close to an election. In the meantime, the right-wing media has been calling her everything but a nice person. According to her attorneys, she's been subjected to death threats and she and her family have had to go into hiding.
That sounds like standard brutalize-the-assault-victim-into-silence to me. Contrary to the sludge tweets from America's sexual-predator-in-chief, 9 out of 10 sexual assaults, rapes and child molestings go unreported. Rape is the most unreported crime. These attacks on victims for reporting is a large part of the reason why. It's the whole society working to deny half the people their civil and human rights.
There are some women who are willing to take a stand for Dr Ford, the sexual assault groups, in particular. This is a gutsy thing for these groups to do, since they have to go on bended knee to these senators and ask for funding. I, for one, will be watching and reporting how that goes.
From HuffPost:
Sexual Assault Groups Stop Work With Senators Over Treatment Of Christine Blasey Ford
For two years, a task force of national sexual assault and domestic violence groups has been working behind the scenes with the Senate Judiciary Committee to reauthorize the Violence Against Women Act, which expires this year.

Now the National Task Force to End Sexual and Domestic Violence is suspending negotiations with the committee over its treatment of Christine Blasey Ford, the psychology professor who says Supreme Court nominee Brett Kavanaugh sexually assaulted her when they were teens.

In the days since Blasey came forward with her claims, a number of prominent Republicans have lined up behind Kavanaugh.

Sen. Orrin Hatch (R-Utah) called Kavanaugh a "good man," and said senators should judge his character today. Sen. Bob Corker (R-Tenn.) expressed sympathy for Kavanaugh, saying he couldn't "imagine the horror of being accused of something like this." On Friday, Senate Majority Leader Mitch McConnell reassured Republicans that Kavanaugh will be confirmed ― even though Blasey has not yet testified about her allegations. "Don't get rattled by all of this," he said. "We're going to plow right through it and do our job."

Blasey is currently negotiating the conditions under which she will testify before the Senate Judiciary Committee. In a letter to the committee on Friday, members of the National Task Force to End Sexual and Domestic Violence admonished senators for failing to treat Blasey with respect, saying lawmakers' actions and comments have set the clock back on responding to sexual violence.

"Your actions and comments in the past week have taken us back 25 years, as if VAWA never existed, as if all of the hard-won, evidence-based, best practices we have invested in as a nation were for naught. How can Congress legislate a coordinated community response for the nation, yet fail to live up to its own mandate?" the letter asks.
Elsewhere, the letter notes: "If the committee is not willing to engage in a process that upholds the dignity and safety of a person who has come forward to report that she was a victim of sexual assault, then they cannot pretend to care about the reauthorization of VAWA."

The Violence Against Women Act — which directs the national response to crimes of domestic violence, sexual assault, dating violence and stalking — was set to expire at the end of September, but was extended through Dec. 7 under a stopgap spending bill. A bill to enhance and extend the law for another five years, introduced by Rep. Sheila Jackson Lee (D-Texas), has not been taken up by either house of Congress.

"There's an enormous amount of frustration on the part of sexual assault experts who have spent endless hours with judiciary committee staff," said Kim Gandy, president of the National Network to End Domestic Violence, one of the groups in the task force. "They are outraged at the behavior of senators publicly treating a survivor of sexual assault in this manner. We've expended all this time trying to work with them, and this is where we end up?"

Read the rest here.