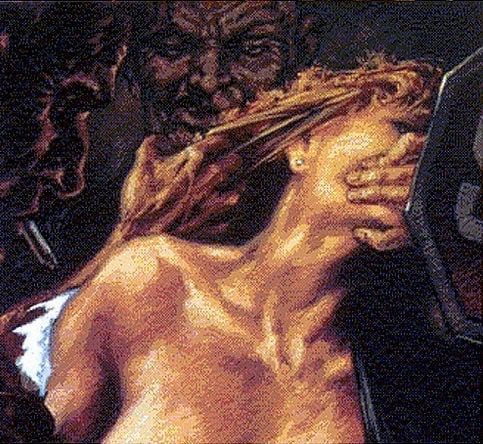 A third Kavanaugh accuser has stepped forward, and this time, the charge is gang rape. The gang rape survivor who had the courage to step forward is Julie Swetnick.
From CNBC:
Swetnick, in the affidavit posted on Twitter by Avenatti, claims that she saw Kavanaugh, as a high school student in Maryland in the early 1980s, "drink excessively at many" house parties in suburban Maryland. At the time, Kavanaugh and Judge were students at the the private Catholic school Georgetown Prep.

She said he and Judge engaged in "abusive and physically agressive behavior toward girls," which "included the fondling and groping of girls without their consent" and "not taking 'No' for an answer."

During the years of 1981 and 1982 she said she learned of efforts by Kavanaugh, his friend Judge and others "to spike the drinks of girls at house parties I attended with grain alcohol and/or drugs so as to cause girls to lose inhibitions and their ability to say 'No.' "

Certain girls were targeted by those boys, and "it was usually a girl that was especially vulnerable because she was alone at the party or shy," Swetnick claimed.

Swetnick said these efforts by Kavanaugh and his buddy Judge were done so the girls "could then be 'gang raped' in a side room or bedroom by a 'train' of numerous boys."

"I have a firm recollection of seeing boys lined up outside rooms at many of these parties waiting for their 'turn' with a girl inside the room. These boys included Mark Judge and Brett Kavanaugh," Swetnick said.

She also said in her affidavit sent to the Senate Judiciary Committee that in approximately 1982 "I became the victim of one of these 'gang' or 'train' rapes where Mark Judge and Brett Kavanaugh were present."

"Shortly after the incident, I shared what had transpired with at least two other people," Swetnick said.

"During the incident, I was incapacitated without my consent and unable to fight off the boys raping me, I believe I was drugged using Quaaludes or something similar placed in what I was drinking."
Ms Swetnick did the right thing and acquired legal representation before stepping forward. Her attorney, Michael Avenatti is already on guard. He issued this statement in advance of the smear storm that is sure to follow his client's courageous action in stepping forward.
"My client has been issued a number of security clearances by the federal government over the years. She has been fully vetted time and time again, and she is an honest and courageous woman.

"And I'm going to caution Donald trump, Brett Kavanagh, Chairman Grassley and others, if they try to come after my client or engage in some smear campaign, they better pack a lunch because we're going to respond two-fold," Avenatti said. "We are going to respond double as it relates to force. So they better be very careful before they start spewing nonsense and trying to call my client a liar."
All I have to say is Ok Christians. Here's your boy. Are you going to continue backing him?