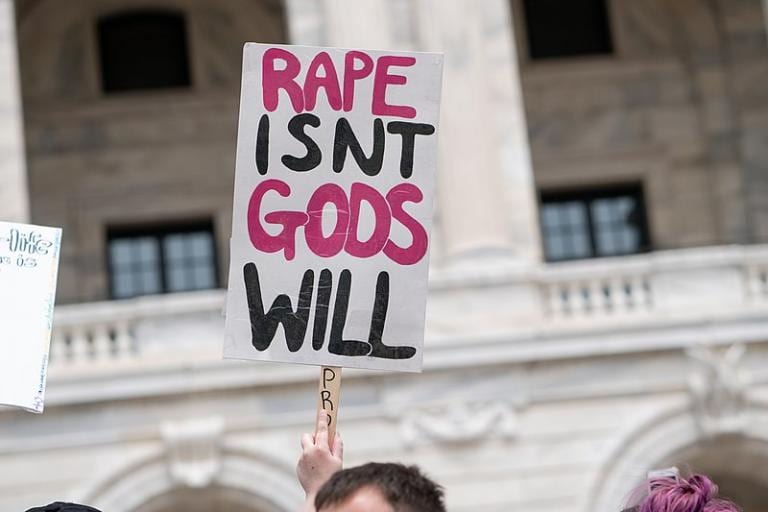 Pope Francis began the New Year with that rarest of all things: A sermon condemning violence against women.
I've been sitting in pews for many years now. In all that time, I've only heard one sermon saying that rape is a sin, and I caused that one.
We live in a society in which so-called "christian" religious leaders vie to outdo each other in their praise and fealty to a political demagogue who talks about women like they're dirt and is a serial sexual predator. We have all suffered through watching these same religious leaders support and back a child molester in a Senate race in Alabama. Then they topped this by putting another accused sexual predator on the Supreme Court.
As usual, they excused themselves for doing this and hurled accusations against anyone who disagreed with them by yelling "Abortion!" at the top of their lungs. The problem with that is that "Abortion!" was never at stake in either situation. The holy child molester lost the race and nothing bad happened concerning abortion. If the Senate had refused to confirm the accused sexual predator, the president would have just nominated someone else who presumably would have done as well or better about abortion.
The yelling and shaming about abortion was bogus. It was a lie. It was also moral and spiritual blackmail of pro life people, forcing them to ok sexual abuse of women in order to be pro life.
As far as I can tell, a good number of America's religious leaders never met a rapist/sexual predator they didn't like, or a victim they didn't disbelieve and attack. I am becoming hardened in the belief that they are not pro life; they are just misogynists who hide the ugliness of their sin behind the innocent unborn.
That's why it's so important when a religious leader of the stature of the Pope goes out on that proverbial limb and says that beating, raping, torturing women is actually a sin. He is not just stating the moral obvious. He standing as a sign of contradiction in a world where Christianity is being hijacked by people who hurt other people and call it righteousness.
I don't expect anyone to change their mind or alter their behavior because the Pope said rape and violence against women are sins. After all, the same people who support these sexual predators are also attacking the pope and his spiritual authority. I don't expect them to grow a heart and start caring about violence against women just because the pope whose moral authority they are attacking says so.
But it is good to hear him say it. I feel a little bit less lonely here in my rape-is-a-sin, Jesus-doesn't-hate-women outpost.
Pope opens New Year with strong condemnation of violence against women
ROME – Pope Francis began 2020 with a bang Wednesday, issuing a harsh condemnation of violence against women and insisting that how society treats women and their bodies is a measure of its level of humanity.

In a special Mass marking the Catholic Church's Jan. 1 feast celebrating Mary, Mother of God, the pope noted that in God's plan of salvation, "The rebirth of humanity began with a woman."

"From her, woman, salvation arose and therefore there is no salvation without the woman…Women are sources of life," he said. "Yet they are continually offended, beaten, raped, forced into prostitution and forced to suppress the lives they carry in their wombs."

"Every violence inflicted on women is a profanation of God, born of a woman. Humanity's salvation came from the body of a woman: By how we treat a woman's body, we can understand our level of humanity," the pope said.

He condemned the frequent "sacrifice" of a woman's body on "the profane altars" of profit-making industries such as advertising and pornography. A woman's body "must be freed from consumerism, it must be respected and honored," he said, calling it "the noblest flesh in the world, it conceived and gave birth to the love that saved us!"

Motherhood is also often "humiliated," he said, "because the only growth that draws interest is that of the economy." (Read the rest here.)