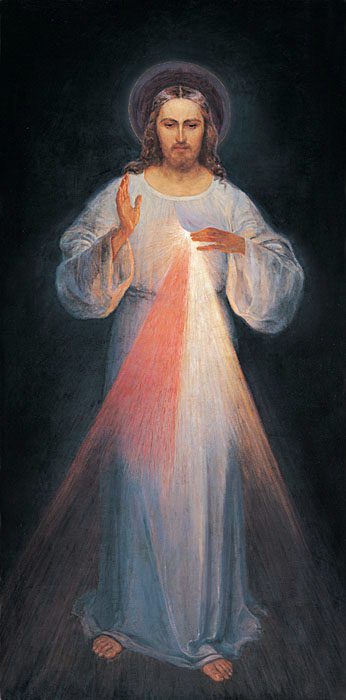 We need God's mercy at all times, but especially now.
Tomorrow is Divine Mercy Sunday. I encourage you with all my heart to take advantage of this great gift of grace which Our Lord has extended to us.
In normal times, this is the day that Jesus opens the font of His mercy for all of us. It is a day when you and I can be washed as clean as the moment after our baptism by simply following a few simple rules.
However, we can't follow those rules now. We can't go to confession. We can't go to mass on Divine Mercy Sunday.
I've read several articles that purport to tell us how to gain the blessings of Divine Mercy Sunday from our homes. Frankly, none of them would work for everyone.
I'm not a theologian. I'm certainly not the pope. But I absolutely reject any notion that we have to jump through hoops to access the mercy of Christ.
Jesus wants to save us. His Passion and death signify how much He wants to save us.
He gave us Divine Mercy Sunday because He wanted to extend His mercy to us in a lavish fashion. Once again, I'm going to employ my personal theology of "God supplies the lacks." I am not writing this as a person in clerical authority. I am writing it as a pew-sitting Christian who has lived the reality of life in Christ through many crises and hardships.
We can't reach up to heaven on our own power. We can't do it. Not now. Not ever. He has to reach down to us. That is the only way.
Consider the lengths God has gone to in order to reach to us, and know that you can trust Him to do the same thing right now.
This I know: You. Can. Always. Trust. God.
Tomorrow is Divine Mercy Sunday. Contrary to some of the articles I've read, I'm not going to try to do a ceremony at home to replicate what happens at church. If you want to do a service at home, if it comforts you and helps you, if it brings your family together in meaningful worship, then by all means, do it. Embrace your blessing.
As for me, I'm going to confess my sins to my Heavenly Father and ask Him to forgive me. I'm going to pray that He will help me break my attachment to my pet sins.
I will pray the Divine Mercy Chaplet and participate in mass on the internet at my own parish. I will thank Him for this gift of His mercy. I will resolve that when I have the opportunity, I'll go to sacramental confession.
I'll also pray my other daily prayers and devotions. I will observe the Sabbath as I always do.
Then, I will trust Him to supply the lacks, and I will rest easy about my eternal soul. I'm in the same hands I've been in since before I was born.
Like St Paul, I believe that He is able to keep that which I have entrusted to Him against that day.
God loves you with an everlasting love. He wants to save your soul. He will not let you fall.