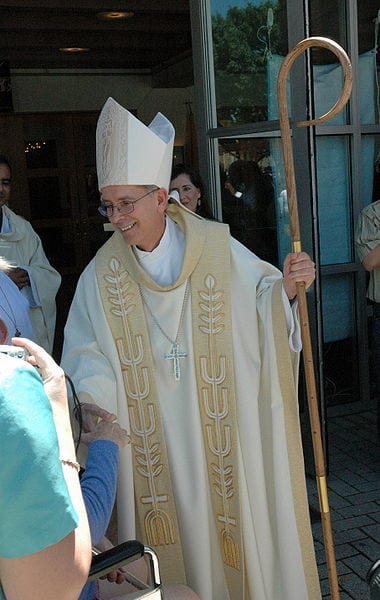 I wish we didn't live in a world where this is a big deal. I wish we lived in a world where the Christian leader who DIDN'T do things like this was the exception, instead of the other way around.
But it is what it is, and as it is, I am profoundly grateful to Bishop Mark Seitz of El Paso, Texas. He did what he evidently thought was a daring thing and went out in public and "took a knee" in solidarity with George Floyd and the protestors who are trying to make his death matter for good.
The bishop said he was "nervous" when he did this, because "It's difficult to know what a bishop should do."
I realize that when you have a public voice as big as a Catholic bishop's that you have to be judicious about how you use it. President Trump has given all of us a good lesson in the harm a leader who shoots their mouth off all the time can do.
But I don't see how this is a close call. If you believe in Jesus Christ, if you think He actually meant the things He said in the Sermon on the Mount, then this is a no brainer.
I'm glad Bishop Seitz screwed up his courage and did the right thing. I hope that other priests and bishops will stop hiding in their rectories and come out and do the same thing.
I want to see some collars out there among the protestors. Come on guys. Make your people proud of you.
From Our Sunday Visitor:
After 'taking a knee,' border bishop gets a call from the pope
WASHINGTON (CNS) — It's called "taking a knee," and many professional athletes around the country have made the gesture publicly to protest police brutality.

Lately, even police officers showing solidarity have kneeled around the country before those protesting the May 25 killing of George Floyd, who died after being filmed pinned to the ground with a knee to his neck, constrained by a police officer in Minneapolis.

Until June 1, no Catholic bishop had publicly participated in the gesture but that day, Bishop Mark J. Seitz of El Paso, Texas, became the first. Surrounded by priests from his diocese who also kneeled with him and holding a "Black Lives Matter" sign, he put both knees on the grass at El Paso's Memorial Park, where a protest had taken place a day earlier and closed his eyes.

Was he nervous?

"Oh, yeah," he said in a June 3 interview with Catholic News Service. "It's difficult to know what a bishop should do. But I've had some excellent advisers, people and priests. I tried to listen to them, listened to my heart. Sometimes, you just have to take the leap into the unknown."