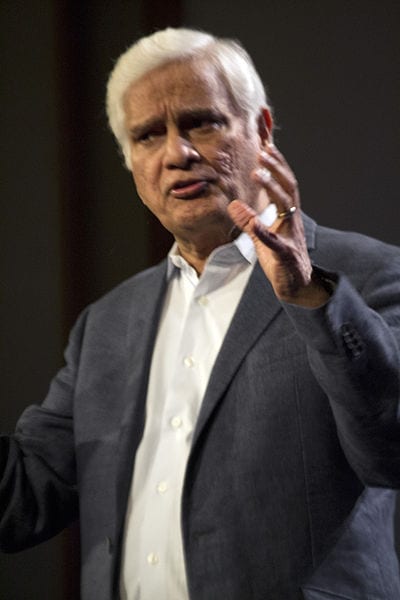 I evidently missed a huge milestone in our corporate Christian life here in America.
My fave Christian apologist of the millennial era, Ravi Zacharias, ended his earthly pilgrimage on May 19 and went home to Our Lord.
Rev Zacharias was diagnosed with malignant sarcoma a few months ago as a result of what appeared at the time to be routine back surgery. He wrote on his Facebook page that he experienced continued, severe pain after the surgery. Then, the results from a biopsy his surgeon took during the surgery came back with the result that he had sarcoma.
He began chemotherapy, which shrank the original tumor. But metastases developed that did not respond to the treatments.
In early May, Ravi's doctors told him that they could not do anything more to treat his cancer. His family announced this on his ministry page, along with his plans to spend his remaining time with them.
He died on May 19, 2020.
Ravi Zacharias' death is a great loss to us at this time when we are beset by chaos and craziness in our moral life. He was born in India, converted to Christianity as a teen while studying the Bible when he was recovering from a suicide attempt.
You can read his account of his conversion, "Antidote to Poison" here.
Ravi Zacharias was an American-Canadian Christian thinker whose ministry gave us apologetics based on logic and reason. He provided a singular voice within our American Christian discussion. As an immigrant, a convert, and a member of a minority in this country, he gave us the perspective to help us understand the call for justice from so many angry and hurt people.
Ravi Zacharias' ministry was an antidote to the evils that infect parts of the Body of Christ. He presented the publicly-identifiable witness of a man who was not a racist, did not hate women, and who could defend his faith with reasonable argumentation rather than resorting to name-calling and slanders. At the same time, he believed, practiced and defended traditional Christianity as it has been handed down to us through 2,000 years of consistent Christian teaching.
His death is a great loss to the public witness of Christianity in this nation.
I rejoice that he is in heaven now. I pray for his soul and for his family, whose grief at losing his companionship and daily presence in their lives must be terribly painful.
I pray that God will send us another brave apologist to fill the big empty spot that Ravi Zacharias has left in American-Canadian Christianity. We need such a person badly.