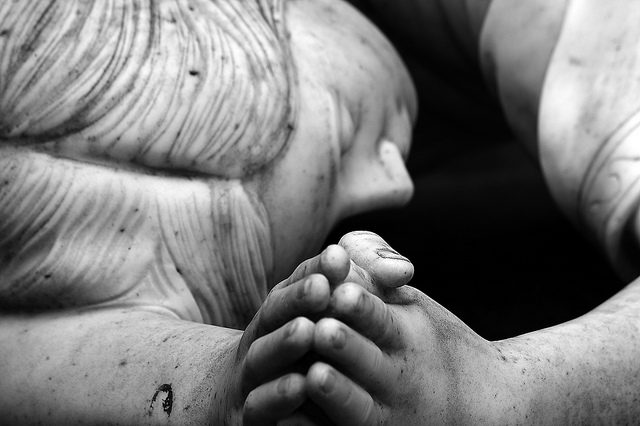 I am taking today to pray for peace in the Ukraine. I want to invite everyone who might read this to join me. 
I'm going to pray the Rosary. The Rosary is a wonderful prayer, full of power and grace. When I pray the Rosary, I know that literally millions of people around the globe are also praying it alongside me. I consciously join my voice with theirs. I join my intentions with theirs, with the endless list of intentions that accompany our Hail Marys as they go to Mary, and through her, to her son. 
I will also pray the Divine Mercy Chaplet. I think of the Divine Mercy Chaplet as a kind of private exorcism, cleaning out the debris in my soul and asking God the Father to rain down His Mercy on me and the whole world. Jesus was so clear in what He told St Faustina that we are entering the last days and that the Divine Mercy was His special gift to us these times. He told her that He wanted us to know and understand the depth of his Mercy, that it was available to us even at the last moment and the most dire extremity of our lives. 
I have a friend who was an outspoken atheist. He died suddenly as a relatively young man a number of decades ago. I pray for his soul every night before I go to sleep. I do it with real hope because of the wide open arms of Mercy that Jesus extended to us through St Faustina. If there is a moment, a half moment, a fraction of a second, in that last extremity of life when a person knows that they are going and they see what it means and cry out to Jesus, even if they do it without words, that's all it takes. His Mercy will do the rest. 
I will pray the Divine Mercy chaplet for peace because there is nothing that humans do to one another that is worse than war waged with modern weapons. This threat of war we are facing today is totally unnecessary. It is brought about by the delusions of one evil man who has control of a great nation. This man murders and imprisons anyone who opposes him. He has made graft and corruption, violence and the ever-present threat of violence, the governing law of his land. He lives by lies, and, like the would-be empire builders of the 20th Century, he does not appear to have the slightest twinge of conscience. 
I think mercy is an alien concept to someone like Putin. But Mercy, Divine Mercy, is what I will pray for today. I pray because there are real people on the other side of Putin's guns. There are real hapless soldiers carrying out his orders, and a real world, standing on the brink of so much pain and suffering because of him and his misuse of power. 
These are Jesus' people. Standing in the shadow of cannon, ticking off the moments until the evil man with delusions of achieving his own kind of immortality through greed run to conquest either stands down or steps over the line into hot and bleeding war.
We need the Mercy of God. Always. We need His forgiveness. Always. We walk and talk and live and die in the ocean of His Mercy which gave us our lives and then, because of his Mercy, became one of us to show us the Way to eternal life. Our existence … all existence … is a manifestation of His incomprehensible creativity, His longing for us, and His Mercy. 
I will pray to St Michael. War is satanic if ever anything was. War of conquest forced on the world by one spiritually dead man walking around in a living body is evil right down to the ground. I will pray to St Michael to engage with and defeat the father of this ridiculous stand-off created by one bad man who has a great nation under his command. 
If this ends in war, it will be a war with no reason other than the greed for conquest of one sad old man who has spent his entire career and life in nefarious dealings, in lies, theft and death. 
I am also going to just go, late at night as I always do it, to a church near where I live that has the Jesus in the Sacrament, available for us to sit with Him. I don't usually formally pray when I do that. I just go there and be with Him. I began doing this years ago, when I had cancer. I learned then the healing power of that Presence and that companionship.  
This is the day the Lord has made. It is a gift of time from God to me, one of the days I have left in the surprisingly long life He is giving me. I am going to spend it for peace by praying to the same God Who made us all, that He in His mercy, he will turn away satan and his war.