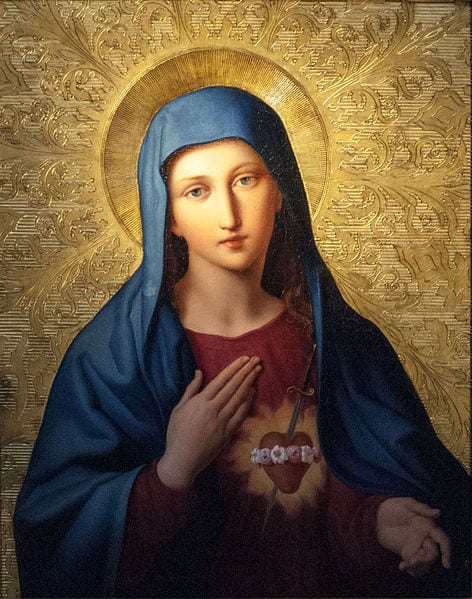 Our Holy Father, Pope Francis, has announced that he will consecrate Russia and Ukraine to the Immaculate Heart of Mary on Friday, the 25th of March. 
I've decided to pray the Rosary every day, and fast until he does that. 
I am posting this to encourage you to join your prayers with Pope Francis' for the next nine days. Unite them to the sufferings of Our Lady as she stood at the foot of the Cross. Through her, join your prayers to the crucified mothers of Ukraine. 
Every day, little children are slaughtered, families and lives are destroyed, a nation and its people are ravaged. All of this because of the evil of one man. 
This is Putin's war. But America has much to atone for as well. We elected Putin's boy Trump, and he extorted Ukraine, withheld military aid from them, attacked NATO, tried to destroy our democracy and make himself a dictator. The entire Republican Party followed him, aided him and helped him in these things. Just 20 days ago, while the bombs were already falling on the innocent people of Ukraine, CPAC, the major right wing gathering, celebrated both Trump and Putin.
They did this after Trump called Putin's invasion "genius." They gave the lone traitorous Democrat, Tulsi Gabbard, a forum to back Putin that she would never have found at a Democratic gathering. They pledged their loyalty to Trump after he stood in front of them and praised Putin's attack on Ukraine for a third time in two days. 
America's predilection for right wing demagogues played an enormous part in encouraging Putin to invade Ukraine. Until public opinion forced them to change their public face, the Republicans and their media backed the invasion once it began almost unilaterally. 
I am going to pray and fast for Ukraine. And I am going to pray also for the conversion of weak-minded Americans who have helped bring this cataclysm with their blind support for the monstrous policies of bad men and women. 
I am, however, not addressing this post to them, although I would happily welcome their change of heart. I hope that everyone, especially those who have to deal with the horrific failure of judgement that has led them to follow someone like Trump and this new fascist Republican Party, will pray for Ukraine.
But, despite the fact that all are welcome, I am addressing a specific group of people. This post, and everything I am now writing, is speaking to those of you who have been wounded by the fall from grace of our religious leaders who followed Trump and the extreme right wing instead of following Christ. 
I am speaking, as directly as I can in a blog, to the people who feel alienated and alone in their parishes and pews. I am reaching out to the people who have stopped attending church because of this latest in the long list of scandals fallen clergy have visited on us in the two first decades of this century. I share your appalled grief at the scandal of political heresy — political idolatry — in the Church, piled as it is on top the clergy sex abuse scandal.
I, too, ask the question: Do these men who say they speak for God even believe in God at all? 
I intend this, not just for Catholics, but for all American Christians whose churches have abandoned Christ. It is for those who have watched with bewildered dismay as their religious leaders and fellow Christians replaced the Cross with the Republican elephant. 
This blog is a letter to the broken-hearted ones who have lost their church to the corruption of power and money. I am writing it to those of you who have been censured, attacked and bullied because you would not bow down to this nasty little false god.
I am speaking to you, my brothers and sisters in Christ.  I hope that you will join me in fasting and prayer for Ukraine as our Holy Father prepares to consecrate Russia and Ukraine to the Immaculate Heart of Mary. Pray for Our Lady's intercession to end this blood shed there and idolatry in our own land and Church. 
Pray for Ukraine because God is not dead and He has not changed. God did not morph into a right wing political operative on a dark night when nobody was looking. 
Pray because you are the faithful remnant who has not bent his or her knee to the political Baal. 
Pray because God is real and He is not mocked. Pray because people are dying and our own beloved America has participated in the corruption by money, hubris and greed that led to this debacle. Pray because whether you and I fell over for Trump and the political heresy, we are still deep in our own sins and without the Mercy of Christ we are lost.
Pray for Pope Francis as he makes this consecration. I am certain that satan fights him as hard as he fought Jesus in the wilderness. 
Pray for the conversion of Russia, Ukraine and the whole world, including the USA. Pray that everyone, everywhere, from pole to pole and dateline to dateline will repudiate the false gods of our time and fall to their knees before Him Who makes all things new.