The Public Theology of Noreen Herzfeld
Public Theology? What is it?
Meet Noreen Herzfeld. An upright Quaker with Lutheran leanings, Dr. Herzfeld's investments in theological reflection enrich both the church and the surrounding culture. Let's ask her what she thinks about public theology. Let's ask her specifically: how should we steer the public theologian's skiff in the wake of AI's battle cruiser?
Like so many other Quakers, Noreen has set sail on the cartel of nonviolence. Ports? Her work with Bosnian students after the war. Her engagement in Muslim-Christian dialogue. And her public policy advocacy against lethal autonomous weapons.
But here I want her to speak from the wheelhouse while navigating the eddies where theology and science churn.  She is especially ready for this topic because she teaches both computer science as well as spirituality at the university level.  How should the public theologian steer human intelligence in the wake of technologies surrounding artificial intelligence? Theological and ethical questions prompted by advancing technologies fit within the larger task of formulating a theology of nature that draws on scientific knowledge and technological progress.
If you'd like more resources on Public Theology, click here.
Frequently I suggest that public theology is conceived in the church, critically reasoned in the academy, and meshed with the wider culture for the sake of the wider public. One of the public theologian's tasks is to develop a theology of nature that draws upon learnings in science and technology. More. Ethical reflection by the public theologian may add depth and wisdom to formulation of public policy. Dr. Herzfeld provides all of us with a model of intellectual service to the wider public.
Who is Noreen Herzfeld?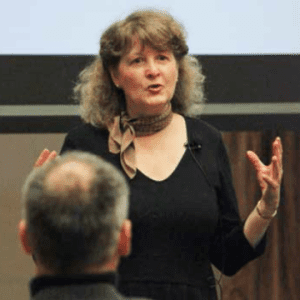 Noreen Herzfeld is the Nicholas and Bernice Reuter Professor of Science and Religion at St. John's University and the College of St. Benedict where she teaches in both the computer science department and the School of Theology.  She holds degrees in mathematics and computer science from Penn State and a PhD in Spirituality from the GTU.  Herzfeld is the author of numerous books and articles including In Our Image:  Artificial Intelligence and the Human Spirit as well as Technology and Religion  Remaining Human in a Co-Created World.  She has a book forthcoming from Fortress Press on AI and Authentic Relationships. See her article, "Introduction: Religion and the New Technologies," published online in Religions.
1. What is public theology?
In my interview with my colleague and friend, Noreen Herzfeld, I asked her this pair of questions: How do you define public theology? Do you consider your work an exercise in public theology?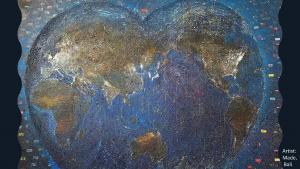 Public theology has three components.  First, it is theology that is written in a layperson's terms, understandable by the general educated reader.  It avoids jargon or discipline specific terminology and obscure references. (Art: Heart of the World by Madi, Bali)
Second, public theology deals in some way with a topic that is of general interest, either engaging with current events or presenting theological ideas in a way that shows they have applicability to the concerns of the day.
Finally, public theology is published in a forum that is accessible to or marketed to the general reader.
I just had an experience with the latter.  OUP (Oxford University Press) rejected my book in progress precisely on the grounds that it was public theology. OUP editors didn't spell this out. But their suggestion that I take it to Viking or Free Press made it plain.
I do not apologize for this.  I want the book to be accessible to students, pastors and priests, and anyone curious about AI.
2. What advances in science and technology require the attention of the public theologian?
Here's my second pair of questions: In your opinion, should advances in science and technology be taken up by the public theologian? Could you provide an example or two?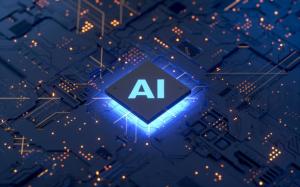 Should they ever!  Yes, without question.
First, we live in a technology saturated world.  Our youth spend pretty much every waking hour attached to some sort of technology.  We need to help them navigate this world and understand its impacts on their relationships and spiritual lives.  It is also easy for them to be taken in by the promises of life in the metaverse and the dreams of a transhuman future.  Theologians need to address the weaknesses of these utopian alternatives to reality and help young people see that these are alternative faiths that will ultimately not satisfy biological creatures.
Second, we in America live in a culture that has suffered from a perceived disconnect between science and religion.  This disconnect disconnect between science and religion has played a part in the tragic denial of climate change and vaccine technology by large segments of the evangelical community.
3. What about ethics and public policy?
Here is the third question: When you are teaching either computer science or theology, what kind of ethical issues do you ask your students to confront?
In my graduate course "Ministry in a Technological World" we discuss the research of Jean Twenge and Jonathan Haidt showing how the advent of the smartphone has contributed to a real decline in the mental (and physical) health of young people.  We discuss the drawbacks and pitfalls of social media use, video gaming, and the Internet (pornography, fake news, etc.) and how to minister to a plugged-in generation.
We then turn to biotechnology and address the hard decisions their parishioners may face regarding the use of medical technologies, particularly at the beginning and end of life.  We examine transhumanism as an alternate form of "do-it-yourself" salvation and consider the theological critique of a posthuman future.
Finally, we ask to what extent the medium is the message and look at what it means to be a "people of the book" in the age of the computer.
In my course on computer ethics (required of computer science majors) we take a different stance.  Rather than dealing with the issues facing the users of modern technology, we deal primarily with the question of design and motivation, since these students, besides being end-users of technology, will also be professionally involved in the development and marketing of technological products.
Thus, we focus on how most ethical issues are baked into the design of the product, either through a failure to foresee what could go wrong, or through less-than-ideal motives (for example, Facebook weighting negative reactions five times more than positive ones because negativity keeps eyeballs on the screen better).
Particular issues we deal with include privacy, security, balancing idealism with late capitalism, addiction, sexism and racism in both Silicon Valley and the products they produce, AI and its ramifications (sexbots, autonomous weapons, bias, robots and rights, etc.).
Conclusion
"Public Theology," say Sebastian Kim and Katie Day, "is thus theologically informed public discourse about public issues, addressed to the church, synagogue, mosque, temple or other religious body, as well as the larger public or publics, argued in ways that can be evaluated and judged by publicly available warrants and criteria." [Katie Day and Sebastian Kim, "Introduction," A Companion to Public Theology, eds., Sebastian Kim and Katie Day (Leiden and Boston: Brill, 2017) 1-21, at 4.] Is there room in such a definition for a theology of nature? Might the public theologian feel a sense of responsibility for monitoring the fast moving frontier of Artificial Intelligence and providing the general public with evaluations that shed light on human nature, social justice, moral responsibility, and spiritual health?
Yes, indeed, exclaims the incomparable Noreen Herzfeld.
▓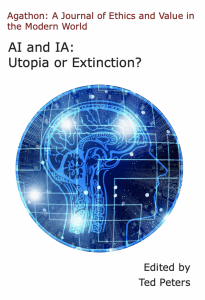 Ted Peters directs traffic at the intersection of science, religion, and ethics. Peters is a professor at the Graduate Theological Union (GTU), where he co-edits the journal, Theology and Science, on behalf of the Center for Theology and the Natural Sciences (CTNS), in Berkeley, California, USA. He is author of Playing God? Genetic Determinism and Human Freedom (Routledge, 2nd ed., 2002) and editor of AI and IA: Utopia or Extinction? (ATF 2019). Visit his website: TedsTimelyTake.com.
▓