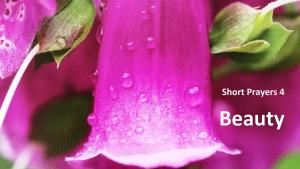 Short Prayers? What about Beauty?
O LORD, our Sovereign, how majestic is your name in all the earth!…When I look at your heavens, the work of your fingers…Psalm 8:1,3a
Before we can construct a theology of beauty, we need an experience of beauty. Nature's beauty–in an uncanny way–reveals the God of beauty and the beauty of God.
Yosemite Alpenglow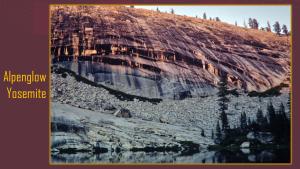 "Now came the solemn, silent evening. Long, blue spiky-edged shadows crept out across the snow-fields, while a rosy glow, at first scare discernable, gradually deepened and suffused every mountain-top, fusing the glaciers and the harsh crags above them. This was the alpenglow, to me the most impressive of all the terrestrial manifestations of God. At the touch of this divine light, the mountains seemed to kindle to a rapt, religious consciousness, and stood hushed like devout worshippers awaiting to be blessed. Just before the alpenglow began to fade, two crimson clouds came streaming across the summit like wings of flame, rendering the sublime scene yet more intensely impressive; then came darkness and the stars."
These are the century old words of explorer and naturalist John Muir in his essay, "In the Heart of the California Alps." This passage is meaningful to me because many an evening I have stood at the side of one or another lake in the high Sierras waiting for the alpenglow to make its evanescent appearance. The sun sets. After this comes a brief period of dusk. Then more silently than suddenly the silver gray granite of the cliffs begin to glow orange and pink. It lasts long enough to remark about its awesome beauty before it fades and disappears, quietly announcing the arrival of nightfall.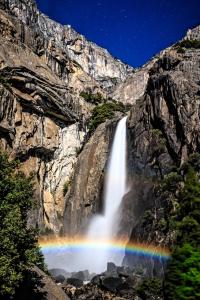 For John Muir, momentary and ephemeral beauty manifests the glory of the divine. So also for the Psalmist, who saw in the sky the handiwork and majesty of God. We do not invent beauty. We do not judge beauty. Artists do not create beauty. Rather, they channel beauty. We receive beauty, just as we receive God.
There is something exquisite and deep about the experience of beauty. Wrong are those people who repeat the cliché' that "beauty is only in the eye of the beholder."
Beauty comes to us from beyond as well as from within. The alpenglow on the mountainside is a call to which something within our soul strains to answer. Beauty draws us beyond ourselves, yet somehow we feel that we are participating in it. Beauty is a contract, an elusive glue that binds us to nature and to God. There is something intrinsically noble about beauty, something holy.
Would it be testing the limits of our experience of transcendent beauty to say with Mormon Hans-Wilhelm Kelling that the contemplation of beauty opens a channel of communication with God? Or, might our experience of beauty constitute a sharing with God, a sharing of God's own appreciation of creation's beauty?
Are Beauty, Truth, and Justice Eternal?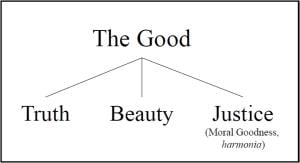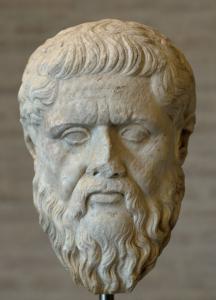 The contemplation of beauty causes the soul to grow wings. At least according to philosopher Plato.
Could Plato have been right when he associated beauty, truth, and justice? Doesn't truth sometimes appear beautiful to us, simply because it is truth?
Could there ever be an injustice which would be beautiful? No, I can't think of any such possibility. Injustice is always ugly, always exuding a repulsive falseness.
If then, the experience of alpenglow on the mountain top is a manifestation of God, could we preserve its evanescent beauty when we come down from the mountain in lives exhibiting truth and justice?
SHORT PRAYER
Our contemplation and mediation can be beautiful, because they receive divine beauty. Can prayer too? Yes, indeed. Let us pray.
God, the heavenly author of beauty, truth and justice, fill our searching souls with the majesty of your glory and inspire our hearts to glow with qualities divine. Amen.
▓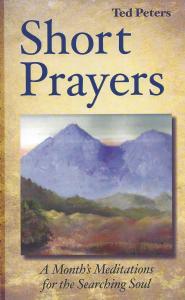 Ted Peters is a Lutheran pastor and emeritus seminary professor. He is author of Short Prayers and The Cosmic Self. His one volume systematic theology is now in its 3rd edition, God—The World's Future (Fortress 2015). He has undertaken a thorough examination of the sin-and-grace dialectic in two works, Sin: Radical Evil in Soul and Society (Eerdmans 1994) and Sin Boldly! (Fortress 2015). Watch for his forthcoming, The Voice of Public Christian Theology (ATF 2022). See his website: TedsTimelyTake.com.
▓