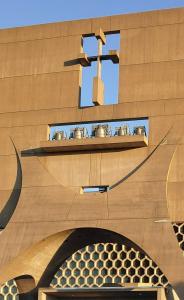 Should seminary students preparing for parish ministry or priesthood engage the natural sciences in their theological studies? Should there be science in seminary? Yes, indeed.
"Oh no!"  A seminarian might complain. "I came to seminary to study God." Or, more likely, "I came to seminary because I advocate for social justice and liberation of the oppressed. Don't waste my time with natural science. After all, science is only a social construction that props up Europe's patriarchal colonial powers that oppress and enslave subaltern peoples!"
How does it look from the other side? There is a "war on science," our science friends whine. The theological seminary–as it appears to the marginalized scientist–is boot camp for those preparing for combat against science in society. But, I ask: is this really the case? Ought it to be the case?
Science in Seminary at St. John's University and the College of St. Benedict
I've just finished up a three day consultation in Collegeville, Minnesota, at St. John's University and the College of St. Benedict. I was part of a team of consultants contributing to the "Science in the Seminaries Workshop." The PI (Principal Investigator) is computer scientist and theologian Noreen Herzfeld. Her program is funded by AAAS (American Association for the Advancement of Science) in Washington DC. Astronomer Jennifer Weisman directs the AAAS DoSER (Dialogue on Science Ethics and Religion) program which provides such a creative leaven.
You may recall Noreen Herzfeld. I interviewed her some time ago on "public theology" for Patheos. Noreen is a public theologian for whom natural science partially defines the public.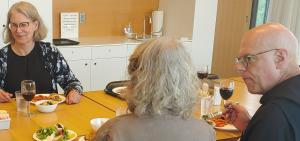 What we find already operative at St. John's is the inclusion of Darwinian evolution in courses on the Pentateuch by  Old Testament professor, Dale Launderville.  New Testament professor, Michael Patella, includes Christopher Southgate's insightful work on theodicy in evolution in his teaching.  A professor of worship, Benjamin Durheim, incorporates Big Bang cosmology along with Critical Realism when treating liturgy and the sacraments. And Barbara Sutton, who conducts diocesan workshops, draws heavily on neuroscience and neurotheology in her spirituality. In short, seminary education in Collegeville has begun taking giant steps toward integration of the scientific and traditional worldviews.
Worldview Construction in Science and Theology
Karl Barth once said the preacher should enter the pulpit with the Bible in one hand and the newspaper in the other. I wonder if we might substitute for the newspaper a chart of the human genome or a photograph of Andromeda or a textbook in neuroscience. That pulpit may start to look cluttered. But, at least the preacher will be ready to deliver a contextually meaningful message.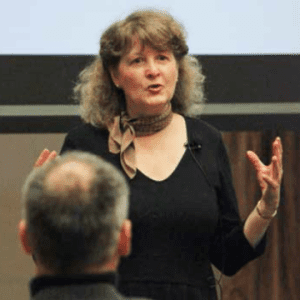 For half of a millennium now we have lived in a worldview that modern science has constructed, that technology has transformed, and that industry, along with weapons, has contaminated. Gradually yet ineluctably science has reconstructed our worldview, our picture of reality, our self-understanding. No longer do biblical concepts or theological notions make immediate sense. Our religious roots need fertilization and pruning if they are to flower in our scientized and technologized garden.
Let me suggest three reasons for introducing science into seminary study for both future pastors and other church leaders.
1. Science is intrinsically fascinating
First, science is intrinsically fascinating. Well, not exactly. It's nature that is intrinsically fascinating; and the scientist simply uncovers nature so we can better see it. Science interprets nature like the exegete interprets the Bible. Nature is wondrous, beautiful, elegant. It speaks of God the creator. We have two books to read to understand God: the book of nature for general revelation and the Bible for special revelation.
2. Science floods our contemporary worldview
Second, science so frames the modern worldview that it floods our contemporary context. To understand ourselves, we must do so breathing texts which pulsate through the worldview of today's committed Christians. Yet, today, understanding God's relationship to the world as creator and sustainer must be carried out in relationship to four of the most intriguing and exciting domains of contemporary science: Big Bang cosmology, evolutionary biology, genetics, and neuroscience.
The secular story of creation now playing in Big History courses in our universities and as entertainment on the History Channel of our televisions is Big Bang. Just how do we understand Genesis 1:1-2:4a in light of Big Bang and its 13.82-billion year history? How do we arm our future pastors for the battle they will inevitably face over Darwinian evolution? When it comes to Adam and Eve, the imago Dei, the fall into sin, and human nature in general, recent developments in genetics and neuroscience are almost daily exposing us to new knowledge about who we are as human beings.
3. Youth need to be schooled in the best science
Third, the younger generation sitting in our pews needs to have access to the best science and be encouraged to celebrate the best science. Oh yes, it is the responsibility of the school, not the church, to teach the best science. Yet, the church can make a supporting contribution. We can't allow our youth to be sidetracked by creationism or intelligent design or other diversions, even if piously touted. Rather, if our youth are to succeed as engineers, nurses, doctors, chemists, educators, and such they must be schooled in the best our society offers.
Perhaps our youth can school the older generations on hand-held technology. As we speak, the worldview for young people is changing. Oh, yes, it's still science flooded. But, if as Marshall McLuhan said, "the medium is the message," hand-held access to undifferentiated information and disinformation is ramifying throughout our social interactions. We need the resources of both scientific honesty and theological anthropology to grasp and assess the changes taking place before our eyes.
Are Christians anti-science?
Adding to these challenges is a rumor. The problem is that a rumor is going around, a rumor that says Christians are anti-science. According to this rumor, virtually all Christians are fundamentalistic, atavistic, dogmatic, luddite, and combative. We must dispel this rumor. Our clergy must encourage if not inspire today's youth to become tomorrow's scientists, or at least to become scientifically informed. With the priest's or pastor's encouraging demeanor within the congregation a young person might become more receptive to a calling—a vocation—that may involve employing science to make this a better world.
Conclusion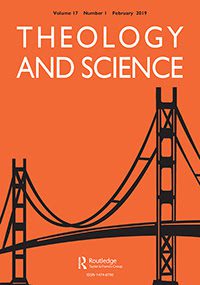 In Berkeley at CTNS (the Center for Theology and the Natural Sciences), we rely on the bridge metaphor. We frequently hold up a picture of silhouette of the Golden Gate Bridge still under construction.
We see our task is finishing the bridge so that traffic and go two ways. One way is from science to theology. Theology will be greatly enriched when incorporating knowledge of the natural world into our understanding of God's creation. Conversely, science could be enriched if and when theology proposes progressive research programs. Theological insights into human nature could be of special value when advancing research into the human being. In addition, the theologian with a critical eye can point out the hubris of scientism by critiquing the myths–the non-scientific assumptions–right in the heart of science.
The preacher in the pulpit need not rival Einstein in knowledge of nature, to be sure. But, if the preacher sounds like a braying jack ass when alluding to matters where scientific knowledge has established itself, then the credibility of even the gospel might be placed into doubt.
In sum, there is good reason for our seminary faculties to include the scientific mindset in their curricula.
▓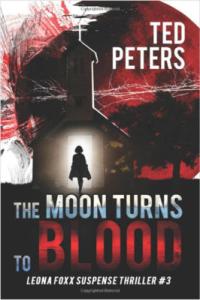 Ted Peters directs traffic at the intersection of science, religion, and ethics. Peters is an emeritus professor at the Graduate Theological Union, where he co-edits the journal, Theology and Science, on behalf of the Center for Theology and the Natural Sciences, in Berkeley, California, USA. He authored Playing God? Genetic Determinism and Human Freedom? (Routledge, 2nd ed., 2002) as well as Science, Theology, and Ethics (Ashgate 2003). He is editor of AI and IA: Utopia or Extinction? (ATF 2019). Along with Arvin Gouw and Brian Patrick Green, he co-edited the new book, Religious Transhumanism and Its Critics hot off the press (Roman and Littlefield/Lexington, 2022). Soon he will publish The Voice of Christian Public Theology (ATF 2022). See his website: TedsTimelyTake.com.
Ted has also written a series fictional spy thrillers. The protagonist is a woman pastor in Chicago who is an astrobiologist as well as a CIA operative. The second in the series, Cyrus Twelve, follows the twists and turns of a transhumanist plot.