PT 3207. Resentment vs Compassion Part 7
Two Christian Nationalist Narratives
White American Christian Nationalism: The Decline Narrative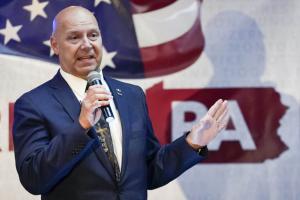 State senator Doug Mastriano lost his bid November 8 for the governorship of Pennsylvania. Jack Jenkins, writing for the Religious News Service in the Washington Post, feared that the state dodged a bullet shot from the cannons of  American Christian Nationalism .
"But political operatives were keeping an eye on Mastriano for at least one reason: how the Pennsylvanian deployed Christian nationalist themes to secure the hard-line religious right base. Mastriano broke out of the Republican primary pack by cloaking himself in one of the most vocal strains of Christian nationalism: anti-pandemic restrictions, pro-conspiracy theories about the 2020 election and dubious of separation of church and state."
After that, consider this. "To be clear, Mastriano has not described himself as a Christian nationalist," writes reporter Molly Olmstead for Slate.
Well, just what is Mastriano? A Christian nationalist or not? Does it matter that he lost the election to Josh Shapiro? Because I don't know him personally, I can't answer my own questions. But, does it really matter?
Did you get this email from Christians Against Christian Nationalism? I did.
Today, Christian nationalism continues to threaten both our faith and our country…Make a Donation…
I wonder about all this hullabaloo over Christian nationalism. Could it be a smokescreen to cover resentment against evangelicals? There are only a handful of Christian nationalists. But, evangelicals number in the millions. Do critics want to shoot a Christian nationalist and hope to hit a mob of evangelicals?
Bashing evangelicals is exhausting
I don't know about you, but I'm exhausted by an overload of evangelical bashing. I play on the progressive Christian team. As if we were at batting practice, every pitch has a complaint against evangelicalism written on it. Every swing knocks another evangelical out of the field of play. "I don't think they're even Christian," I've heard my seminary students mutter.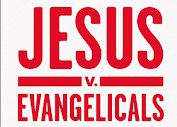 If you've read my Patheos series on Resentment and Compassion, you'll recall how paint the color of White American Christian Nationalism (WACN) has been brushed over the nearly 100 million evangelicals in the country. Even though no church denominations subscribe to WACN and virtually every evangelical spokesperson has publicly condemned WACN–for example, evangelical systematic theologian Roger Olson trumpets, "Americanism…is a false religion, even an idolatrous one"– my progressive friends persist to insist that the evangelical dragon with seven heads and ten horns (Revelation 12:3) is rising out of the sea and coming to gobble us up.
Despite the obvious fact that my progressive Christian friends are caught up in a conspiracy theory, I feel obligated to investigate WACN. As a public theologian engaging in discourse clarification, I would like to place under a magnifying glass the tropes, narratives, myths, anxieties and existential forces at work in White American Christian Nationalism. WACN does exist, to be sure, even if it lacks widespread institutional and societal support.
Myth and Narrative
I think I'll use the terms myth and narrative interchangeably here. Over the decades I've gotten a great deal of mileage out of the term, myth. By myth I do not mean what my friends in white lab coats mean: a myth is a false belief. Rather, I think of a myth as a framework that structures what we do believe.
On the one hand, a myth is a story. Here is my definition based on the work of history of religions scholar, Mircea Eliade.
A myth is a story about how the gods created the world (or a part of the world) in the beginning, in the time before there was any time (in illo tempore), that explain why things are the way they are today.
The ancient accounts of creation in Egypt, Mesopotamia, and Israel that justify kingship provide examples.
On the other hand, in our contemporary situation, myths need not necessarily come in story form. A myth can simply provide the conceptual framework or set of tropes that structures our interpretation of events. Over the years through discourse clarification, I've tried to identify the role played in both science and culture of the ETI Myth. Now, let me try this again in a brief look at White American Christian Nationalism.
The Decline Narrative of White American Christian Nationalism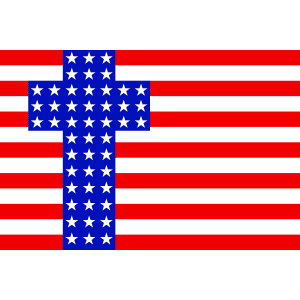 First, here in this post, we'll investigate the Decline Narrative of American Christian Nationalism.[1] This is the myth that White American Christian nationalists tell themselves and attempt to teach in public. Minus many of the nuances, let me try to reconstruct a summary of the Decline Narrative.
The United States of America was founded originally on faith in God combined with Judeo-Christian principles for daily living. Blessed by God, the USA became the most powerful nation in the history of Planet Earth.
However, America is now weakening. Why the decline? Because the original commitment to God and faith's way of life has been shaken. It has been replaced by the introduction of an alien way of life. That alien way of life is due to a new ideology that is secularist, morally relativist, and profoundly corrosive to the moral standards of young people, families, and society as a whole.
Thoughtful Christians, then, must join together, mobilize for action, and re-graft America to its religious roots. This will redeem America.
Note the three-part structure: blessedness, fall, and return to blessedness.
(1) Original blessing. America began with an original state of blessedness parallel to what Adam and Eve enjoyed in the Garden of Eden. In America's case, the equivalent of Eden was enjoyed by the Massachusetts Bay Colony plus the writers of the Declaration of Independence.
(2) The fall into sin. Whereas Adam and Eve ate the forbidden fruit, American society has drunk too deeply the poisons of secularism and pluralism.
(3) Redemption. A  promise of redemption is offered by God if the nation will only repent and return. As God's true disciples, it is our task as American Christian nationalists to foster this repentance and renewal.[2]
Let me offer some discourse clarification. The WACN Decline Narrative represents a synthesis of America's two founding myths: covenant and blood. What do I mean by this?
Covenant and Blood in the Decline Narrative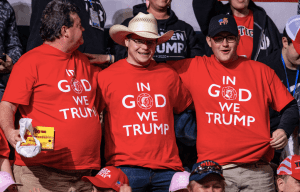 The first myth, the covenant founding narrative, began with the Puritans in the Massachusetts Bay Colony in the 17th century. The Puritans gave us the vision of America as the "City on a Hill," a light to the nations.
The second myth, the blood founding narrative, began with the Revolutionary War in the 18th century. The defeat of Great Britain gave Americans the feeling of exceptionalism and manifest destiny.
America "was founded at least twice," observes Yale's Philip Gorski, "once by the New England Puritans and then again by the American revolutionaries, both real enough but sometimes mythologized as well" (Gorski, 2017, p. 37). The first founding gave us civil religion while the second gave us religious nationalism. The core symbol of civil religion is covenant. For religious nationalism, it's blood.
The WACN Decline Narrative seems to combine both covenant and blood. On the one hand, we must return to our founding covenant with God. On the other hand, this renewal of the original covenant will cause God to bless us once again. America will again become the international power that all other nations will respect.
Former President Donald Trump tapped into the boiling oil of ressentiment with his slogan, "Make America Great Again!"
Conclusion
The Decline Narrative becomes ideology for Christian Nationalists and a electrically charged way of thinking for the rest of American society.
The aggressive anti-evangelicals like to point out–historically speaking–that America's founding revolutionary fathers were not devoutly religious. And, they did not inscribe Judeo-Christian principles into the U.S. Constitution. By disputing the Decline Narrative's account of origins becomes a strategy for anti-evangelicals to score rhetorical points.
Such historical attacks bounce off Christian nationalists like tennis balls bounce off a brick wall. Why? Because they fail to address what I've been calling the existential feeling of ressentiment. Antony Alumkal gets it right. "The sense of dispossession is still very clear in both religious and secular right leaders who want to 'take back the country' from liberals, secularists, and (in some cases) racial minorities" (Alumkal, 2017, 5). Christian nationalists interpret their feeling of dispossession in biblical terms. If they repent and return to Eden, then God will respond with redemption and renewal.
Unfortunately, my wake 'n' woke progressive Christian comrades have no sympathy for Christian nationalists facing an existential crisis. No empathy. No understanding. Why?
Here is the answer I tender. When progressive Christians bash evangelicals, they are blindly bashing themselves. I believe that in ol' fashioned psychology this was called reaction-formation.
Let me try to explain. Our wake 'n' woke progressive friends are overburdened with their own sense of guilt. They experience feelings of guilt for being white and hence responsible for the systemic racial and related injustices that drag American society down.
White 'n' woke progressives are able to identify with the victims of racial injustice. But, they are unable to render sympathy or empathy for other white people who are emotionally burdened. Wake 'n' woke white Christians become so preoccupied with their own unhappy consciousness that they project onto the evangelicals the very dispicable racial prejudices they see in themselves. The vitriol progressives express toward evangelicals is self-condemnation projected onto other white people who, apparently, should feel as badly as they do.
Now, progressive Christianity is my tribe. My home. My family. And, frankly, I'm proud of my progressive family.
But, it's time for some spiritual house cleaning. In the next Patheos post in this series on Resentment and Compassion, I'd like to try again to explicate the unhappy consciousness of the wake 'n' woke white progressive Christian internationalist. [3] Get ready to click.
▓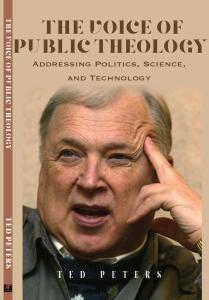 Ted Peters pursues Public Theology at the intersection of science, religion, ethics, and public policy. Peters is an emeritus professor at the Graduate Theological Union, where he co-edits the journal, Theology and Science, on behalf of the Center for Theology and the Natural Sciences, in Berkeley, California, USA. His book, God in Cosmic History, traces the rise of the Axial religions 2500 years ago. He previously authored Playing God? Genetic Determinism and Human Freedom? (Routledge, 2nd ed., 2002) as well as Science, Theology, and Ethics (Ashgate 2003). He is editor of AI and IA: Utopia or Extinction? (ATF 2019). Along with Arvin Gouw and Brian Patrick Green, he co-edited the new book, Religious Transhumanism and Its Critics hot off the press (Roman and Littlefield/Lexington, 2022). Soon he will publish The Voice of Public Theology (ATF 2023). See his website: TedsTimelyTake.com. His fictional spy thriller, Cyrus Twelve, follows the twists and turns of a transhumanist plot.
▓
Notes
[1] My version of the Decline Narrative is prompted in part by the scholarship of David Gushee and Antony Alumkal (Alumkal, 2017, p. 10).
[2]
Diana Butler Bass
, known for her astute analyses of religion in America, uses the term "evangelical" where others speak of "Christian Nationalism." She writes, "The latest iteration of this mythic understanding of American destiny was reborn among evangelicals in the 1970s. Against a background of social diversity, the sexual revolution, and widening conceptions of human rights, came a wave of religious revival. But these new evangelicals weren't content with just saving souls. They saw the changes as a threat to American piety, and they turned their attention to converting the political order. They believed that America had once been a Christian nation — and that that nation had become secular, corrupt, and sinful, and was turning its back on God."
[3] This post is an exercise in public theology.
Ad nauseum
I repeat: public theology is conceived in the church, critically reasoned in the academy, and offered to the wider culture for the sake of the common good. Evangelical sockdolager
Roger Olson
's version of public theology is a bit more modest. "So, when real Christians look outward, into our post-Christian, pluralistic, secular and pagan culture, what can we do beyond witnessing? We can, if we feel called and capable, point out the very serious flaws in ideologies and world views that attempt to become established as the foundation of American culture and common life. We can point out that there is no ideology or worldview that has the right to dominate everyone's beliefs and behaviors. All of them are faith-based in some sense. We can show by our way of life how transformative Christian belief can be. We can speak prophetically to fellow Christians who abuse Christianity to oppress people. There is much that we can do." In this case, we need to understand with greater subtlety and nuance the connections between evangelical theology, Christian nationalism, progressive or liberal Christianity, and the pluralistic character of contemporary American society.
References
Alumkal, A., 2017. Paranoid Science: The Christian Right's War on Reality. New York: New York University Press.
Gorski, P., 2017. American Covenant: A History of Civil Religion from the Puritans to the Present. Princeton NJ: Princeton University Press.
Peters, T., 2/2009. Astrotheology and the ETI Myth. Theology and Science 7:1, pp. 3-30.
Peters, T., 2019. Covenant, Blood, and Violence: America At War With Itself and Others. Dialog , 58(1), pp. 39-53.
Peters, T., 2023. The Voice of Public Theology. Adelaide: ATF.