The New York City Coalition Against Hunger released a report last week indicating that nearly a half million children living within the five boroughs of New York City (Manhattan, Staten Island, Bronx, Queens, and Brooklyn) are living in families that can't afford an adequate supply of food. That is one quarter of all children in NYC. The report also noted that food pantries and soup kitchens have seen a 12% increase in the number of people served in the past year, on top of an increase of 7% two years ago and 21% three years ago.
In other words, more and more people in New York City–something like 1 out of every 6–are hungry. But in the past year, 59 pantries and kitchens closed their doors, unable to run because they'd run out of funds. And that, in turn, happened because the Emergency Food and Shelter Program–a federal program that helps to fund hundreds of New York City's feeding programs, not to mention thousands across the country–was cut back by 40% as part of the budget deal this year. Additionally, as an article in the Brooklyn Daily Eagle notes, the majority of pantries and kitchens have received fewer and fewer private donations.
Here, in the shadow of the financial district whose gambling caused the meltdown, one out of every four kids live in families that can't buy enough food, and both their government and those who can afford to help them out cut the funding that fills in the gaps? Is it any wonder people took to the streets?
Other reports from around the country–like this one at NPR–confirm that the situation in New York City is far from unique. So consider: what can you do to help? What I'm going to do is this: each day of Advent I'll set aside a small portion of money–like an Advent calendar in reverse–and at the end of Advent I'll give what I've collected to a food bank. It won't be much more than a symbolic act, but it is what I can do. I hope that, in this way, anticipating Christ's coming can become an opportunity for loving the people he loves in the way that he did.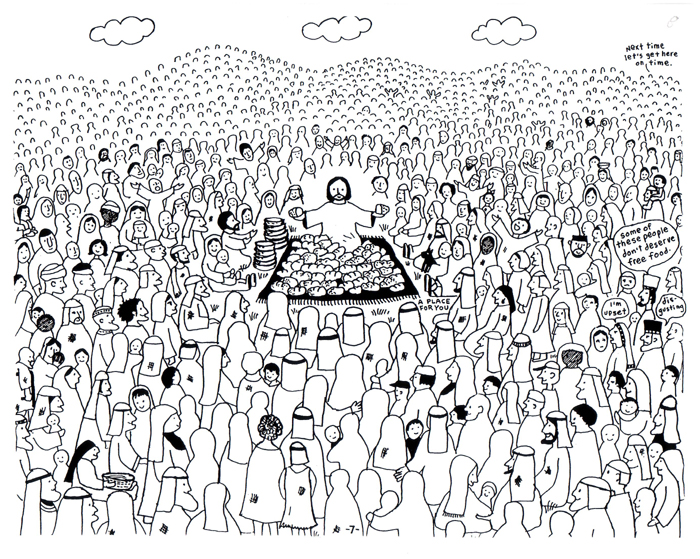 Want to join me?