The anti-vaccination thing–and resulting resurgence of previously near-eradicated diseases–has gotten so out of control that, apparently, Sarah Michelle Gellar is encouraging people to get vaccinated. As I've written before, I'm a pretty big fan of vaccines. It doesn't hurt that each time I go to town I see the shriveled and useless limbs of polio survivors who beg for a living.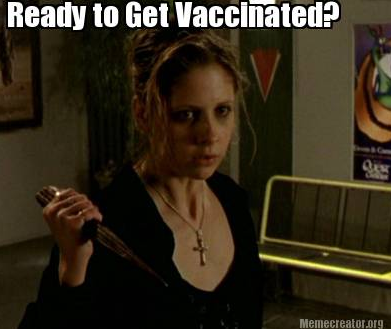 There is a fantastic piece in the New Republic by Julia Ioffe:
Here is a very small taste:
It would be an understatement to say that pertussis and other formerly conquered childhood diseases like measles and mumps are making a resurgence. Pertussis, specifically, has come roaring back. From 2011 to 2012, reported pertussis incidences rose more than threefold in 21 states. (And that's just reported cases. Since we're not primed to be on the look-out for it, many people may simply not realize they have it.) In 2012, the CDC said that the number of pertussis cases was higher than at any point in 50 years. That year, Washington state declared an epidemic; this year, Texas did, too. Washington, D.C. has also seen a dramatic increase. This fall, Cincinnati reported a 283 percent increase in pertussis. It's even gotten to the point that pertussis has become a minor celebrity cause: NASCAR hero Jeff Gordon and Sarah Michelle Gellar are now encouraging people to get vaccinated.

How responsible are these non-vaccinating parents for my pertussis? Very. A study recently published in the journal Pediatrics indicated that outbreaks of these antediluvian diseases clustered where parents filed non-medical exemptions—that is, where parents decided not to vaccinate their kids because of their personal beliefs. The study found that areas with high concentrations of conscientious objectors were 2.5 times more likely to have an outbreak of pertussis. (To clarify: I was vaccinated against pertussis as a child, but the vaccine wears off by adulthood, which, until recently, was rarely a problem because the disease wasn't running rampant because of people not vaccinating their kids.)

So thanks a lot, anti-vaccine parents. You took an ethical stand against big pharma and the autism your baby was not going to get anyway, and, by doing so, killed some babies and gave me, an otherwise healthy 31-year-old woman, the whooping cough in the year 2013. I understand your wanting to raise your own children as you see fit, science be damned, but you're selfishly jeopardizing more than your own children. Carry your baby around in a sling, feed her organic banana mash while you drink your ethical coffee, fine, but what gives you denialists the right to put my health at risk—to cause me to catch a debilitating, humiliating, and frightening cough that, two months after I finished my last course of antibiotics (how's that for supporting big pharma?), still makes me convulse several times a day like some kind of tragic nineteenth-century heroine?