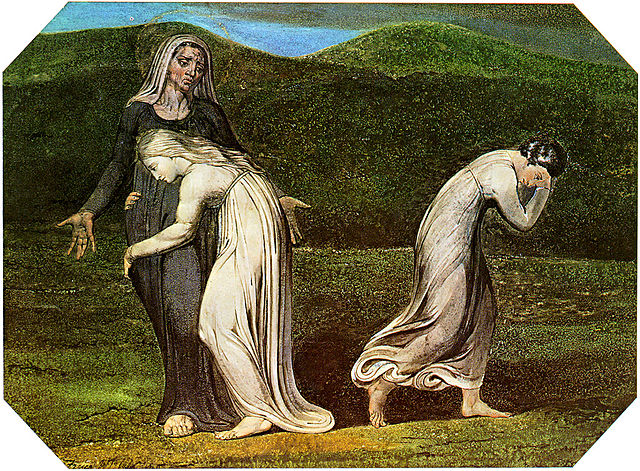 So I'm a little irritated because I just learned that Ruth only comes after Judges in Christian versions of the Hebrew Bible (forgive me for being ignorant about this).  Jews consider it a part of the Writings and so it should come much later.  If I'd known this, I might have saved it for later in this series, as I prefer to err on the side of actual Jews when dealing with the Hebrew Bible.  But I digress…
Ruth tells the story of Naomi (oh, and also Ruth), an Israelite woman whose husband and two sons die soon after leaving the Promised Land for the Gentile country of Moab because they were afraid of a famine that never happened (nice trust in God there, Elimelech.  By the way, your name is stupid and hard to pronounce).  One of her sons had married Ruth before his death, and the story follows the two women as they return to Israel to make a life for themselves.
Ruth's beautiful expression of fidelity has always been one of my favorite passages from the Old Testament:  "Do not press me to leave you, or to turn back from following you!  Where you go, I will go; where you lodge, I will lodge; your people shall be my people, and your God my God.  Where you die, I will die – there will I be buried.  May the Lord do thus and so to me, and more as well, if even death parts me from you!" (1:16-17).   Move over, 1st Corinthians 13:4-8, this is the passage people should be reading at weddings.
Now it's not only chronologically that Ruth doesn't fit in among all the Deuteronomic material, it's also theologically.  God is much more in the background of this short book than ever before, but that doesn't mean that faith and theology don't play an important role.
The apologetics are hard to miss; Naomi's misfortune is brought about by her husband's faithlessness (abandoning the Promised Land) and it is the pagan Ruth who redeems her through her unwavering faith and willingness to pledge loyalty to the God of Israel, completely on Naomi's account(!).  When Ruth was composed in post-Exilic Israel, exogamy was a controversial issue and it's obvious where the author of Ruth stands.
Another subtle yet crucial thing that happens in this book is something that Boaz (Ruth's husband-to-be) says.  When he orders his servants to allow Ruth to glean in his field in order to support herself and Naomi, Ruth asks what she's done to deserve such kindness, especially considering that she is a foreigner.  Boaz replies:  "All that you have done for your mother-in-law…has been fully told me…May the Lord reward you for your deeds, and may you have a full reward from the Lord, the God of Israel, under whose wings you have come for refuge!" (2:11-12).
But it is Boaz himself who rewards Ruth by taking care of her, giving her food and water (enough for both she and Naomi), and eventually marrying her.   In effect, Boaz acts as the instrument of God's reward to Naomi.  It is a powerful and subtle reminder that in the Bible God does not always act through miraculous divine-supernatural-intervention; sometimes His will is done by ordinary human beings filled with compassion.  And so it was, and so it is.
Finally I want to address the issue of the identity of the author of this little book.  To my mind, it was clearly written by a woman.  I know the odds of a female scribe writing a book like this and it making it into the Hebrew canon is highly unlikely, but the only alternative, that a 5th-century BCE man wrote this ode to female empowerment and agency, which includes a not-so-subtle dig at men in general (3:18), is actively ludicrous.  Kugler and Hartin, by the way, agree, reminding us that there were some rare cases when women did achieve scribal literacy.
Of course I might be wrong and there's no way to know for sure.  But the actual content of the book, combined with the historical reality of the time it was written, leads me to believe that Ruth was actually written by some anonymous woman.
Next week:  Back to the oh-so-pleasant Deuteronomist as we tackle both halves of Samuel!