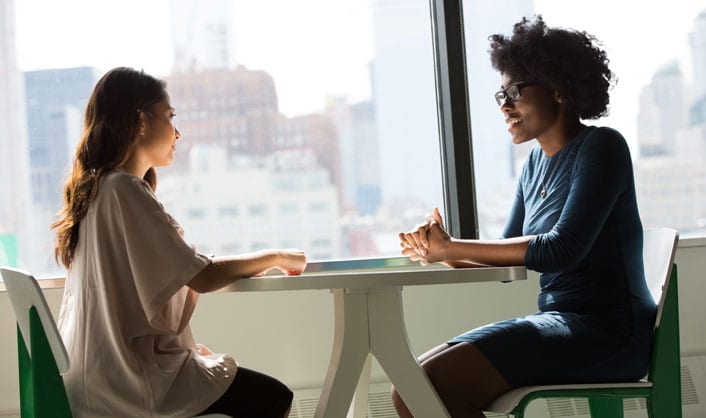 Today's blog is the second in a series of five with Scripture on the impact and importance of our words (see part one).
The following verses remind us of the importance of actually listening and reading before we respond, both in person and online. Sadly, many of us don't know how to read, pay attention, listen, or think critically, and it shows in our conversations and online interactions. (Sometimes you'll read comments on social media and it's clear many commenters haven't read or understood the entire article or blog they're commenting on!)
It takes humility to truly listen before we respond. May God grant us that humility, and may we all be "quick to listen, slow to speak"—to the glory of God.
Listen to the Counsel of Others:
He who listens to a life-giving rebuke will be at home among the wise (Proverbs 15:31).

He who ignores discipline despises himself, but whoever heeds correction gains understanding (Proverbs 15:32).

Listen to advice and accept instruction, and in the end you will be wise (Proverbs 19:20).

Stop listening to instruction, my son, and you will stray from the words of knowledge (Proverbs 19:27).

Pay attention and listen to the sayings of the wise; apply your heart to what I teach, for it is pleasing when you keep them in your heart and have all of them ready on your lips (Proverbs 22:17-18).

Like an earring of gold or an ornament of fine gold is a wise man's rebuke to a listening ear (Proverbs 25:12).

For waging war you need guidance, and for victory many advisers (Proverbs 24:6).

A wise son heeds his father's instruction, but a mocker does not listen to rebuke (Proverbs 13:1).

Wise men store up knowledge, but the mouth of a fool invites ruin (Proverbs 10:14).
Listen before You Respond:
He who answers before listening-that is his folly and his shame (Proverbs 18:13).

Do you see a man who speaks in haste? There is more hope for a fool than for him (Proverbs 29:20).

Everyone should be quick to listen, slow to speak and slow to become angry (James 1:19).
Don't Talk Too Much:
When words are many, sin is not absent, but he who holds his tongue is wise (Proverbs 10:19).

A man of knowledge uses words with restraint, and a man of understanding is even-tempered (Proverbs 17:27).

A fool finds no pleasure in understanding but delights in airing his own opinions (Proverbs 18:2).

Even a fool is thought wise if he keeps silent, and discerning if he holds his tongue (Proverbs 17:28).

A man of understanding holds his tongue (Proverbs 11:12).
Weigh Your Words, and Think before You Speak (or Type):
The heart of the righteous weighs its answers, but the mouth of the wicked gushes evil (Proverbs 15:28).

Reckless words pierce like a sword, but the tongue of the wise brings healing (Proverbs 12:18).

He who guards his lips guards his life, but he who speaks rashly will come to ruin (Proverbs 13:3).

He who guards his mouth and his tongue keeps himself from calamity (Proverbs 21:23).

If anyone considers himself religious and yet does not keep a tight rein on his tongue, he deceives himself and his religion is worthless (James 1:26).
Make Your Words Timely and Appropriate:
A man finds joy in giving an apt reply—and how good is a timely word! (Proverbs 15:23)

A word aptly spoken is like apples of gold in settings of silver (Proverbs 25:11).

It is to a man's honor to avoid strife, but every fool is quick to quarrel (Proverbs 20:3).

A gentle answer turns away wrath, but a harsh word stirs up anger (Proverbs 15:1).
Here are some related thoughts from others:
Dietrich Bonhoeffer writes in Life Together,
The first service one owes to others in the community involves listening to them. Just as our love for God begins with listening to God's word, the beginning of love for other Christians is learning to listen to them. God's love for us is shown by the fact that God not only gives us God's word, but also lends us God's ear. We do God's work for our brothers and sisters when we learn to listen to them. So often Christians, especially preachers, think that their only service is always to have to "offer" something when they are together with other people. They forget that listening can be a greater service than speaking. Many people seek a sympathetic ear and do not find it among Christians, because these Christians are talking even when they should be listening.
Writing about the importance of listening, Dane Ortlund says this:
Dozens of times today, someone will start speaking to you.

A child, wanting something to eat. A co-worker, touching base about an upcoming meeting. A boss, offering a word of correction. A friend, returning a call. A parent, battling loneliness. A pastor, opening the Scripture. A neighbor, saying hello while walking the dog. A spouse, reflecting on the day. A confidante, needing counsel. A relative, boring us with life details.

In each case we can either deflect or engage. The exhortation to be "quick to hear" and "slow to speak" (James 1:19) isn't just a handy tip for life. It's where the gospel takes us. Why would we not be lifelong listeners, quick to hear?

This doesn't mean we never excuse ourselves from a conversation to attend to more important matters. Sometimes the most loving thing to do is to stop listening—to gossip, say, or to a solicitor who has knocked on your door during dinner. It means instead that increasingly the natural default of a gospel-shaped heart is to enter in to another's words rather than hold them at arm's length.

It means we'll start more sentences with "I see your point" rather than "But . . ." More responses of "That must be hard" rather than "Something similar happened to me . . ." Often it will mean sitting in silence together rather than generating words just to fend off the awkwardness of quiet.

Not only in private dialogue but also in public discourse, Christians of all people should be famous for their listening. If love is the defining mark of Christians, shouldn't listening be a fundamental mark of how we interact with others—in political dialogue, in discussing race, in sorting through economic issues, in apologetics?

We sin. But God doesn't shout us down. He gently listens to our deepest need, and meets us there, at the cross.

The central calling of the Christian life is to love. A neglected way we love is by listening. The grace of God in Jesus Christ takes us there.

(Read his whole article Listen. It's a Ministry.)
Photo by Christina @ wocintechchat.com on Unsplash