I try really, really hard to avoid writing during meditation, but every once in a while I simply MUST stop the silence with the words coming to me.
The other morning I was at the park, being all still and quiet and Buddha-like (at least on the outside: the inside was more Game of Thrones) when… WHOOSH…a prayer rattled through me so fast I couldn't have resisted if I tried.
I grabbed for a pen and scrawled it down.
I did not plan to do anything with this prayer except leave it it in my journal. I certainly never planned to write a blog post about it! I shut my journal and went back to meditating.
A few minutes later, my dear friend Zach walked by. "Hey Reba, funny running into you here," he said, hugging me.
Zach's mood is usually best described as "AWESOME! Double thumbs-up!" but that morning he looked glum.
So I asked if he wanted to hear the prayer I just wrote.
He said Yes.
I read it.
A Meditation's Prayer
"Turn all my darkness to light the way for others.
Make my mistakes lessons for many.
Change my
Hopelessness to hope.
Fear to courage.
Anger to forgiveness.
Silence to words.
Take all my tears
Form them into rain
And water the driest heart's desert."
Zach knelt down closer to my seat and said, "Can you read it again? This is literally the answer to a question I asked God five mintues ago."
I read it again. (Not to embarrass Zach, but I'm pretty sure his eyes were watering.) (Mine too.) (But my eyes are permanantly leaky.)
"One more time?" he asked.
"Forget that," I ripped out the journal page to gave it to him. "It must have been for you all along."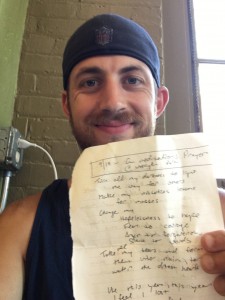 ♡Good Morning, sweet Kiss from the Godiverse♡
•••
And then I thought–maybe this prayer is also for some of my other Beloveds out there, too, so here it is.
•••
As one of my favorite authors, Tosha Silver, would say–"Take if you need".
Take if you need and Courage ON.
♡
Love, Reba