The purpose of the #AmericaIsKind Challenge is simple:
To remind us all that #AmericaIsKind because Americans are kind.
We want to spread kindness, gratitude and acts of good while highlighting the work of great charities.
We want to start a wildfire of kindness and positivity online and in everyday life.
So if you are tired of negativity, strife & division—especially on social media—

Take the #AmericaIsKind Challenge!
It's easy! Simply…
–On social media SHARE an ACT OF KINDNESS someone has done for you with #AmericaIsKind
–TAG 3-5 friends and your favorite charity to take the #AmericaIsKind Challenge
–PAY IT FORWARD by doing a random act of kindness for a stranger
OR
–Take the full 30-day #AmericaIsKind Challenge, with daily gratitudes, acts of goods, and our highlighted charities HERE. You can jump in or out any day…whenever you find the challenge is the perfect time to begin.
Today is Day 6 of the #AmericaIsKind Challenge: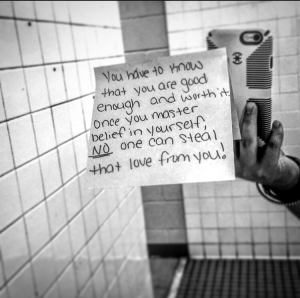 Our theme today is Communication, and our Do-Gooder of the Day is The World Needs More Love Letters:
"A GLOBAL ORGANIZATION USING THE POWER BEHIND SOCIAL MEDIA TO WRITE AND MAIL LETTERS TO STRANGERS ALL OVER THE WORLD. WE LET ANYONE NOMINATE SOMEONE IN NEED OF A LOVE LETTER BUNDLE. WE PICK STORIES THAT RESONATE. YOU GET THE CHANCE TO WRITE A LETTER AND MAIL IT IN.
THE TASK IS SMALL BUT THE IMPACT IS GREATER THAN YOU CAN IMAGINE."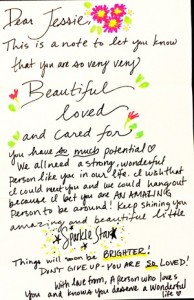 Gratitude: "I am grateful for my ability to communicate and in doing so, make a positive difference in the life of a loved one, co-worker, or stranger."
Good: Leave a Post-It note with a positive message on the mirror of a public restroom. If you don't know what to write, head over to Operation Beautiful, where they are spreading KINDNESS & changing the world one note at a time
Good: Write three Post-It notes of hope to leave them on the windshields of stranger's cars
Good: On social media, make a public post about why are grateful for your ability to write, along with the message of hope you'd most like to communicate.
Good: Compliment a person to his or her boss or family member
Good: Give three genuine smiles and compliments people that see every day but rarely engage: like a service worker, your building's maintenance staff, or the clerk at the corner store.

Good: Write a Love Letter to one of the deserving folks around the world who need love and encouragement. You can find The World Needs More Love Letters stories HERE. People out there need our KINDNESS, people! It only costs a stamp, but the cost of that stamp changes hearts and lives.
Need more kindness & gratitude ideas? We have them.
Find the other days of The #AmericaIsKind Challenge HERE.

During the year I explored 30 religions, I found that KINDNESS and GRATITUDE are present in every faith. In spite of our many differences, these qualities unite us.
Later, through a yearlong battle with clinical depression, I discovered that practicing KINDNESS and GRATITUDE are two of the scientifically-proven ways to defeat depression and increase happiness.
Coincidence? I don't think so!
I came up with the #AmericaIsKind Challenge as a way to inspire the practice of kindness and gratitude, unite Americans with the things we have in common, help others who may be struggling with depression, and to remind us all that America is kind because Americans are kind.
For daily inspiration & ideas, follow Reba Riley, author of Post-Traumatic Church Syndrome: One Woman's Desperate, Funny, Healing Journey To Explore 30 Religions By Her 30th Birthday on: