There are two ways to take the #AmericaIs Kind Challenge:
#1: On social media, SHARE an ACT OF KINDNESS you have witnessed with the tag #AmericaIsKind, then PAY IT FORWARD by doing a random act of kindness for a stranger. TAG 3-5 friends to take the #AmericaIsKind Challenge to keep the acts of good going.
#2: Participate in the

30-day #AmericaIsKind Challenge

, where we are turning our #GratefulToGood by practicing gratitude and acts of kindness every day for a month. You can find the daily gratitude, acts of good, and highlighted charities

HERE

. Jump in or out any day…whenever you find the challenge is the perfect time to begin.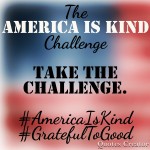 Today is Day 27 of the 30-Day #AmericaIsKind Challenge:  Our theme today is LIVING, and our Charity of the Day is: DonorsChoose.org, an incredible charity that matches donors directly with classroom projects."Founded in 2000 by a high school teacher in the Bronx, DonorsChoose.org empowers public school teachers from across the country to request much-needed materials and experiences for their students. Right now there are thousands of classroom requests that you can help bring to life with a gift of any amount…Support a classroom. Build a future."
https://www.youtube.com/watch?v=fbzOLbCAEhY
Gratitude: "I am grateful for life's unexpected rainbows."
Life's "unexpected rainbows" are the moments that catch us off-guard with simple joy where we never would have expected it. Sometimes (often) we are too busy rushing aorund to take notice of these small pockets of happiness that exist in our everyday lives. During my period of clinical depression, I learned to look for the the unexpected rainbows, and I found no matter how bad the day— there was at least one little sparking moment, even if it was as tiny as a flower growing up through a cracked sidewalk. 
Good:  Look. Look for the unexpected rainbows. Observation is the key– what you look for, you will see.
Good: Share. Share the story of a beautiful moment with a loved one. Retelling a good moment helps ou live it again, which doubles the happiness effect for you while giving a boost of joy to someone else.
Good: Create. Create an unexpected rainbow for a stranger by doing a Random Act of Kindness. Here's a list of 134 ideas.
Good: Donate. To our Charity of the Day DonorsChoose.org,  and give an unexpected rainbow to a classroom.
Reba Riley is the author of Post-Traumatic Church Syndrome: One Woman's Desperate, Funny, Healing Journey To Explore 30 Religions By Her 30th Birthday, the 2016 memoir Elizabeth Gilbert calls: "Hilarious, courageous, provocative, profound…Reba Riley brings the light for seekers of all paths. If Eat Pray Love had a gutsy, wise, funny little sister, it would be Post-Traumatic Church Syndrome." She is a motivational speaker, blogger, and television contributor. You can find her online on Facebook Instagram Twitter