There are two ways to take the #AmericaIs Kind Challenge:
#1: On social media, SHARE an ACT OF KINDNESS you have witnessed with the tag #AmericaIsKind, then PAY IT FORWARD by doing a random act of kindness for a stranger. TAG 3-5 friends to take the #AmericaIsKind Challenge to keep the acts of good going.
#2: Participate in the

30-day #AmericaIsKind Challenge

, where we are turning our #GratefulToGood by practicing gratitude and acts of kindness every day for a month. You can find the daily gratitude, acts of good, and highlighted charities

HERE

. Jump in or out any day…whenever you find the challenge is the perfect time to begin.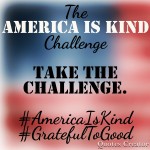 Today is
Day 26 of the 30-Day #AmericaIsKind Challenge:
Our theme today is WORK, and our Charity of the Day is: Kiva.org
"Kiva connects people through lending micro-loans to alleviate poverty. We celebrate and support people looking to create a better future for themselves, their families and their communities.By lending as little as $25 on Kiva, anyone can help a borrower start or grow a business, go to school, access clean energy or realize their potential. For some, it's a matter of survival, for others it's the fuel for a life-long ambition.100% of every dollar you lend on Kiva goes to funding loans."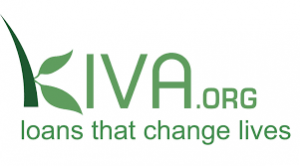 Gratitude: "I am grateful to live in a society of free commerce where I have the ability to work or start a business."
Today is Small Business Saturday–where we are encouraged to shop at all the small businesses that make up our communities. Living in the United States, where it is possible to find employment, start a small business, or apply for a loan, it's easy to forget that in most of the developing world there are no jobs, or accessible banks, or loans, or credit of any sort. This lack of stable financial commerce system contributes to the continual cycle of poverty–where most of the world lives on less the $2.00 a day. 
Good:  Support a small business. For holiday shopping or regular shopping, support a local business whenever you can.
Good: Donate.  Dress for Success collects and distributes professional attire for women, empowering them to achieve economic independence through job training, mentoring and work-wear. Check your closet for gently-used professional clothing and donate it to your local Dress for Success to help a woman become independent.
Good: Volunteer. Put all those professional skills–the ones you learned the hard way!– to good use at a local community organization or school.
Good: Be kind. You know that co-worker or supervisor who drvies you bananas? Take a deep breath and remember you have no idea what is happening in this person's life; everyone is fighting a battle. Go out of your way to do something kind for this person (anonymously), or maybe even a few kind things. Even if it doesn't change his or her outward behavior, it might change their heart–and it will definitely change yours.
Good: Support our Charity of the Day,  Kiva.org by giving a microloan–as little as $25!–to help fund a business in the developing world. The best part about Kiva is you get to see your money repaid and lend it again to someone else in need.
Reba Riley is the author of Post-Traumatic Church Syndrome: One Woman's Desperate, Funny, Healing Journey To Explore 30 Religions By Her 30th Birthday, the 2016 memoir Elizabeth Gilbert calls: "Hilarious, courageous, provocative, profound…Reba Riley brings the light for seekers of all paths. If Eat Pray Love had a gutsy, wise, funny little sister, it would be Post-Traumatic Church Syndrome." She is a motivational speaker, blogger, and television contributor. You can find her online on Facebook Instagram Twitter