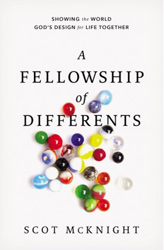 Scot McKnight is a fellow Patheos Evangelical blogger over at Jesus Creed. While I've not read everything he's written, I've been impressed with his grace, knowledge of Church history, and faithfulness to the Bible. His openness to more liturgical, traditional expressions of the Christian faith is a gift as well. I think he has been and will continue to be an important church leader for our time.
That's why I'm very excited to join Scot McKnight, fellow blogger Ben Corey, and Patheos Executive Editor Kathleen Mulhern to talk about McKnight's newest book, A Fellowship of Differents THIS Thursday at 2 PM EST. Our discussion will center around the topic of "what the Church should be." I hope you'll be able to join us for this discussion. You can sign up ahead of time here.
I just finished reading McKnight's book (it's a Patheos Book Club featured pick). In it, this New Testament professor writes about how the Gospel is "God's world-changing social experiment of bringing unlikes and differents to the table to share life with one another as a new kind of family."
Is the Church always this way? Well, no. McKnight's book is really a call to us to return to the vision of the Early Church.
As I read McKnight's book, I was struck most by how God's intent that the Church be a "fellowship of differents" in fact indicts us as American Christians for allowing Sunday morning to be our most-segregated hour of the week. I used to think that maybe our differences in worship preferences made it just fine for different races to have "separate but equal" worship services. But since the events of last summer in Ferguson, MO, and beyond, I've begun to think that we as Church are fundamentally failing to live out "God's social experiment." Because we are locked into our own preferences in our own congregations, because we do not dare to get out and get uncomfortable by doing things in ways we might not prefer, because we do not take the time to know and be known by our brothers and sisters who are different from us…we are failing to lead the way in reconciliation. And so when situations like Ferguson happen, we in the white majority do not  understand that the experience of someone from a different race might be fundamentally different from our own experience. We draw up sides. We accuse people of playing the "race card." We don't stop to consider that someone from another perspective might in fact have a legitimate concern. Those who actually have good friends who are black do not have trouble understanding this reality. But for most of us, because we have not often encountered those who are different from us within the family of faith, we distrust them and we do not see them as brothers and sisters. This is tragic. The Gospel is meant to destroy the dividing walls we find in the world, but we have often failed to let it do its work today.
Yet McKnight's book offers so much hope that we as Church can grow toward God's intent for us. I am looking forward to talking with him and learning more about how we can live out the reality of who God has made us in Christ.