A disillusioned youth makes a dramatic break from his neo-Nazi family in the new release, "Skin," releasing from A24 and DirecTV. Jamie Bell ("Turn: Washington's Spies," "Billy Elliott") leads an impressive cast that also includes Danielle Macdonald ("BirdBox," "Dumplin"), Mike Colter ("Luke Cage," "Breakthrough") and Vera Farmiga ("The Conjuring").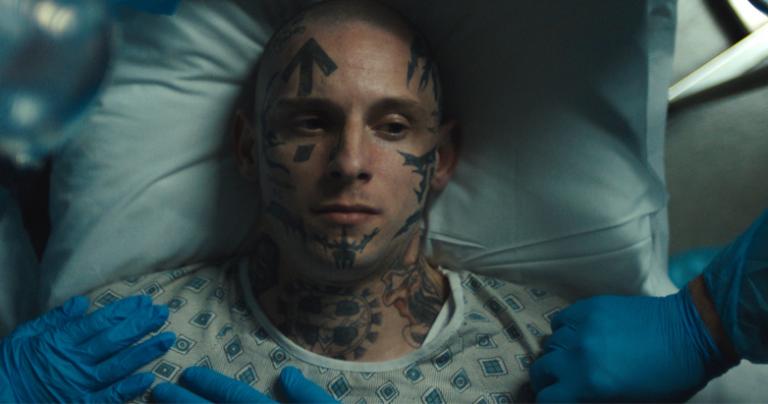 Based on a true story, Bell plays Bryon Widner, a tattooed young skinhead submerged in a world of violence and racism before being drawn away by the love of a young woman (Macdonald) and encouragement of anti-fascist activist Darryle Lamont Jenkins (Colter). Widner spends his days as a right-hand man to supremacist leader Fred Krager (Bill Camp) and his wife, Shareen (Farmiga). The duo lures lost young men into their fold by offering shelter, community, and purpose, creating an inescapable hole enforced with an unforgiving arm.
In a standout role, Bell captures Widner's inner-struggle, observing the first steps of other young men joining his path while desperately seeking an escape for himself. Through the new recruits, he's reminded of the beginning and is hopelessly haunted by the likely end—jail or prison. All the while, Jenkins begins to plant his seeds, choosing to see Widner's humanity even beyond his hate. "You're not like them, Bryon," he says, and Widner starts to believe him. That Jenkins can move beyond the hatred and see beneath Widner's tattooed "skin" is an inspirational thread in an otherwise gritty and violent story.
Guy Nattiv, an Academy Award-winning Israeli filmmaker, spearheaded his first English-language film by initially contacting Widner, writing his story into a script, and serving as director. Skin is purposely unpolished and uber-realistic. At times, it feels like an uncomfortable documentary of a world most viewers weren't aware actually exists. The true photos shown during the end credits drive home Widner's incredible journey.
Read: 'Skin' Director on the 'Miracle' of Overcoming Hate
"Skin," which earns its R rating for adult language, violence, and themes, offers hope for a world tainted by racially-motivated hate and division. If someone like Widner can summon the courage to stand against everything he's ever known to do the right thing, there's hope for anyone.
"Skin," starring Jamie Bell and written and directed by Guy Nattiv, will release in theaters and on-demand July 26 through A24 and DirecTV.