The new streaming comedy series "Mr. Mom" follows the humorous exploits of a married couple with two small children whose breadwinner roles are reversed when the wife lands her dream job. The comedy, produced by MGM Television, is a series reboot of the 1983 John Hughes film starring Michael Keaton and Teri Garr, now updated for the modern world. It recently premiered as the first original series on the VUDU streaming service.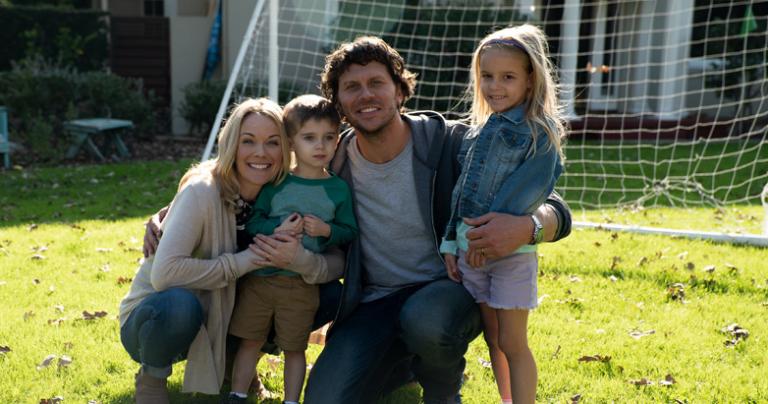 Andrea Anders ("Joey," "The Class," "Better Off Ted") stars as Megan, the ambitious, organized matriarch of the Anderson family. In this interview, she discusses what drew her to the role and how it feels to star in a decidedly family-friendly show.
What drew you to this remake of "Mr. Mom"?
I have a soft spot for that movie, and it's been a fun one to tell people about. When you say you're working on it, almost everybody responds with, "Oh my God, I love that movie." It was such a great movie. Of course, I have the honor of playing the Teri Garr role. It was so exciting. The scripts are really well done, and I was really excited to work on it. I think our writers, Mike (Culbert), Mike (Pellettieri), and Leslie (Rathejust) did a really good job. It's a challenge to find a way into it without, without sounding like "Greg's just going to stay home." I believe that they did, and they created a story that's less about switching roles and more about finding your way in a new situation. It's a little clumsy and generally hilarious.
This could be a real game-changer for Vudu, as the first original series. How do you feel about that?
Yeah, that's exciting. Everything is the wild west right now. Nobody knows when or how the next big hit is going to happen. The landscape just changed so drastically. The way we watch television and movies is very, very different than it used to be. So, to be part of someone's —would you call it a maiden voyage? —that's exciting. That's really fun. And, and it'll be interesting to see where it goes. So many times in this business, you create something and then you set it off into the world and many times, it just sort of gets shot out of the sky and dies a slow death alone in a valley. But sometimes it takes off and becomes something big and wonderful. Like anything else, it could be huge and let's hope it is.
They seem to have a lot of confidence in it because VUDU is pushing it big.
Good. I'm glad to hear that. That's great news. Let's hope it's definitely worthy of a following. (Sometimes with a project), you read it and you think it's great, and then you shoot it and you think it's great, and then you watch it back and you're not sure. But this one, I watched back as rough, rough cuts and I said, "That's good." It held up all the way through. Everybody did a good job. It's fun to watch. You can watch it with your kids, which there isn't much of that anymore. So, it's worthy of doing well.
Did the family-friendly aspect appeal to you, in particular?
I didn't think too much about that until we were doing a press junket for it a few months back and one of the reporters said, "I am so excited to watch something with my kids." And I thought, "Oh, that is nice." When we were shooting it, we did some improvising and had to keep it clean. That makes it challenging. But also, it's an interesting challenge to rise to. This one could go on any one of those networks and hold up to all their standards and practices. And those aren't easy confines to writing and performance, but I believe we did it. Another success.
If that's the case, you were kind of self-monitoring because a lot of times on the streaming platforms, at least to consumers like me, it doesn't feel like there are any constraints.
Yeah, we did know it was going to be for VUDU and we also knew that we wanted it to be kid-friendly and so, yeah. We were aware of who we were working for and working with. Sometimes comedy is a race to the bottom, you know, and we didn't have that luxury, so we kept it all upstairs and I think we created something fun and compelling and heartfelt.
Another unique element is that the segments are not in the half-hour or 23-minute format, they're broken up much smaller.
Yes. When I read it, it reads like a feature that has 10-minute beginning, middle and ends. So, it's really interesting to read it that way. And then when we shot it, we shot it all out of order. There were a lot of the script supervisors stepping in and saying, "Remember, you don't know this yet" or "Remember, you just found out this." It's a really interesting medium.
"Mr. Mom," starring Hayes Arthur, Andrea Anders, Catherine and Elizabeth Last, and Cary Christopher, is currently streaming for free on VUDU.com.