On the new CBS drama, "Evil," psychologist Kristen Bouchard (Katja Herbers) joins priest-in-training David Acosta (Mike Colter) to investigate claims of the supernatural. The series, written by Robert and Michelle King ("The Good Wife," "The Good Fight") explores such phenomena as demonic possession, angels, and miracles through the lens of faith and science.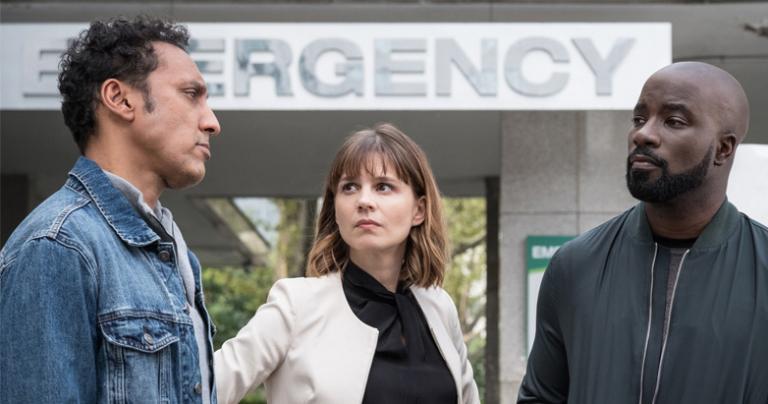 Aasif Mandvi ("A Series of Unfortunate Events," "The Daily Show," "The Last Airbender") joins the duo as contractor Ben Shakir, a realist recruited to help rationalize the unexplained. The British-American actor recently spoke to DeWayne Hamby about what drew him to the role and what the future holds for the new series.
What drew you to the project?
I read the script and I thought "This is great." It was interesting and original and a unique take on what could be perceived as a procedural. And it's so much more than a procedural because it goes in so many different places. When I read the original pilot script, I just thought it was really good. I'm a big fan of (Robert and Michelle King). I love "The Good Fight" and "The Good Wife." So, for me, it was sort of like the pedigree of project and the quality of the work. Often as an actor reading from a script you go, "Oh, I think I will do this. It's not brave but I'll do it anyway just because I need the money or whatever." This was one of those situations where I was like, "Oh, this is actually good, and I can be part of this."
In the pilot episode, they tease whether or not it's a supernatural event or something else before ending on one side. Will all of the episodes follow that conclusion?
I think it will be both. The questions is—is it something that's explainable or is it something that's supernatural? The way the show has been written, things are not tied up neatly. We don't come out always with a clear explanation. Some things are left hanging. My character Ben, he is a total pragmatist and he's an atheist. He's the opposite of David and that way. He's out to like basically show that these things are scientifically provable. Sometimes you succeed, sometimes you fail. There is the larger, more philosophical question of what is evil. Does it come from a supernatural place or does it come from a human place? That's sort of the David and Kristen relationship as well. She's the psychologist. She's analyzing this from the humanistic place of psychosis or schizophrenia. He's looking at things through a religious lens, a possession or something supernatural or angels and demons and stuff like that. That question is constantly the central struggle of the show.
Where do you land on that personally?
I grew up in a Muslim religious home. I think that for me, I do have a sense that there's more than what we can see and touch and feel and taste. For me, there is something. I'm not like Ben in that sense. I do believe that there are things that we don't understand. I don't know if I attribute them to God, or our general conventions with God, but I do believe that there are things that we don't understand. I also believe that psychological factors play a great deal in how we perceive the universe and how we perceive our reality.
I believe that evil is something we're all capable of, just as we are all capable of good. What that depends on is what aspect of it we choose to empower. There is also historically, culturally, societally what we decide is evil versus what we decide is good. Historically, over the history of humankind, that has changed and evolved. There are certain things obviously like murder is always considered evil, except when the government tells you to go and murder people. That's not considered evil anymore, it's considered patriotic. So, these things are we all struggle with.