In "The Rise of Skywalker," directed by J.J. Abrams, the question presented to Rey is the same one presented to Luke and Anakin Skywalker before her—"Will you give in the dark side?" Longtime "Star Wars" fans, however, bring their own haunting question as it opens nationwide this week—will this final installment of the "Skywalker Saga," live up to expectations?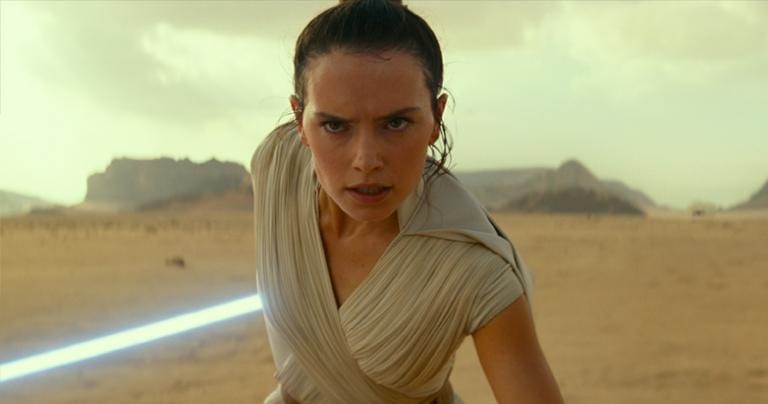 The answer to the first question plays itself out during the film's 142 minutes, teasing an unholy villainous union between Kylo Renn (Adam Driver) and the virtuous but mysteriously powerful Rey (Daisy Ridley). "Join me and we will rule together" is not unlike a temptation offered in a desert a few thousand years ago. For every character powerful enough to use the force, unresolved anger, bitterness and pain serve as a doorway to the dark side. For Luke, it was losing his father. For Anakin, it was losing Padme. For Rey, it's not knowing her parents and being written off as a nobody. These are the pressure points our heroes face, as do its viewers. If there is an overarching moral lesson to the series, perhaps that's it. Let go of personal pain before it turns you into something you don't want to be.
For the second question, "Will this film live up to expectations?," the answer has to be "It depends." Did you like "The Last Jedi," directed by Rian Johnson, a film that has been derided by many as deconstructing the "Star Wars" mythology? If not, "Skywalker" will probably be a welcome, course-correcting return to form.
"The Rise of Skywalker" features many of the elements—maybe too many—that fans have come to love through the years, and like "The Force Awakens," also directed by Abrams, is heavy on nostalgia. There's the Millennium Falcon once again soaring through space! Here's an old familiar face, this time Lando Calrissian (Billy Dee Williams), showing up when needed most. There's someone even saying Han's old oft-repeated line, "I've got a bad feeling about this." There are new alien worlds, new friends with complicated backstories, and even a cute new wisecracking droid, competing with C3PO as this film's comic relief.
Forty-two years of backstory and expectations are a lot of pressure for this final chapter, and for this longtime fanboy who saw the original in the theater, it succeeds. I loved it, and upon further reflection, I like it even more. It's not a perfect resolution and especially during the ending, it tries to give a variety of options for a variety of tastes. "Don't like that conclusion? Wait a few minutes and maybe you'll like this one better." Maybe because of a nine-episode saga, that's the best that could be done to offer something for everyone, a "greatest hits," so to speak, of the entire "Star Wars" universe rolled into one final entry.
The fact that Abrams returned to direct "Skywalker" after Johnson's "The Last Jedi" is indicative of the effect social media and criticism now play in the production of blockbuster films. To that end, the inclusion of a same-sex kiss, mentioned by Abrams during the promotion of the film, is also an answer to the LGBT community's frequent calls to "out" certain characters. Any hints of a romance between Finn (John Boyega) and Poe (Oscar Isaac) are quashed by new love interests, while the blink-and-you-miss-it kiss occurs between minor characters during the film's conclusion.
As I grew up, I had always hoped the "Star Wars" saga would extend beyond the original trilogy, but I kept hearing rumors that Lucas had changed his mind. When the prequels were announced, I was over-the-top gleeful. They broke new ground and returned us to that galaxy far, far away, but, in my eyes, they never lived up to their predecessors. With Disney's acquisition of Lucasfilm and its determination to continue the series, I once again had high hopes to see my old friends onscreen, and with the newest episodes, they have been mostly met. I'm happy. At the end of the day, even imperfect "Star Wars" films are better than no "Star Wars" films at all.
"Star Wars: The Rise of Skywalker," also starring Carrie Fisher, Mark Hamill, Anthony Daniels, Naomi Ackie, Domhnall Gleeson, Richard E. Grant, Lupita Nyong'o, Keri Russell, Joonas Suotamo, Kelly Marie Tran, and Billy Dee Williams releases in theaters on December 20.
—DeWayne Hamby
Second Take: My friend and fellow movie critic Rob Alderman attended "The Last Skywalker" screening with me and offered his opinion in a short review. I thought I'd share it here. Rob, by the way, is also a longtime "Star Wars" fan, but unlike me, is an outspoken fan of "The Last Jedi."
"Cotton candy is a very interesting substance. It's brightly colored, and it smells great. It's easy to carry around with you. We associate cotton candy with good times like fairs and festivals. It's something we allow ourselves as an indulgence. It's a classic. You can count on it to taste familiar. Cotton candy won't force you to taste anything new. It won't ask you for much. It's a safe option.

But look closer at cotton candy and you'll see it is made of air and sugar and nothing more, and if you tried to eat it for dinner you would most likely feel a little empty at the end of your meal.

Man, some people really love cotton candy. And if you tried to feed these people a full meal, or introduce them to a new taste, they would most likely never stop complaining about it on Twitter. They would yell, "You're ruining my childhood," because their taste buds are craving sugar-filled air.

I think cotton candy is fine, but I wouldn't serve cotton candy as the final installment of the greatest meal in the entire history of meals."