Thirty-five years after his label debut, contemporary Christian music icon Steven Curtis Chapman returns with "Still," his first original pop project since 2013's "The Glorious Unfolding." The singer-songwriter, behind hit songs such as "The Great Adventure," "Dive" and "Cinderella," is the most awarded artist in the history of Christian music, receiving 59 Gospel Music Association (GMA) Dove Awards, five GRAMMY®Awards, an American Music Award, and 49 No. 1 singles.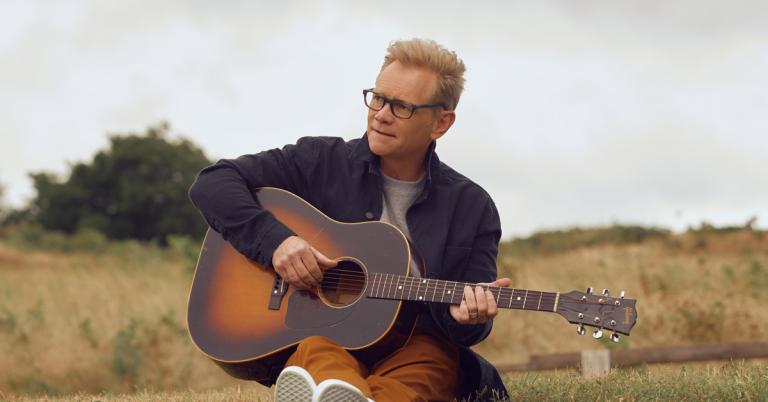 Going back into the studio with those accolades, a vast repertoire, but so much left to say, the artist appropriately titled the project as a tribute to the faithfulness of God and the blessing of the opportunity he's been given.
"What, to me, is so amazing, is 35 years ago, 'First Hand' came out, and just to think that I've had the opportunity all these years to do this, and still getting the chance to make music and encourage people and tell my stories and sing my songs is pretty, pretty amazing," he said.
In this exclusive interview with Reel Faith writer and longtime SCC listener DeWayne Hamby, Chapman reveals his internal and external struggles in creating the new project, and what life is like for him and his wife Mary Beth after sending their last child off to college.
I've heard a few songs from the project and they're the upbeat, classic Steven Curtis Chapman "Great Adventure" type songs. What can tell me about those songs and some of the others?
One of the most encouraging things recently, a guy who is in the music business who heard my whole record, and said "Man, I was so excited as I listened to this record because this is a record. I've been a fan since record one, love your music. This is a record I hoped Steven Curtis Chapman would make at this point in his career." That was really encouraging.
Being totally candid, vulnerable, and really honest, I had to silence a lot of voices, externally, as much as just my own insecurity. I'll give you this example. A few years ago, I remember reading that Billy Joel had announced that he wasn't going to write and record any more new music. He'd still do concerts and sing his songs. I thought, "Man, that's so sad. I wonder what happened." Then as I've gone further into my career, I thought, "I get it, because a guy like that is an incredible success. He set the benchmark in many ways for what pop music could be, great songs, great songwriting, great albums." I've had people, in recent years, when I would write and release a new song or share some new music, so many times people—and they mean it as a compliment—but they'll say, "Hey, that was really good. But golly, you know, there's never going to be another album, like a 'fill in the blank,' there's never going to be another song like, 'fill in the blank'." It's meant to be and it really is a blessing. But the insecure artist in you, everything you write, everything you pour your heart and soul into is the most important thing you feel like you've ever done. You have to fear that and go, "Okay, so I know they don't mean it, but what it feels like is, I didn't need you to write that newest song, I really didn't need that. I just need you to sing those songs that I love." All of that stuff starts going in getting in your head and you start thinking, "Well, I don't even know if I should bother people with new music. I mean, there are great artists making new music, who don't have a 35-year career, and they probably would they rather listen to those artists."
I've not been a long-term Bruce Springsteen fan. I've always respected his writing. But in the last few years, he has made two records that I think are to the best records, just creatively, as a poet, as a songwriter, and musically, I love them. They really inspired me, one called "Western Stars" and one called once called "Letter to You." Here's a guy who's 70 plus years old, who's writing some of the best music maybe he's ever written. And he's doing it from the perspective of where he is in life now. That's really that's powerful to me. For me, at an even deeper level, with faith at this level of all that we've experienced these last few years in the world, which obviously, touched very closely for me personally, and all that we've experienced as a family in the last 14 years of our loss of our daughter. In the last few years, we lost my dear friend who played keyboards with me for many years, Brian Greene, 60 years old. He was just a little older than me. We lost my brother-in-law and Mary Beth sister's husband, five months he was diagnosed with cancer with brain tumors and he passed away. We walked through it with him, praying and believing God could heal him but also knowing God might not, and all that all while this pandemic is going on. So, these epic, earth-shattering things happening all around me and within me, how do I process it? I write songs about it.
So, I silenced all those voices. The song "Still" sort of captures that. Because I finally just said, "I don't think I need to wrestle with the question of 'Does the world need another song or album from Steven Curtis Chapman'." The fact is, I need to write these songs. I need to sing these songs. I need to make the best record that I can, that really reflects what's going on in my heart. Who knows from there? Hopefully, my friends will be encouraged by it, want to hear it, and listen to it. But that's beside the point. The point is, I need to steward these things, the stories and the songs and these melodies, and these words I feel like God has stirred in me. Because the truth is, just like my first record "First Hand," all I wanted to do then was just tell my stories, have the conversations that I can have with people through music, and encourage them. Hopefully, maybe somewhere along the way, they go, "Man, I feel a little less alone, I feel a little less crazy." Somebody just came along and said, "Oh, that's what I'm thinking. Thank you for putting that to music." That's why I started doing this and "still," there's the word, why I want to do it now. I still believe through all the life that I've lived and the life and the death, that God is good, and that God is faithful.
What were some of the themes that were on your heart that you wanted to talk about? 
The current radio single is a song called "Don't Lose Heart." I feel like one of the real reasons for that song is just we have been in such a season of loss. It feels like if there's one word, you know, that represents sort of these last several years, it's been 'loss' . . .  of relationship, intimacy, because of quarantine, loss of income, jobs, security, normalcy. People are walking around with masks. Is this the new world that we're gonna live in? Just so much that we have lost, and then ultimately, loss of life, relationships, friends, and family. In all of that, all of those, are different ways that ultimately caused us to lose our heart, to lose hope. I've thought a lot about that. What are the things that keep us in the midst of all of this loss to not lose the most important thing, to lose our hope? Thinking about the words of Jesus, when He starts washing His disciples' feet, and they know something's coming, He starts to explain, "This is gonna' get really bad before it gets good." He starts to prepare them. But then He also explains, "Hey, you're not going to be alone. I'm going to give this helper, and the Holy Spirit will be with you, even when I'm not here physically. Your Father loves you, he's gonna' listen to you, when you pray." He's really beginning to just explain to them all the reasons why they will be able to have hope for what's to come. Finally, He says, "In this world, you are going to have trouble." Obviously, we have experienced that, and all of us in our journey in devastating ways, in different ways. But then He says, "Here's how you keep from losing heart. Don't lose heart because I have already and go to the cross. In coming here to earth and then going to the cross, into the grave, coming out of the grave, I have overcome all that the troubled world is going to throw at you, all this trouble that you're going to experience and there's another side." You got to keep remembering it, so you won't lose heart. I need to hear that. I need to remind myself of that. Some of the lyrics even that say, "Take my hand, I'll show you all the scars from where I've been." So that song is just an anthem for me and I wanted to offer it to others to say, "May we not lose heart, may we keep heart in this and anchor our hearts to the hope that we have in Jesus. Because this is still His world.
This is a crazy world, and crazy things are going on, even within the faith, even within the church. People are deconstructing their faith. In all of that, that's been one of the cries of my heart is "Don't Lose Heart." Remember all that Jesus told us and promised us. That was one of the themes throughout the album, even the song "I'm Alive," which is the other one released that just says,
"I've been wrestling with I'm trying to fix, I'm trying to figure it out, I'm just trying so hard." Then coming to this place to just go, "You know what, the truth is just the fact that I'm breathing right now, that I'm drawing breath. God has put us here, in all of these moments, the good ones, the bad ones." I think there's a big part of that He just wants me to remember, "You're alive, you're here. There's a reason for that. And if you'll trust me in it, I'm going to do great things. And you'll see it, the story's not over yet."
Throughout the record, a lot of the songs are just processing things going on in the world. There's a song I wrote about my best friend when I was in seventh grade. We played together in the marching band. We actually went to the Disney parade and got to play in junior high in the parade. We both played snare drums side by side, and he was Black. His name was Carlton, and he was my best friend. I never really even thought about the fact that we had different skin colors. He was just my best friend. I've thought about him, especially when things started to get just racial so much, the tension. I'll just really pray and even wrestle "God, how do I process this? How do I have an open heart to really learn and grow in this time in my sensitivity and understanding?" This song came from that. A couple of the songs were written out of just walking through the journey with my wife losing her brother-in-law, Barry, just things that marked his life, the kindness of his life, and that desire to say we've never needed it before as we have now. It's going to be kindness, more than any other thing, that's going to reflect the love of Jesus to the world. Not through yelling and screaming and beating people up with our truth. It's going to be a wave of kindness. So, just a lot of things sort of came from what I was observing and experiencing and living in these last few years.
You're talking about your wife, and I just was curious—I don't want to go overtime here because I know you probably have supper happening—but are you an empty nester now?
We are, yes. Of course, our youngest, Maria is with Jesus now for 14 years. Then Stevie Joy, our next youngest is in her second year in college. She is a cheerleader, a coed cheerleader at the University of Alabama. So, it turns out they have a football team there and our fall is quite exciting and fun and busy with making pretty regular trips to Tuscaloosa, Alabama on the weekends. And even a few away games to go watch her do her thing and cheer. She's one of those that they throw away up in the air and you know, flips around, and does all these crazy things.
I know it's probably a huge adjustment because you've had such a big family over the years. When I first met you, I met you with your boys and they were just so little. So, I know, that's an adjustment. But what does Steven Curtis Chapman do when he's not singing or recording? What do you do at home? What are your hobbies?
It's usually hanging out right now with our grandkids or trying to get my boys over here and hanging out with them. I have one grandson, Noble, and then five granddaughters. So Noble and I, the other day, I dug out of my closet I hadn't had it out in years, a metal detector, like a treasure finder. We got it out and started looking around the yard. We found an old Pepsi can, all smushed up and you'd have thought we'd found a million dollars. Whatever they want to do, hanging out, being with them being with my family. Now, currently, you know, we're going to football games and other basketball games as well as making trips to Tuscaloosa that's become a lot of our life at this point. That's kind of where all of our time ends up, if I'm not making music. When music is your love, your passion and happens to be your work as well, that's a hobby. It is for so many people and I still love it so much that even if I wouldn't do it for a job, that would be my hobby. So yeah, I love it.
And now you're in movies, too. You're in my favorite movie, "A Week Away." That's the best thing ever!
I totally agree. It was a great, great movie. I was blown away . . .  except for the lifeguard. He was a little weak. But other than that, great.
There's a meme, a social meme where Leonardo DiCaprio is pointing at the TV. That was me watching that movie. "Steven Curtis Chapman!! There he goes right there!" I didn't see a dance breakdown, though. So I guess they cut your dance scene?
That was on the editing room floor.
"Still," the new album from Steven Curtis Chapman, is now available through Provident Music Group. Watch an extended video interview with Steven Curtis Chapman and DeWayne Hamby below.