After the success of the first Waltons' TV special, "The Waltons' Homecoming," which was the second most-watched special of the 2021-22 season, the CW will present "A Waltons Thanksgiving" on Sunday, Nov. 20. The new movie, narrated by the original John Boy Richard Thomas from the hit television series, stars Bellamy Young, Teddy Sears, Marcelle LeBlanc, Christian Finlayson, Tatum Matthews, Samuel Goergeon, Calloway Corrick, Alpha Trivette, Rebecca Koon, and Logan Shroyer ("This Is Us") reprising his role as the young John Boy Walton.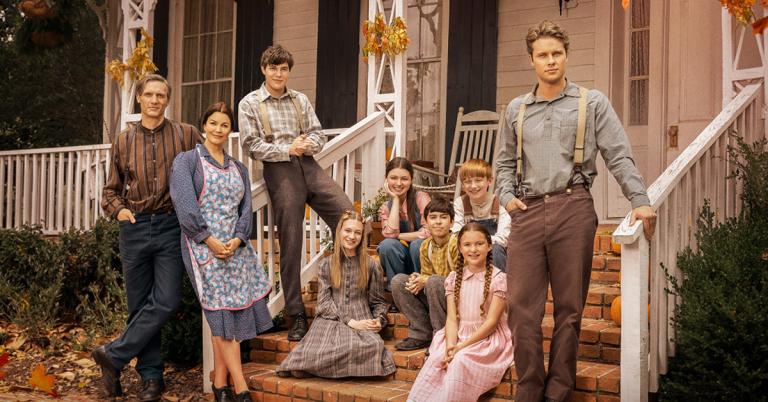 In addition to the first Waltons' special, Shroyer's other longtime project, "This Is Us," wrapped up this year after six seasons. In this exclusive interview with Reel Faith's DeWayne Hamby, he talks about being involved in two family-focused franchises, his appreciation for faith-friendly content, and what's next for him.
How does it feel for the first TV special to do so well they've returned to the family for "A Waltons Thanksgiving."
I think it's always great to put your best foot forward and try as hard as you can. You get a team around you that you believe in, and then people also like it; it is always a bonus.
Can you talk a little about how John Boy is changing through the years? We're kind of seeing him grow up.
In this one, John Boy finds himself with some girl problems. He's a bit distracted with a situation. And he's very sincere in it. You know, he's very genuine, of course, but he's kind of caught in an interesting position. And I think, as the story in this one continues to progress, progress, he also pretty easily learns a very valuable lesson, and he grows from it.
One of the things about the Waltons movies, and "This Is Us," both are very positive on family. I don't know what other projects you might be doing, but is that something that really like to get behind as far as putting out entertainment that kind of values the family or cherishes the family or puts a positive voice to it?
It's just so important. I feel like it's a bit neglected nowadays, how important it is. And one of the great joys of being a part of the show that puts family forward is that when people talk to you about the show, they often talk about how they watch it with their family, which is really cool to be a part of something that's bringing families together. And it's creating memories even I mean. These movies could be some families' traditions that they watch every year, and it brings people together. I had movies like that growing up that my family would every year gather around, and watch.
There's a there's also positive portrayals of faith. In this film, they go around and talk about what they're grateful for. They sit around the table, and they pray. I know you're a believer as well. Is that another element that kind of drew you to this?
Yes, it wasn't a hard choice to say yes. But that's definitely huge for me. It is rare, which is unfortunate. So, it's a very big blessing to be able to be a part of something that even just kind of opens up that conversation, about faith and those kinds of values. I want to associate myself with things that are putting out good messages in the world. That's what the Waltons stands for. It's a joy to be a part of.
Read Also: Logan Shroyer Reveals Surprising Connection With Original 'Waltons' John Boy Richard Thomas
Let's switch gears and talk briefly about "This Is Us." How did you feel when the show finally wrapped production?
It was a little bittersweet. For me, it was essentially like my college years. So, it felt like kind of graduating college for me because I didn't go to college. There's a bit of growing up, and it's really sad not to see those people in the same way anymore, and to not play that character and live in that world anymore. But it was just such a great time doing it. And I feel really good about the ending because we didn't just let it run on until it kind of didn't have it same potency. We made a point to give it an ending, and I'm so grateful to be a part of a show that had a definitive ending. So many shows don't even get the opportunity to do that. We could have had fun doing it for longer, but I think everyone feels really good about how we ended it and walking away.
So, what's next for you, Logan?
I don't fully know. I've got some things in the works that I'm excited about. I shouldn't say anything specific. We'll see how "Thanksgiving" goes and we'll see kind of how everything else starts to land. But you know, I'm just trusting God going day by day. That's all we can do.
"A Waltons Thanksgiving," directed by Joe Lazarov, produced by Magnolia Hill Productions in association with Warner Bros. Television, with executive producer Sam Haskell, writer/co-executive producer Jim Strain, co-executive producer Hudson Hickman, producer Billy Levin, and producer Bobby Kelly, will air on The CW on Sunday, December 20.