"Creed III," releasing Friday from MGM, features the highly anticipated return of Michael B. Jordan as Adonis "Donnie" Creed, the son of fictional boxing legend Apollo Creed from the "Rocky' franchise. Having comfortably retired as the beloved World Heavyweight Champion, the new story finds Donnie plagued by sins of the past and a haunting figure who's gunning to take everything he's earned.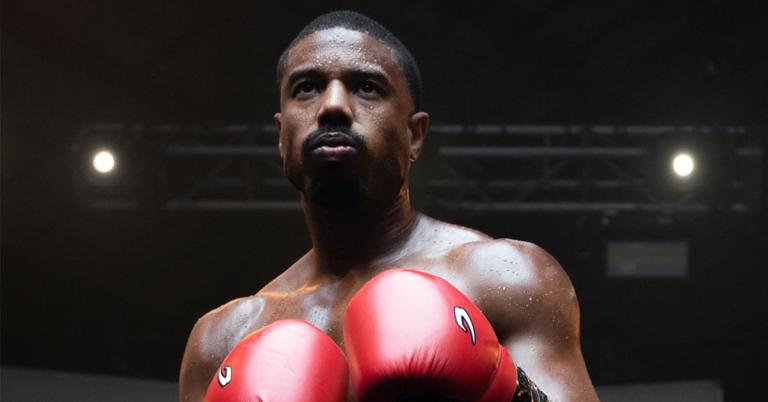 Damian "Dame" Anderson, played by Jonathan Majors ("The Last Black Man in San Francisco," "Ant-Man and the Wasp: Quantumania") is a childhood friend of Adonis's who's recently released from prison and looking for a fresh start. As he attemps to settle into a new life, Adonis finds himself conflicted as he carries guilt and caution regarding Dame's true intentions.
Jordan, who steps behind the camera as director for the first time, said that beyond the intense and sensational boxing matches and action, the heart of "Creed III" is a "brother story," watching the two athletes confront and process their emotional trauma from the hard lives they once lead. Forgiveness, he said, "is the only way to overcome what you're up against" and move toward healing.
"We've been taught generationally, over time that it was weak to talk about your feelings or how you feel, or 'What happened?,' he said. "And to just atone and apologize, I thought it was really important to see these two go through that struggle, and how that affects the people around him."
Jordan added that even through the struggle between Adonis and Dame for there to still be grace toward each other and a relationship remaining was "really, really powerful."
"I think the world needs more of that and I'm glad to have a part of that conversation," he said.
Along with his friendship with Dame, Adonis is primarily a family man, a loving husband to Bianca (Tessa Thompson) and doting father, even dressing up as a frog for a tea party with his daughter Amara (Mila Davis-Kent). Like Rocky Balboa before him, Donnie is at the top of the world but always grounded by the love of his family.
"I've been fortunate enough to be a part of this franchise from the beginning and understand what type of characters that we have and where their moral compasses are," he said. "I think as a director, they're just being truthful, what Adonis is going through, that experience for him, you have to dig deep, do the work on the inside in order to prosper and become the best versions of yourself moving forward."
At the end of filming "Creed II," Jordan began considering stepping behind the camera for the third installment. He was encouraged by his collaborators and producers who all thought it was a great idea. So, coupled with making a welcome return as star, Jordan makes a splash as a director, capably delivering a standout sequel with a bold new vision.
"I just kind of went for it," he said. "This is the ninth movie between the two franchises and now I'm trying to push it forward and evolve it in a way that feels fresh and new. You have to think outside the box, and that's what we do."
"Creed III," directed and starring Michael B. Jordan, also stars Tessa Thompson, Jonathan Majors, Wood Harris, Mila Davis- Kent, Florian Munteanu, and Phylicia Rashad, and releases Friday, March 3 through MGM Pictures.
Watch the exclusive interview with Michael B. Jordan and DeWayne Hamby below.