Author and producer DeVon Franklin, known for faith-based films such as "Breakthrough," "Miracles from Heaven" and the upcoming "Flamin' Hot," was persuaded to step out of his comfort zone and in front of the camera for the latest Kingdom Story Studios release, "Jesus Revolution," releasing Feb. 22. Franklin plays Josiah, a "Time" magazine reporter assigned to cover the growing Jesus Movement, leading to the cover story that inspired the film.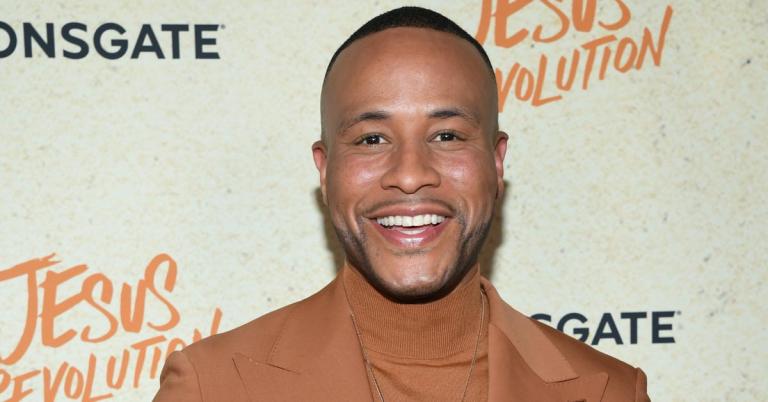 In this exclusive interview, Franklin speaks about disappearing into his role and offers his observations on what made the Jesus Revolution have such a large impact on the world.
You're not often in front of the camera. Let's talk a little bit about what drew you to appear in "Jesus Revolution." I did not even recognize you at first.
If you know anything about Jon Erwin, he is one of the most persuasive people on the planet. Jon is the co-writer and co-director and one of the producers of the film. He also runs Kingdom Story Company with Kevin Downes and his brother, Andy. Jon and Kevin called and said, "We're doing 'Jesus Revolution,' and we have a part we want you to play." Jon started talking about, 'Here's what we want you to do, and this is why we want you to do it.' And Brent McCorkle, the co-director said, 'You're the only person to do it.' At first, I was gonna' say, "Well, I'm not an actor, you guys," but I said, "Okay, let me read the script." And I read the script and I loved the story so much and connected to the part. I said, 'Yes.' So this was really an act of faith. And immediately I got with an acting coach and worked on it for months to learn my lines and I did the research. Because what I didn't want to do is to embarrass them or myself. So, I'm glad when people say, 'Wow, I didn't even recognize you.' I say, 'Great.' That, to me, is a sign of a job well done, where I can kind of lose myself in a character to the degree to where people who know me. We've done interviews for years. And for you to not recognize it. I say, 'Okay, well, maybe that was successful.'
There is so much right now, with Jesus in the news, Jesus in the mainstream. They just came out with the Super Bowl with the "He Gets Us" commercials that have been released, "The Chosen" is doing really well, this movie comes out, and revival are breaking out. What do you think God is doing here?
What I love about what happens in the film is when the love of Christ is given in the way that it was intended, people's lives are changed and transformed. That's what's displayed in the film. I do believe that when you look at what's going on now, the more that we can articulate the love of Christ and give the love of Christ to anyone that is in need of that love, the more we're going to see radical transformation and change in people's lives. I think that sometimes the institution of the church sometimes can work against that love. Because people are made to think that they're not right, to come to church, to come to God to accept the love of Christ. And that is not true. So, my hope, and my prayer is what you're seeing in the culture is a real, authentic move of Jesus. I believe that when people really understand the power of Jesus and accept Jesus as their Savior, that there is a transformation that happens from the inside out. But, guess what, it's not a transformation of judgment. It's a transformation of love and acceptance. And I also think that when you look at what's going on the culture, the tradition, you know the church is being challenged right now. Are you going to be the church really where people can come as they are? And if so, that means everybody. We cannot say, 'Hey, well, you're wrong. And you're right.' That's not our job. Let God do that. Let us say 'All are welcome.' And I think when you see what's happening in the film, that's the movement that can happen right now.
Let's talk really quick about 'Flamin' Hot.' You told me about it years ago.
Yeah, I'm excited about 'Flamin' hot. This is the true story of Richard Montanez, who was the driving force behind Flaming Hot Cheetos. He went from being a janitor working for Frito Lay to coming up with the idea of taking this spicy product and marketing it to his community in Southern California. And next thing you know, Flamin' Hot Cheetos takes off, becomes a billion dollar brand. And he gets catapulted from being the janitor to becoming one of the top executives of the company. And this movie is the story of how all that happened. It's funny, it's emotional. It's inspirational. And I can't wait for people to see this film. It'll be on Hulu on June 9.
"Jesus Revolution," starring Joel Courtney, Jonathan Roumie, Kimberly Williams-Paisley, Anna Grace Barlow, DeVon Franklin and Kelsey Grammer and directed by Jon Erwin and Brent McCorkle, releases February 22 through Lionsgate Studios. Click here for more information or to find a theater.