New York Times Bestselling author Roma Downey will release her newest book, "Be an Angel: Devotions to Inspire and Encourage Love and Light Along the Way" on Feb. 21. Known to millions for her Emmy-nominated role as Monica the Angel on the classic television series "Touched by an Angel" as well as an accomplished producer for inspirational content such as "The Bible," "A.D: The Bible Continues," "Son of God," and "Resurrection," Downey uses scriptures and personal stories to encourage kindness and empathy toward others.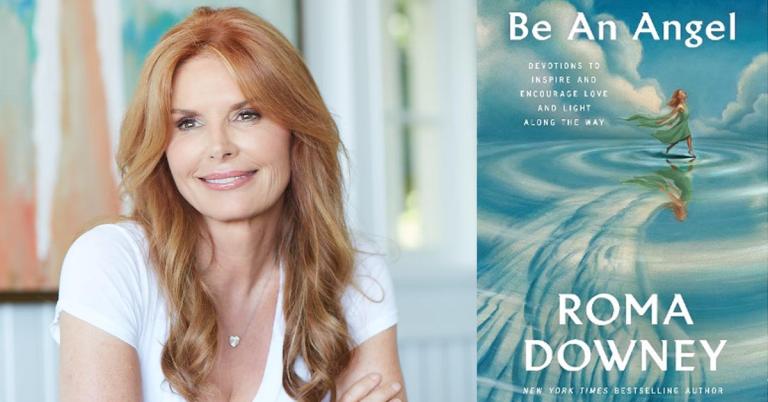 "We turn on the news, we jump on social media and there's plenty going on that's heartbreaking, from cool to crazy to mean-spirited," she explained. "It's like we have almost forgotten what it feels like to be kind to each other."
Downey wrote the 52-week devotional in a conversational way as if she were sitting down to tea with the reader, relating from her own family, personal and professional experiences, and even offering practical ways to lift someone else up.
"At the end of each chapter, I added this 'Be an Angel' suggestion, that range from slightly more challenging to super easy, such as if you found yourself in the line at your local coffee shop to pick up an extra cup, and give it to the person behind you," she said. "It's just random acts of kindness that are very disarming to people."
The title "Be an Angel" refers to her long-running role on "Touched by an Angel" and her trademark message to those benefitting from divine assistance.
"For almost ten years, I played an angel on TV, and at the center was a very simple, but important message," Downey said. "Twenty-five million people tuned in every Sunday to hear that message of hope. And the message was the reminder that there is a God, that He loves us, and He wants to be part of our lives."
Downey said she begins her days with prayer and Scripture, a discipline she likens to "going to a gym to work out with my trainer." She hopes the devotional can be an anchor point for readers to begin their days with prayer, scripture, and a good attitude.
"I know on the days that I'm feeling down, and in a funk, if I only ever thought of three things that I was grateful for, it can switch my attitude in a second," she said. "Instead of thinking of all the things that haven't done or haven't got or won't get, it's like (focusing on) what I've got. I've got my family, I've got my health, and I can feel the sun in my face. And the simplest prayer is 'Thank you, Lord for your blessings' is a great place to start."
Although Downey frequently finds herself a champion of others' projects, such as the projects she and her husband Mark Burnett produce, for "Be an Angel," she found herself the center of encouragement when pre-release copies of "Be an Angel" came in. The couple's three children were home visiting, and they were all having dinner together when hardback copies of the devotional were unboxed.
"It was just so lovely to have them being grateful that that they had someone in their life who was writing a book about kindness, it was just very touching," she said. "I think you're never too old or you're never too accomplished to want to hear words of kindness.
In addition to the new book, Downey is producing the upcoming inspirational drama "On a Wing and a Prayer" directed by Sean McNamara ("Soul Surfer") and starring Dennis Quaid ("I Can Only Imagine," "The Rookie") and Heather Graham ("Bowfinger," "Austin Powers"). The film is based on a true story of a family flying from Fort Myers, Florida, who have an emergency on their flight.
"It's an extraordinary story of faith and overcoming," she said.
With both "Be an Angel" and "On a Wing and a Prayer" releasing after years of hard work, Downey said she's "in the harvest season" and anticipating great things ahead.
"It's going to be an exciting few months," she added.
For more information, click here.
I can't wait for you all to hold my new book in your hands! Each devotion includes quotes from a variety of writers and thinkers, scriptures, reflections, and practical ways to practice kindness in your everyday life.#BeAnAngel