On Monday, March 6, Fathom Events will begin a two-night showing of the lavish Easter-themed experience "The Thorn." The show, directed and produced by John Bolin, combines live music, drama, aerial acts, movement arts, modern dance, and big visual effects to tell the story of Creation, the birth of Jesus, and the Passion Week leading to the crucifixion and resurrection. For over 25 years, more than 1 million people have seen the production, which was captured live for the film.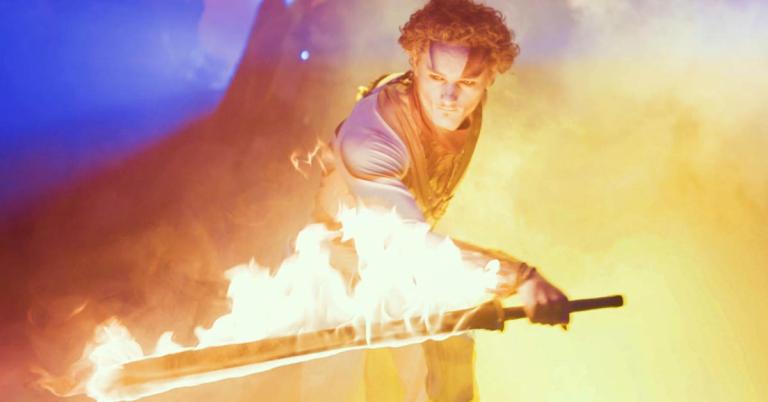 "For over two decades, it's been our honor to share the Gospel through the immersive and creative medium of 'The Thorn,'" said Bolin. "We're thrilled to partner with Fathom Events to bring this life-changing experience to the big screen."
"The Thorn" features a cast of 40 world-class performers who are masters of music, movement arts, and visual effects. And now, masters of film have captured the stage performance, editing down hundreds of hours of 4k footage to allow movie theater audiences to feel as though they're immersed in the live performance.
The story is told by the Apostle John to a young child named Asher, giving audiences a fresh, new look at the biblical stories presented in a bold new way, including well-choreographed fight scenes involving demons and angels, arial arts telling the story of Adam and Eve, and massive digital backdrops visualizing the Exodus from Egypt. The scenes are captivating and
"Through sound, dance, and visual arts, 'The Thorn"'inspires the God-given creativity within each of us while proclaiming the Gospel. This has led to over 150,000 people making a commitment of faith, with countless stories of people experiencing lives changed from family restoration to freedom from addiction," said Bolin.
"The Thorn" begins its two-night showing on Monday, March 6. For more information or to purchase tickets, click here.
The official synopsis follows:
For more than 25 years, in front of 1.5 million people on stages around the country, The Thorn has shared in a spectacular way history's most epic story: God's love for the world amidst the spiritual battle for all of humanity. Now, THE THORN is coming to movie theaters around the country for a special 2-day event Monday, March 6 or Tuesday, March 7! Best described as cirque meets the passion of Jesus, THE THORN is an immersive show featuring live music, drama, aerial acts, movement arts, modern dance, and big visual effects in an emotionally powerful performance. THE THORN is a beautifully filmed version of the stage show with added features to bring you even closer to this amazing story. As a Fathom Event on March 6-7, you can experience THE THORN in a movie theater near you.