As "Creed III" debuts in theaters across the country, audiences will see the return of beloved characters Adonis Creed (Michael B. Jordan) and his wife Bianca, once again portrayed by Tessa Thompson ("Thor: Love and Thunder," "Men in Black: International"). As the past comes back to haunt Adonis through a familiar opponent, Bianca provides much needed love and support, encouraging the boxing champion to stand his ground and fight.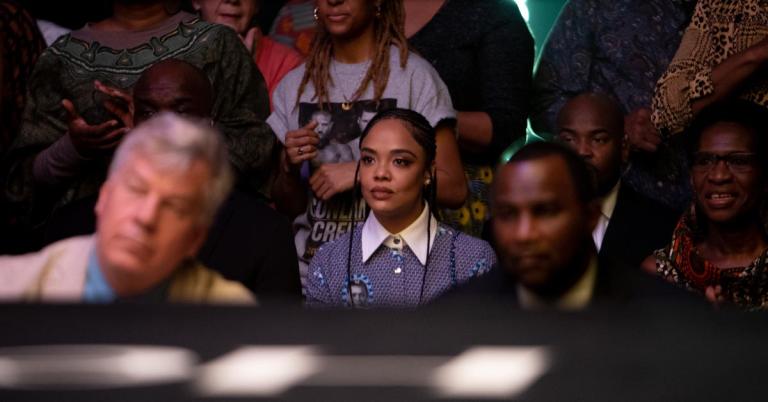 Thompson, who walked the journey with Jordan since the first film debuted in 2015, sees the boxing framework as a backdrop for important takeaways about family and personal growth.
"These movies fundamentally are about relationships," she said. "They really are. They're like relationship movies with boxing as a background. Obviously, the boxing scenes are so propulsive, but the interpersonal relationships are just as propulsive. Personal growth, as a human should be a thing that we are rooting for just as fiercely as we are a competitor in a ring."
Bianca started the franchise with big dreams of music stardom before hearing loss and starting a family changed her trajectory. Still, the woman audiences see in the new film is confident, assured, and even content. Thompson attributes much of Bianca's satisfaction not only to the successes that have come their way ("They're not doing too shabbily," she jokes), but also to what were probably long moments of reflection.
"She is getting to that point in your life, when you look back on the things that you the places that you imagined you might be and some of those things line up and some of those things don't line up," Thompson explained. "I thought that was really interesting to explore."
"Creed III" was developed as the world was in the throes of the Covid-19 pandemic. While the story doesn't address the shutdown, Thompson draws an interesting parallel for her character from what billions were feeling as they found out who they really were when their lives were disrupted.
"I don't know how you experienced that time, but it was a deeply self-reflective time for me," she said. "It was a time where we had to ask ourselves who are we outside of what we do. For some of us, work stopped. It was also time when we spent a lot of time either with our families, our loved ones or with ourselves. While this movie has nothing to do with the pandemic, I think some of the things that came up during that time, in terms of that kind of reflection, I was really interested to bring to this, to watch someone that is in a period of looking at self and taking inventory."
"Creed III," directed and starring Michael B. Jordan, also stars Tessa Thompson, Jonathan Majors, Wood Harris, Mila Davis- Kent, Florian Munteanu, and Phylicia Rashad, and releases Friday, March 3 from MGM Pictures.