For his latest project, acclaimed documentarian Gianfranco Rosi ("Fire At Sea," "Sacro GRA") was inspired to share the human side of one of the world's most iconic figures, Pope Francis. "In Viaggio: The Travels of Pope Francis" follows the first eight years of the pontiff's travels and public appearances, using footage from The Vatican archives and original content from Rosi.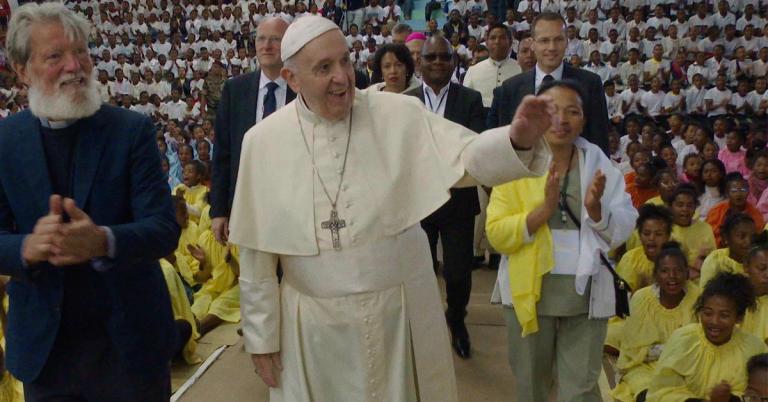 Shaped from 800 hours of content, "In Viaggio" presents a straightforward portrait of the religious figure, Rosi said. Although the film doesn't have an agenda other than presenting the footage, Pope Francis found common ground with the filmmaker. Two weeks ago, when Rosi presented him with a DVD which he knows he won't ever see ("he never watches things where he is the protagonist"), posters and press materials, the pope encouraged the filmmaker and expressed thanks.
"Before leaving, he said something extremely precious to me," she said. "He said, 'Risk, always risk. Be courageous and risk.' And then he came closer, and said, 'There are too many conservative people around us.' For a pope, I thought it was very strong. Because he is fighting conservatives a lot."
Rosi believed Pope Francis was reacting to what the filmmaker said is a "big branch of the Catholic Church" in America that is conservative and has recoiled from some of the more progressive items on the pope's agenda, such as exposing pedophilia and outreach to the LGBT community.
"His positions are not always appreciated by the Catholic Church in the States," he said.
To hear him speak of the pontiff, it's evident Rosi's admiration runs deep, even though he doesn't share his religious beliefs. The director's beautifully crafted film pays homage to not only the religious figure but also a head of state that speaks to the challenges facing the world. During his meetings with Pope Francis, he admitted that he is an "unbeliever," although he's quick to point out to anyone that his spirituality runs deep.
"I have complete respect for all believers in all religions," he said. "And when I say I'm not a religious person, it doesn't mean that I don't have a need for spirituality I always say I don't know if God exists, but I live my life as if it does exist. It's a gift to believe."
Rosi's first inspiration for "In Viaggio" traces back nearly ten years ago, when his film "Fire At Sea" spotlighting the European migrant crisis and its effect on the Sicilian island of Lampedusa. Pope Francis' first trip outside of the Vatican was to the island, and upon viewing the film, he invited Rosi to the Vatican to speak about migration and the film. After two more encounters and learning that the pope had made 34 trips, he proposed the concept for the documentary to Vatican officials.
"When I said that would be a great film to do, from Lampedusa to Baghdad, they were very enthusiastic and they gave me basically 800 hours of footage of archival footage of all the trips of the pope," he said.
Piecing it together, Rosi accepted the challenge of making a portrait of "one of the most important figures on earth."
"What I did was make a portrait that was somehow not ideological, and not theological," he said. "I wanted to make a portrait of a man, of his world, the world watched by the pope."
"In Viaggio," directed by Gianfranco Rosi, will release theatrically this Friday through Magnolia Pictures.