"The Mulligan" starring Eric Close and Pat Boone and "Miracle at Manchester" starring Kory Getman and Eddie McClintock lead the new releases on Pure Flix streaming in April, arriving April 1 and March 31 respectively. Pure Flix, which features a variety of faith family content, is a wholly-owned subsidiary of Sony Pictures Entertainment, drawing on Sony's world-class technology and partnering with the storytelling strength of AFFIRM Films.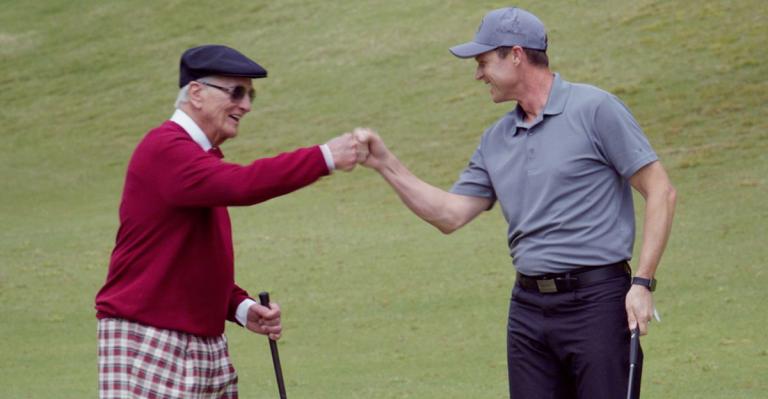 Close spoke to Reel Faith when "The Mulligan" released theatrically last year, explaining why the golf-inspired title applied to its spiritual content:
"In life, while there are rules, we do get second chances," he said. "A lot of people feel when they mess up in their lives that there's no hope. Those people carry a lot of shame or guilt, and never try to reconcile their mistakes. While we have to pay for the consequences of our choices, there's also a chance for redemption. That's why Jesus died on the cross, to pay for our mistakes, or sins. And all we have to do is believe that and ask for forgiveness and get a 'mulligan' in trying to turn a new leaf or have a second chance to make things right the next time around."
Here is a list of the new films releasing on Pure Flix in April.
Miracle at Manchester – available March 31
Cast: Kory Getman, Eddie McClintock, Daniel Roebuck, Kathy Patterson, Dean Cain
Synopsis: God is still in the business of miracles. Based on the true story, a high schooler's bright future changes in an instant when he's diagnosed with an aggressive cancer. But the power of prayer and support from his community renews a father's faith and brings healing to a family.
The Homeschool Awakening – available April 1
Cast: Kirk Cameron
Synopsis: Homeschool Awakening explores American families putting fun and faith back into learning.
The Messenger – available April 1
Cast: Benny Andrews Jr, Caleb Bean, Dominque Perry, Shelton Jolivette, Amelia Jeffries, Stephen Sutton
Synopsis: Jessica Clark, like most of the members in her church, misunderstands God's purpose for prosperity until God sends a message through an unlikely messenger that changes her perspective.
The Last Champion – available April 1
Cast: Cole Hauser, Annika Marks, Hallie Todd, Randall Batinkoff, Peter Onorati, Sean Scully, Taylor Dearden, Bob McCracken, Casey Moss
Synopsis: A former championship wrestler is forced to face his past when he returns to the hometown he left in disgrace twenty years earlier. Can he become the hero his town expected or will he remain a prisoner of his past mistakes?
The Mulligan – available April 1
Cast: Eric Close, Pat Boone, Debra Stipe, Nancy Stafford, Charmin Lee, Tanya Christiansen, Andrew Brodeur
Synopsis: An inspiring story about relationships, forgiveness, and second chances. Paul seems to have it all, but his life starts to fall apart. Guided by the wisdom of an old golf pro, he learns about playing a good game both on and off the course.
Watch the trailer for "Miracle at Manchester" below.