On May 9, 11, and 13, Fathom Events will release the new Chonda Pierce comedy, "Roll With It," directed by Chris Dowling based on an idea Pierce and her late husband David worked on years ago. Pierce, the "Queen of Clean Comedy" and the most celebrated comedian in RIAA history, has appeared in many films before, including "All Saints," "Selfie Dad" and "Christmas Land." However, this karaoke-inspired story of a widow fighting to stay afloat financially is her first lead role, allowing viewers the chance to see more of the personality that has endeared her to millions of people through the years.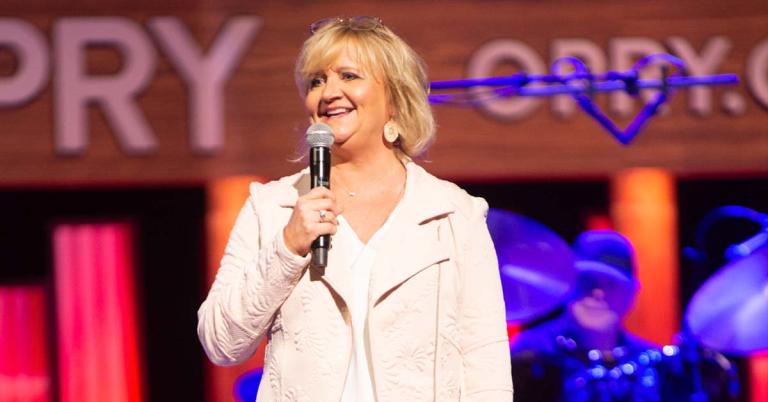 In this exclusive interview, Pierce talks about the special "nostalgia" associated with the project, how she hopes it will inspire and speak to other widows like herself, lifestyle evangelism, and even how she managed to get Grammy Award-winning singer Michael W. Smith to go full-on Southern Rock mode.
I know you've been in many movies, but what makes this one so special?
Yes. Part of it is it's a very sentimental thing. It's kind of the last story idea my husband and I worked on before he passed. It sat on my desk for a long, long time. I think I was the middle of doing a Hallmark movie and one of the directors said, "Have you ever done a movie around your persona?" And I said, "Well, as a matter of a fact I have." I showed him the script or told him about it. My husband and I wrote an idea that I'm a Walmart greeter, and I have to win a karaoke contest because my house was falling in a sinkhole. And immediately the director goes, "Well, I gotta read this." Then he passed on it. I think what I understood it was just gonna be way too much money to film, that my market could not garner the support, because I didn't we didn't know anything about how you put treatments together. Then I met up with a friend, Martha Bolton, who helped write "The Confession" and helped us get it into script form. So, it was it was a smarter read and have quicker read. And, and then that finally got floated around until it fell in the hands of Chris Dowling, and he really vamped the script up. There such as formula to tighten up scenes and things like that that I knew nothing about. So, I'm just really excited because it was a true labor of love between David and I, and, and now he's been gone for so long. So, it's just kind of really special for especially my son and I as it is finally making it to the theater. It was supposed to come out the week we shut down with COVID. And that delayed it. By the time that could come into the movie theaters, I think the company that owned it had changed hands. One of the producers in charge quit. And it's just been plagued with one little just bad luck after another. Or maybe it's just the devil that he hates me so much. I asked my pastor why the devils hates me so much, and he's like "Duh!"
Well, the devil hates karaoke. So. . .
Yeah! (laughs) I think my favorite part of the whole movie is Michael W. Smith sings in one of the karaoke scenes dressed like Billy Ray Cyrus and he sings "Free Bird."
That is awesome.
I just love it. And every time he had to do another take, he would look over me like, "You owe me big time." We've been dear friends for years. But you start calling in all the favors. And he's like, "Okay, it's payback time." There's no telling what I'm going to have to do for him sometime.
Chris Dowling is great. I met him at the "Run the Race" movie premiere. He did a great job with this film. .
Yes, he is such a sweet guy. Really, really solid. You know, I I went into this so nervous, because it was the biggest undertaking I've ever done. My movie roles have been really short and sweet. You know, just get through it. But this, I think I was in almost every scene, so it was just really, really hard work. But he made it so sweet and kind. And he was just a great director of just guiding you into relaxing, and when someone would mess up, he's just say, "We'll do it again." That made me feel good.
And this is a Fathom Release, right?
Yes, they've been good to me in the past that, sadly, I think it's in 700-800 theaters, and we're trying to convince them where it needs to play. That's a whole nother kind of rigmarole. You know, there is so many places that you try to figure out are your best markets, so that as many people can see it. It's hard to explain that to a corporation sitting behind a desk. But I think I'm pretty pleased. I'm so grateful. They're giving it three days.
They could extend it based on the response, surely. I can't wait to see it myself. Is there anything else about you that you might want to mention?
I remember a few things, in particular. When we got ready to do this thing where the mother, who was me and I'm widowed, and I'm walking across the bridge, having a chat with my son about "I'm thinking about going on a date." I remember that awkwardness. It's still very awkward when I tell my son, "I have a gentlemen caller and I'm gonna go eat supper." And he's very cautious for his mother. That is the hard conversations to have when you're widowed. And I remember stopping right before we started filming. And I said, "Can we all just have a word of prayer?" And I'll choke up for the women who's gonna see this, who—and I'm super sensitive to widowhood now—who are are going through those awkward conversations with their families and trying to figure out what's next for them. And "Is it okay to date or do I want to?" That was a really sweet moment.
The other sweet thing out of it came a wonderful friendship with Judith Hogue, who originally was April O'Neil in the original "Teenage Mutant Ninja Turtles." When she came to visit and was on the couch at my house, reading through our parts, my son walks past behind her back, and then turns around and walks past again and motions me over there and says, "Mom, that's April from 'Teenage Mutant Ninja Turtles!'" That was his favorite movie as a kid of all time, so it was a sweet beginning of a wonderful relationship. We are still very dear friends. I think she's become one of my best friends in the world. You just pray that your life is an influence on other people's lives, and you live in front of them. And you watch them mold and change. And that's what's really going on in her life is she is really becoming more and more open to Christ and I love that. But out of that team, a wonderful relationship. I think I will have a long relationship with Chris Dowling, because of working so hard together.
See Also: 'It's So Good, It's a Shame the Amish Will Never See It,' Chonda Pierce on 'The Confession Musical'
Then, the young man, Cory Scott Allen, he plays the little sleazy guy who's on the dating app pretending to be a spy. He passed away during COVID. You always wonder, "What kind of influence were you when you were together?" I had no idea he was gonna go back to Atlanta and he had an aneurysm in the night and just died in his sleep. He was so young. We always think evangelism is only gonna happen on a Sunday morning in a pew. But God places you in places strategically to influence others. I told a group of young people the other day that were interested in comedy and ministry, "I've been at this 32 years, and about two years into my job, I won a man to the Lord who was on an airplane. We just got to talking. He saw me read my Bible and got to talking about what I do. And he was like, 'A Christian and a comedian? How does that work?' Lo and behold, he gave his life to Christ. We got to pray the Sinner's Prayer; it was beautiful." And I said, "That might be the only reason I started this job."
What a great perspective. I pray the same thing for this movie. Like you said, it's had delays and you know, all this other stuff that's happened. But this could be God's timing, because right now you're seeing all the new movies that are opening up, people are getting surprised and surprised by their box office intake. It's going to get a lot more attention than if it came out a year ago,
I think you're absolutely right. And maybe there's an urgency going, "Oh, we only have three days to go see this. We have to go see it." So, you hope that that comes into play. But I pray that people will understand the power of prayer, and how God answers prayer in ways we don't see Him coming. That's what's so sweet about this story. The widow, she goes into her prayer closet a lot. And she's praying, and she's getting desperate, and she's getting hurt, because it doesn't look like God's coming through. And of course, He does it in a way that she totally didn't see coming. It has very little to do with karaoke. It has everything to do with his plan. And I love that.
"Roll With It," written and directed by Chris Dowling based on a story by David and Chonda Pierce, stars Chonda Pierce, Judith Hoag, Evan Hofer, and Mark Christopher Lawrence. For more information or to purchase tickets, click here. Watch a special scene from the film below.