In the new Pure Flix film, "Sun Moon," MacKenzie Mauzy ("Into the Woods") stars as Kelsey, a young woman left at the altar who decides to make a new life in Taiwan teaching English at a Christian school. She navigates cultural differences and befriends a fellow teacher, Horace (Justin Chien), before being faced with a difficult decision of continuing or returning home.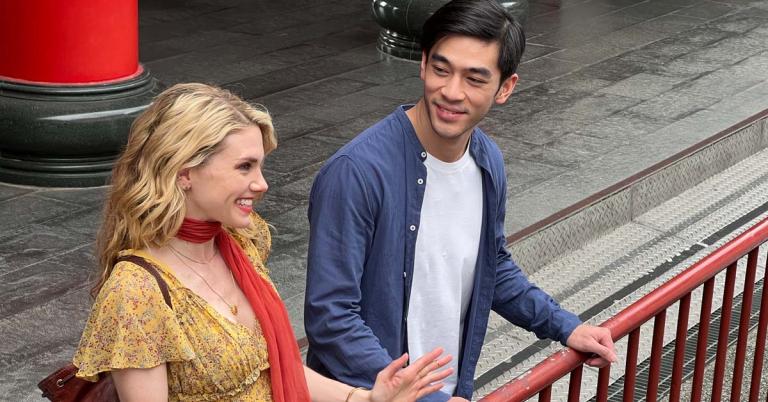 The film is the debut for writer-director Sydney Tooley, who drew from her own life experiences abroad to create the faith-based romantic drama. Although the circumstances surrounding Tooney's trip to Taiwan are different—she traveled with her family, not as a jilted bride—much of the script, locations and even props of the film are grounded in reality.
"All of the classroom scenes are pretty much word for word what kids are I would have talked about," Tooley said. "The desk where she sits was my desk. The scooter was mine. And the character of Horace was a real teacher."
The film is dedicated to the real-life Horace, who passed a year after Tooney completed her teaching.
"It was pretty tragic," she said. "So we wanted to represent him as a person."
The journey toward film was pushed by acclaimed singer-songwriter Steve Taylor, who Tooley served as a graduate assistant at a Nashville college. Taylor, who directed "Blue Like Jazz" and "The Second Chance," listened to some of her stories and encouraged her to start putting them on paper. Soon, she had written 46 pages and started shaping it into her master's thesis project, a low-budget film with a budget of around $10K-$20K.
"I'm really glad we didn't do that, but that was kind of the start," she said.
Soon, Sony AFFIRM was looking for faith-based projects, which opened the door for Tooley and Taylor to pitch the film. She had already done years of planning and research, including the locations and prep work. They began filming in summer of 2021 in Nashville but before they were able to head to Taiwan, the country shut down.
"We sat for somewhere between seven to nine months," she said. "We didn't even know how we were going to get back into the country. We couldn't get our visas. They went into a really severe lockdown for a bit."
With a little help from the Taiwanese government, the crew was able to get back into the country to finish the film. Through it all, Tooley was able to see her project move ahead, even through many obstacles.
"It's been like one miracle after another," she said. "This movie was doomed from the start, and it just kept building. We'd hit a wall and think 'It's not going to happen' and then it will. Miraculously, you continue to move forward. Now, coming on the other side of it, you look back and it's like, 'I don't even know how we got it made.' It's wild."
"Sun Moon," written and directed by Syndey Tooley and starring MacKenzie Mauzy and Justin Chien, is now streaming on Pure Flix.