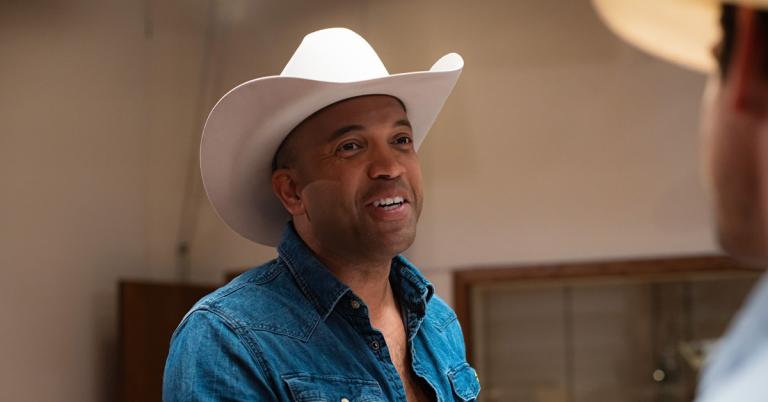 Playing the seasoned country artist Colt Young, singer-songwriter and internet influencer Coffey Anderson lends his deep baritone and charismatic personality to the new film "God's Country Song." The film, which centers on an up-and-coming singer Noah (Justin Gaston) trying to make his mark on the industry while grappling with family issues, has a rich soundtrack and themes of faith, fatherhood, and forgiveness.
Anderson rolled his viral internet stardom into the Netflix reality series co-starring his wife and kids, "Country Ever After." During the film's premiere last month in Nashville, he spoke to DeWayne Hamby about what the film and the country music genre means to him.
You bring a lot of personality to your projects. How did you get involved with this film?
"God's Country Song" is just a great new version of the Prodigal Son in a lot of ways. It intersects faith in country music. I got the call from Johnny Remo, who directed it, to be Colt Young, a successful country artist who's going to give Noah an opportunity to open up for him. Noah is trying to get ready for that opportunity. I think all of us have that moment where you're asked to join the big league. Whether you have the talent or not, are you emotionally ready? So, I think that it's a coming of age, but also a Prodigal Son story. And there's so many different stories that intersect that make this movie beautiful.
Who's done that for you? Who believed in you and gave you a chance?
The first person that believed in me was my daddy, from the jump. I mean, even when my albums weren't really that good, but I could still sing. He put he put posters up, drove to radio stations, "Listen to my boy!" and all those things. So, my first person was my dad.
Social media is a big part of your business. What's happened since "Country Ever After" premiered?
Four number one songs, touring, traveling, a feature film, it's been insane. I think you just have to blossom where you're planted. I think wherever God's put you, you gotta shine in that in that spot. And we take that very seriously. And now that there's nothing we're not doing. So, it's pretty exciting.
It seems like country music is well suited for a family and faith story like this.
Right? And country music is only thing when you talk about your mom, Jesus, and beer in the same song. And it's okay. And so, country music has changed my life, and changed the lives of so many other people. But there is there is a walk with God undertone. The foundation of country music has so much faith into it. It's been special to be a part of this.
What were the pivotal country projects that inspired you?  "This is what I want to emulate. This is what I know. This is what speaks to my soul. Yeah. And I want to do the same thing."
It wasn't a big celebrity. It was at the Brown County Fair and rodeo. And I went to there and they had a gooseneck flatbed trailer. A generator that powered the amps. Yeah, they had a band playing. And they had about 2,000 people in the barn. The place was going nuts. I mean, this guy literally had a spittoon playing, another guy was sitting on a bucket playing, because he couldn't stand up too long. I was like "This! I love everything! I found my people." I was like a pig in mud. Then on May 16 of last year, stepping into the Circle at the Grand Ole Opry. Come on, man. Nothing bigger. Yeah, I could play the Super Bowl. But that Circle, you gotta earn it.
This this movie has a lot to do with fatherhood. As a father, what does it speak to you?
Fatherhood is the only job that no one notices unless you do it wrong. Nobody cares unless you do it wrong. So, for a man, it's a manual that you have to carry that's heavy. Nobody's gonna pat you on the back. So, it's a very different position that God has put us in, and we can handle it, because we're men and we're supposed to.
What else do you have coming up?
The new album is going to drop at the end of the summer. A Christmas album is coming on October 31. At midnight. Nobody waits until Thanksgiving. So we jump into Christmas album right after Halloween, and just new music. I'm probably gonna buy a building so we can have a safe place for young content creators to come and kind of coach and mentor them, whether it's the music business or YouTube so that we can get good clean content out and have a safe place. If we could make the Mickey Mouse Club now but make it safe for the talent, I would do that. So that's kind of my all right now. Let's figure out how to help the next generation.
"God's Country Song," directed by Johnny Remo ("A Letter to Dad," "Like a Country Song") and starring Justin Gaston, Justene Alpert, Coffey Anderson, and Muriel Hemingway, is now playing on PureFlix. For more information on Anderson's music and social posts, click here.