One of my most memorable interviews has been with the enigmatic Sinead O'Connor. In 2007, she recorded "Theology," an album of songs inspired by the Old Testament (with a New Testament song as well) and sought to speak to religious audiences. I mostly covered Christian music and didn't know what to expect when I called her. I had images of the outspoken rebel shunning the mainstream in my mind and wondered if her hesitation and awkwardness might choke the life of what could be a nice normal conversation. It didn't.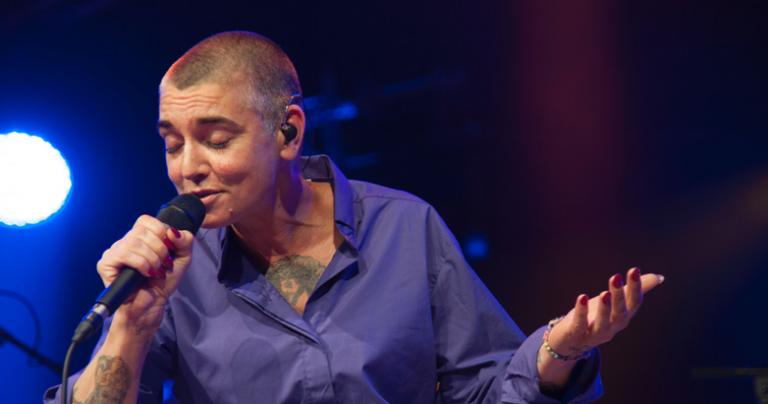 I had not done many international calls, so I got a calling card with its own 800 number and then all of these codes to put in. When we connected, Sinead asked if I could call her home phone in Dublin, since she'd been on her cell all day. In the meantime, she had a UPS delivery driver knock at her door and I thought, "This was one of the biggest singers of the 90s – Nothing Compares 2 U was a monster hit – and we're having a conversation." I was so intimidated, not just by star power but also by her reputation. So when I went to call on her land line, I couldn't get the codes right. She didn't give me the full number; just the last part. So I had to call back and say, "Sinead, I'm so sorry. I couldn't figure out the right number. Can you give me the whole thing with the area codes and all?" Then we reconnected and had a pleasant conversation. I'll never forget the one she said, "When I've done interviews with the Christian magazines, not one of them have asked me about that, they've been incredibly respectful. And I was very nervous because I know it's hard for the religious scene to accept somebody like me. But they've been so respectful and so nice and they don't ask you things that are upsetting or off the point."
What was the reason for releasing "Theology" on two discs, one live and one studio?
Doing shows over the last 20 years, I always do 15 minutes at the end of a show with just me and an acoustic guitar and the audience just goes nuclear. That was their favorite part of the show. I've been thinking for a long long time that's just guitar and voice. My own fan base would love that. I've also since I was a kid, been dying to do a record that was based around Scriptures. My favorite part of Scriptures is in the Old Testament, particularly the books of the prophets. The things I love about those books is that alone quality of the prophets, they have this lone-wolfish quality. It seemed to me that was very fitting for a record that would be one voice, one guitar. That's how I started putting together the songs for the acoustic record.
Then what happened was the guy who was producing the London end of the record, Ron Tomm, an English producer, he tracked me down in Dublin and begged me to demo some songs with him. The only songs I had were the ones I was doing for Theology. In my mind, it was just to see how we got on working together. The plan was for a future record. I said, 'let's work on a future record' and he literally burst into tears and begged me to let him make the record, but I had already started recording the acoustic record. I didn't want to let them down. My friend Ron would never have gotten over it.
Why did you choose to record 'I Don't Know How to Love Him?'
I was eight years old when I first heard that song and I thought 'That's my song.' When it came to do this record, I know I'm an Old Testament person, I really love it. I think it appeals to musicians, it's very colorful and dramatic. When we finishing the record, I realized I hadn't really touched the New Testament at all so I figured it would be good to pay some respect to the New Testament and then I remembered how much I loved that song. It's a lovely song and amongst religious songs, it's very unusual in that's it also just a love song. I love the idea of Jesus being just a man. That's what's so magical about Jesus is that at the end of the day he was a man.
What do you think about picking up a new Christian audience?
I'm so grateful for the opportunity of it, because really since I was a kid, that's the arena I wanted to work in. When you get into the music business you get dragged along this whole rock and roll course. What you want to do yourself often isn't paid attention to. For years, I was wanting to get out of the rock and pop arena and of course, all your business people are like 'no, you mustn't.' but they're making a living.
I've actually always wanted to work in the religious music arena. I actually came out of the rock and pop arena in 2003 and I was pretty disillusioned spiritually and in all kinds of ways after 20 years or so. I took time away from music altogether because I felt being in that business was destroying me spiritually. It's not an arena that cares about anything other than money. After five years, I wondered how to get back into music in a way that wasn't going to be damaging to me and that could actually be nurturing to me. The people I look to for guidance said to me 'look back at why you wanted to be a singer in the first place.' And what I wanted to do was records like this.
The long and short of it is I couldn't find the words to express how happy I am at the idea that I could work in the religious music arena. I actually have a lot to offer in that arena. It's an arena that can be nurturing to me and I can have a better sense of purpose. People want to be inspired by the work they do. One of my dreams is to one day be writing songs for church choirs. I'd love if one or two of the songs from 'Theology' ended up being sung in school choirs. One of the things I've been offered, which I'm thrilled about, is to do is the opportunity to do the song 'Something Beautiful' at the Crystal Cathedral. I've sung songs with everyone you could think of on earth but that is just the best thing!
It's been very interesting for me because I've been doing all this promo around this album, some rock and pop promo, and some religious promo. And when you do the rock and pop stuff, all they want to know about is any controversy and trouble and anything apart from music. When I've done interviews with the Christian magazines, not one of them have asked me about that, they've been incredibly respectful. And I was very nervous because I know it's hard for the religious scene to accept somebody like me. But they've been so respectful and so nice and they don't ask you things that are upsetting or off the point.
Can you talk about your religious upbringing?
I was born in Ireland in 1966 and at that time, Ireland was very much a theocracy. We had a version of Catholicism that was really different than other countries. The church really ran the country and people lived in a lot of fear of the church. Despite that, Irish people were very religious and loved God a lot. Personally, I never took on any of the negative aspects of Catholicism, I just took on the good aspects. The whole country was like a church, there were statues of Mary, pictures of the Pope.
Do you think the crossover climate allows for an easier transition for you to do this record? You do get asked (from rock-pop interviews) about why I would do this record. About three or four interviews were really angry about it, actually. That amuses me, why would anybody get angry with it? A lot of people have issues with religion and God. I suppose that's understandable in some ways. A lot of damage has been done and there's a cleanup job that needs to be done. Generally rock and pop media, though, they just care about the music.
Sinead recently appeared on the Late, Late Show with a beautiful arrangement of her most famous song. Watch it below: