In the new film "Journey to Bethlehem," releasing this week from AFFIRM Films, acting icon Antonio Banderas ("Puss in Boots," "The Mask of Zorro") stars as Herod, the "villain" in the nativity-themed story. The infamous historical figure is both menacing and comical in this version, but more than Herod's reputation, Banderas faced a challenge with Herod's big musical number.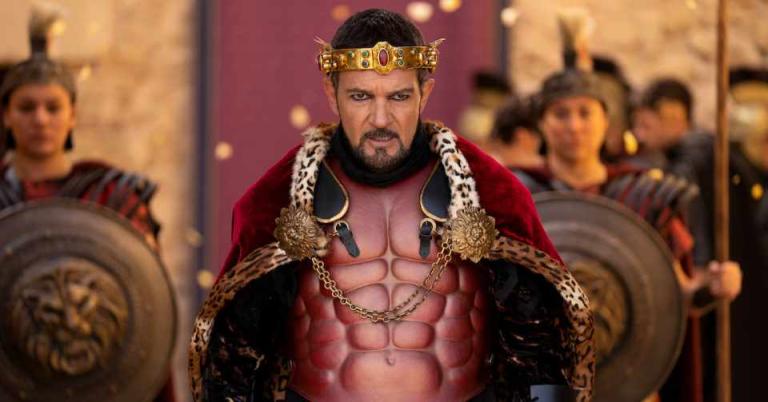 The actor, who's shared his vocals before in the film "Evita" and Broadway musicals such as "Nine," hesitated at first to tackle the anthem, "Good to Be King."  Rich Peluso, EVP and Head of AFFIRM Films, described the technique director Adam Anders and his brother Alex Anders used to help him accept the part.
"He came into the recording studio the weekend before and was doing pre-records of his song and some other stuff," Peluso said. "Adam and Alex, the music producer, got with Antonino and walked him through the song. When Antonio heard it, he said, 'Man, I'm never going to hit that high note at the end. It just won't happen.'"
The brothers told Banderas, "trust us" and proceeded to help him rehearse the song. When the time for the big moment came, he hit the note . . . but just barely.
"I wouldn't say he hit it really effectively, but he hit it," he said.
What Banderas didn't know, however, is that the duo had increased the song's register for the rehearsal. When he performed the actual song, it was right at his comfort level.
"Good to Be King" is one of many memorable songs in the pop musical, which Peluso said the project so distinct. As a music industry veteran with an ear for really good music, he said the soundtrack delivers and will appeal to a wide age group as a result.
"What I loved about Adam Anders, who was the visionary behind the story; he wrote the script and directed, was that there is dialogue and subtext about the betrothal of Mary and Joseph and the importance of Gabriel's message to Mary," he said. "What that meant to her family and how Joseph responded to it that are going to hit adults at a at a level. So, it's really going to play really well to, I would say, as young as five, but it's going to hit sweet spots with the eight to 80s."
"Journey to Bethlehem," directed by Adam Anders and starring Fiona Palomo, Milo Manheim and Antonio Banderas in with Joel Smallbone and Lecrae with music by Adam Anders, Peter Barsocchini, Nikki Anders and Peer Astrom, will release this week in theaters from AFFIRM Films.