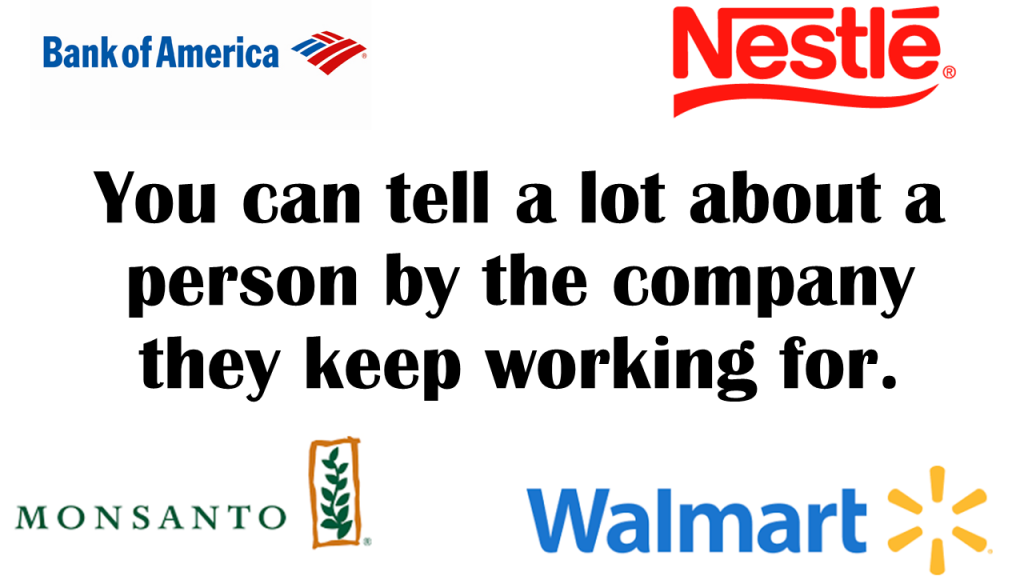 The phrase in the meme – "You can tell a lot about a person by the company they keep working for" – is inspired by a similar quip shared by Horace Jeffery Hodges on the blog Gypsy Scholarship. I really loved the way his mind worked, starting with the phrase "you can tell a lot about someone by the company they keep" and then seeing how a sting could be added to its tail by continuing the sentence.
In making the meme, I chose four companies that have made news headlines in relation to their unethical behavior. The risk of doing so, of singling out a few examples, is of course the possibility that some might think that I am exonerating others, or even affirming any particular accusations that have been made against these companies. That is not the case. And at any rate, it is not only the big corporations that do wrong, nor do all big corporations always by definition prove less ethical than others.
But ethics are a tangled mess. It is easy to criticize others who continue to remain employed where they are, and to never turn that critical gaze upon ourselves. And it is not necessarily the case, in my opinion, that simply working for a company indicates that one is complicit. If someone spent their career trying to change things from the inside, that person ought not to be criticized.
Also, some of you will recall that I have long wanted to write a book, perhaps titled A Year of Living Justly, but haven't pursued it precisely because I feel that I don't have the time or resources to genuinely trace the tangled web of injustice that connects me not just to where I work but to other companies, food, clothing, tech devices, and so much more.
And so let's just ask the question, assuming that the words on the meme are true. What does my place of employment say about me? What does your place of employment say about you? Please share your thoughts in the comments.