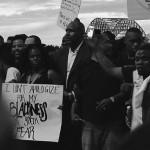 On Sunday July 10, 2016, in response to the deaths of Alton Sterling and Philando Castile members of law enforcement, about 5,000 people shutdown traffic on the Hernando-Desoto Bridge. After coming down from the bridge, they proceeded to march through downtown Memphis. Here is my reflection on that evening. 
I was tired. I had been up since two in the morning to catch a 5:15am flight back to Memphis. Once in Memphis, I followed through on all of my obligations I had planned that day. Once I completed those, which ran well into the evening, I looked forward to having dinner and going to bed early. However, after receiving several calls and checking my social media feeds, I realized something was happening in Memphis. Activists and protesters shut down the Hernando-Desoto (I-40) Bridge and chants of "Black Lives Matter" echoed everywhere.  When I finally arrived home, I knew I could not stay. As I watched news reports of the protest, there was no way I could have stayed home. I was tired; I was hungry; but I needed to be there.
When I finally arrived, many of the protesters were coming down from the bridge and preparing to march throughout downtown. The people were organized and energized and the energy exhibited by these young people somehow energized me. No longer did I think about my early flight. No longer did I think about all I had to do that day. No longer was I feeling tired and somehow my hunger pains left me. What I witnessed and what I was a part of was a historic day in Memphis. Not since the marches of the 1960s have these many people protested and march downtown for civil rights in Memphis. With an estimated 4-5000 plus protesters, many having nothing but a body, voice and a sign, they found strength in the past; along with unity, mission and purpose in the present; to join with thousands of others around the country to march against injustices happening to black bodies all over the country.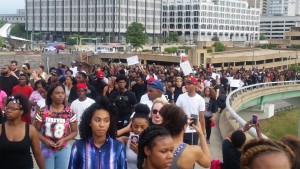 However, the Memphis protest did differ in some aspects than the other protests around the country. First, we did not have the arrests and police intimidation that fellow protesters had in Baton Rouge. The community, still grieving over the killing of Alton Sterling, who an officer shot four times in the chest as he laid flat on his back, had to put up with a militarized police force that prompted one protester to tweet, "This is not Baghdad, it's #BatonRouge."  Activist DeRay McKesson, who eventually was one of the ones arrested in the Baton Rouge action, tweeted prophetically before his arrest "If anything happens tonight, it was caused by the police."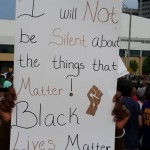 Thankfully, Memphis did not get to that point. What was so shocking to some was that many thought with those many people, surely something would have gotten out of hand. Surely, someone would have let their frustrations get the best of them and chaos would have reign supreme. Memphis did not turn "violent" but it could have. Like Baton Rouge, Memphis police came in riot gear, hands on weapons, a phalanx of officers, and the infamous Blue Crush Truck ready to smash any and everything in its way.
However, due to the leadership of both the protesters and Interim Police Director Michael Rallings, the Memphis Police department did not escalate tensions and protesters stayed with their plan of action. For his part, interim Director Rallings told officers to stand down and allow protesters to march. There were to be no arrests, no agitation, and no abuse from police as long as protesters marched. As for the protesters, while not wanting this to be another "Selma" did not initially want to come off the bridge. However, after getting assurances from the director that the police would stand down—and getting that confirmation from Director Rallings in a text message, protesters locked up and came down the bridge.
Secondly, it was not lost on many of the protesters that this direct social action came as we approach the one-year anniversary of the death of Darrius Stewart. On July 17, 2015, then officer Connor Schilling shot Stewart in front of one of the largest churches in Memphis. Stewart would die the next day. At the beginning, the response was immediate. We held vigils, rallies, protests and marches. At the time of the first vigil in response to the death of Stewart, and standing in a crowd of about 200 people, I believed at that time, a serious movement was taking place right here in Memphis. About that moment, I wrote:
I felt a movement taking place. A movement joining up with others who have been on the ground fighting for justice. A movement with high levels of social media activity; a movement where young people are finding their place in social justice activism; a movement that's both new and old at the same time; a movement right here in Memphis.
Needless to say, I was disappointed. After the death of Darrius Stewart, after an investigation by the Tennessee Bureau of Investigation and promises of transparency; after the Grand Jury's decision not to indict Schilling; and even after Schilling retired from the force for "post-traumatic stress disorder" and received lifetime disability payments from the City of Memphis; through it all, we still continued to protest and march. But those protests did not have the same feel, flavor, or force as the original vigil had when I was so hopeful. In my frustration, I wondered aloud, "Do We Even Care?" It seemed as if many of us did not care while others just resigned themselves to believe that change would not come.
But something happened Sunday night. Sunday night, folks were upset and frustrated. Sunday Folks were tired of seeing black bodies laid out on hot pavements riddled with bullets. On what many consider a sacred and holy day, folks of all colors, ethnicities, and orientations; filled with righteous indignation, instead of shooting or destroying property—they took to a bridge and resurrected the movement here in Memphis, Tennessee. Little did I know that it would take almost a year since the death of Stewart and according to killedbypolice.net the deaths of 1,169 other citizens at the hands of police for the movement in Memphis I had envisioned to materialize. As a good friend told me, "Andre, just give it time." So I did and now I truly believe that our time is now. Regardless of what happens after this, Memphis will never be the same.
Andre E. Johnson is the Founder and Managing Editor of R3
Donate to the Work of R3
Like the work we do at Rhetoric Race and Religion? Please consider helping us continue to do this work. All donations are tax-deductible through Gifts of Life Ministries/G'Life Outreach, a 501(c)(3) tax exempt organization, and our fiscal sponsor. Any donation helps. Just click here to support our work.