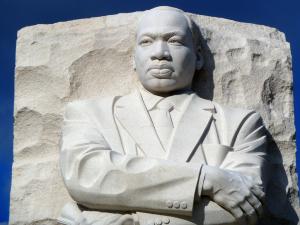 In the Spring of 2017, I taught a graduate seminar that focused on the rhetoric of Martin Luther King Jr. during the last year of his life. More specifically, we examined King within the African American prophetic tradition and placed special emphasis on his prophetic pessimism.
In this first panel, students presented versions of their final papers in the class for the Graduate Association of African American History Conference held at the University of Memphis. The title of this panel was From Riverside to the River City: The Prophetic Pessimism of Martin Luther King
Panelists:
Thomas M. Fuerst:
"King's Kitchen Calling: The Rhetorical Trajectory of the Rev. Martin Luther King Jr.'s Kitchen Table Experience."
Abstract:
This paper traces the rhetorical trajectory between the first and final accounts of Dr. King's kitchen table experience: the first is from his 1958 book, Stride Toward Freedom, and the final from his 1967 sermon, "Why Did Jesus Call a Man a Fool?" In this paper, I compare and contrast these accounts, nearly ten years apart, to demonstrate how King utilizes the kitchen table story in an etiological way: The sermonic version of the narrative tells us more about King's disposition and experiences in 1967 than it does about his disposition and experiences during the actual historical events.
Jonathan Smith:
"Synecdoche, Ideology, and Enduring Struggle in Martin Luther King Jr.'s Speech, 'Honoring Dr. DuBois'"*Second Place in the Memphis State Eight Top Paper Prize

Abstract:
In the course of this essay, I perform an ideological criticism of King's speech "Honoring Dr. Du Bois" and argue that it served a dual function: (1) it provided a laudable eulogy for Dr. Du Bois, and (2) it used Du Bois' narrative as a vehicle to illustrate King's current ideology in 1968 America. In prior years, King's rhetoric seemed to express optimism and a vision for achievable progress and change; however, "Honoring Dr. Du Bois" demonstrates a shifting, more pessimistic ideology regarding the prospects for change.
Anthony Jerome Stone Jr.:
"Martin Luther King Jr., Was NOT America's Negro: The Forgotten Rhetoric of MLK: An Analysis"
Abstract:
In this essay, I examine the ways in which King's rhetoric in the last year of his life was considered radical to most of his contemporaries. I also hold that while King is celebrated today for his seemingly or supposed color-blind, equality based rhetoric, he, in fact, would be just as radical to the philosophies of mainstream culture today. In agreement with Anthony Cook (1990), I believe that in the last year of his life King began a campaign against hegemonic forces and became committed to the reconstruction human life based on ideals such as equality and peace, based on Christian teachings. (In examining King's last year, I shall chronicle several of his last speeches in which he speaks out against (the fallacies of) white hegemony—the political elitism and institutional racism of America and the Johnson administration and foreign policy; violence and war (the war in Vietnam), and the redistribution of economic resources—poverty and the treatment of workers. As a key component of these speeches, King focuses much more on race than modern fans would have imagined.
Commentator: Dr. Andre E. Johnson, University of Memphis