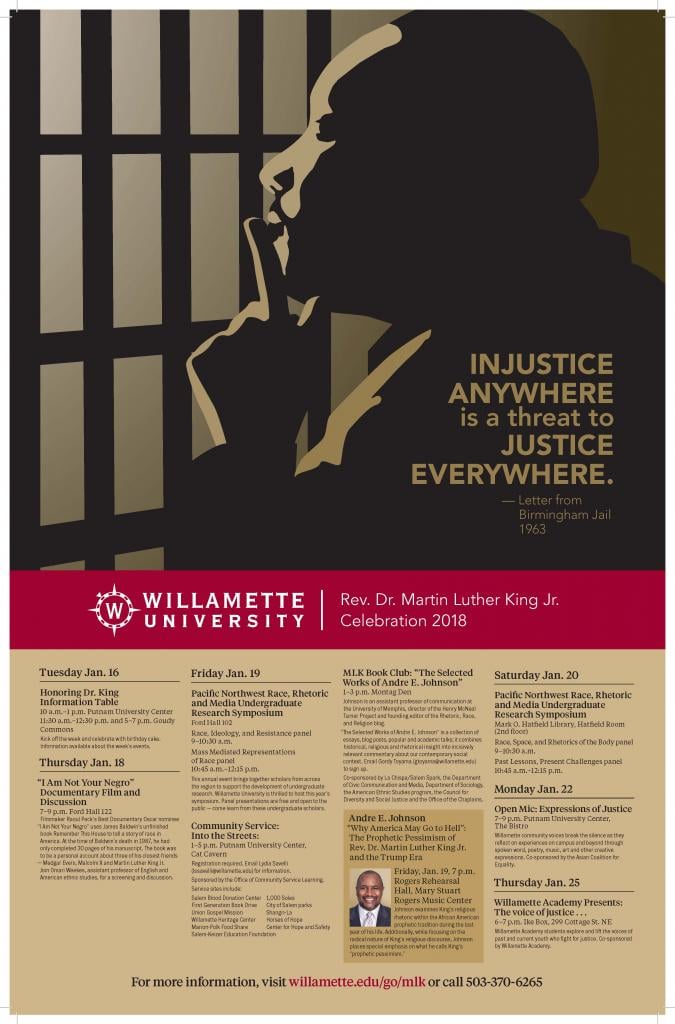 We are pleased to announce that the Founder and Managing Editor of the R3 blog, Andre E. Johnson will give the keynote address at the MLK Celebration on Friday evening, January 19, 2018, at 7 pm on the campus of Willamette University. The title of his talk is "Why America May Go To Hell": The Prophetic Pessimism of Martin Luther King Jr. and the Trump Era." Below is the abstract of the talk. For more information on other events, click here.
Abstract
Many people today believe that King was a Utopian dreamer who led a few approved and sanctioned marches. Biblical scholar Obery Hendricks argues that "we have hollowed the boldness of Martin Luther King by hallowing him into America's apostle extraordinaire of "Kumbaya" and teary-eyed hand holding while writer Jamil Smith maintains that even King Day celebrations "while comforting and inspiring, lulled the American public into a lionization of a complicated man whose advocacy for economic justice and labor-and against war-are not always part of the story. Further, social commentator Charlene Carruthers writes that today there is a "very sanitized, hero, peaceful, non-critical depiction of Dr. King.
In this talk, I challenge some of these contemporary embedded narratives by examining the more radical King. Specifically, in this presentation, I examine King's religious rhetoric within the African American prophetic tradition during the last year of his life. Additionally, while I focus on the radical nature of King's religious discourse, I place special emphasis on what I call King's "prophetic pessimism." Moreover, by adopting a prophetic persona of a pessimistic prophet during the last year of his life, King constructs a "rhetorical theology"; a contextual theology constructed with the aim to persuade through argument and/or conviction. In so doing, King is able to vision the Poor People's Campaign grounded in a theological presupposition that places "the most vulnerable" at the center of the campaign. I close by arguing that an understanding of King's radical vision during the last year of his life offers insight and give lessons to us today as we deal with the Trump Era.
Donate to the Work of R3
Like the work we do at Rhetoric Race and Religion? Please consider helping us continue to do this work. All donations are tax-deductible through Gifts of Life Ministries/G'Life Outreach, a 501(c) (3) tax-exempt organization, and our fiscal sponsor. Any donation helps. Just click here to support our work.