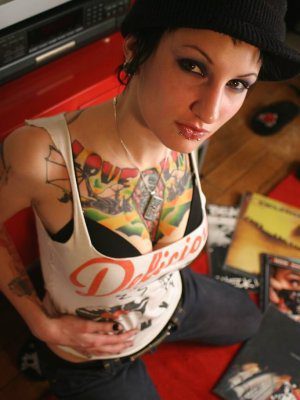 A punk rock band should do a song based on Mary's "Magnificat"
(the song she sung according to Luke 1:46-55).
In the New Testament Mary's real name is Miriam which literally means "their rebellion." She and her people had a lot to rebel against. The Roman Empire oppressed it's subject nations and was particularly hard on a nation on its far eastern Palestinian fringes. Israel/Judaea was a strongly monotheistic people and they resisted revering Caesar as God or Son of God and the stiff boots of the pax Romana laid heavy on their necks. Taxation was excessive and work for Roman construction projects was back-breaking and took the lives of many. Their king was a puppet installed by Rome and many of their religious leaders colluded with the Empire. It was in this socio-political context that an angel visited Mary and informed her what God was planning. But rather than resisting, she conspired to be part of Yahweh's holy, mischievous plot. She said yes – in order to be a part of a bigger rebellion.
Knocked-up, teen-aged, not yet married Mary was the first punk singer and the first rock & roller. When she learned that she would bear the Christ-child, she sang a song. It was a song of praise. It was a song of protest. And it wasn't timid, it was raucous.
She celebrates that God is about to do something new in the world. She celebrates that God is about to turn the world upside-down, knock the wealthy oppressors off their pedestals, lift up those who've been oppressed, and usher-in a new reign of social justice and reconciliation. Talk about a "pussy riot."
Here are the words to that subversive song:
"My soul glorifies the Lord
and my spirit rejoices in God my Savior,
for he has been mindful
of the humble state of his servant.
From now on all generations will call me blessed,
for the Mighty One has done great things for me—
holy is his name.
His mercy extends to those who fear him,
from generation to generation.
He has performed mighty deeds with his arm;
he has scattered those who are proud in their inmost thoughts.
He has brought down rulers from their thrones
but has lifted up the humble.
He has filled the hungry with good things
but has sent the rich away empty.
He has helped his servant Israel,
remembering to be merciful
to Abraham and his descendants forever,
just as he promised our ancestors."
(I like to imagine that it sounded a bit like the end of  What's Going On by 4 Nonblonds)

After her son Jesus grew up and got baptized by his prophetic (and somewhat nutty) cousin John, he went back to visit the synagogue in his hometown of Nazareth and fulfilled what his mother had sung about 30 years before
…He stood up to read, and the scroll of the prophet Isaiah was handed to him. Unrolling it, he found the place where it is written:
"The Spirit of the Lord is on me,
because he has anointed me
to proclaim good news to the poor.
He has sent me to proclaim freedom for the prisoners
and recovery of sight for the blind,
to set the oppressed free,
to proclaim the year of the Lord's favor."
(that last bit refers to the Year of Jubilee which involved the redistribution of wealth and property, see: Isaiah 61:1,2 & Leviticus 25)
Then he rolled up the scroll, gave it back to the attendant and sat down. The eyes of everyone in the synagogue were fastened on him. He began by saying to them, "Today this scripture is fulfilled in your hearing." (Luke 4:16-21)
Jesus and his message were so radical that he nearly got thrown off of a cliff immediately afterward (Luke 4:29). The wealthy land-owners who had come to possess the lands of many indentured servants were who was likely "in church" that day — the indebted peasants were likely resting their weary bones from having worked in the fields the previous 6 days. Frankly, Jesus is lucky to have squeezed in 3 years of truth-telling and ministry before the Romans nailed him to a cross.
Mary is sometimes referred to as "Theotokos" – the "mother of God."  I submit that Mary is also "Punkotokos" – mother of all rebels with a cause. I could elaborate about "this cause" that we're invited to be a part of but I don't feel like preaching. Suffice it to say it has something to do with loving enemies, feeding the hungry, clothing the naked, tending to the sick, visiting those in prison (Matthew 25:35-36), and proclaiming that a counter-cultural peasant who taught assertive non-violent resistance and was executed is Lord – and that Caesar (a euphemism for the worldly powers that be) isn't. As AC/DC put it, "For those about to rock, we salute you!"  Whether or not you consider yourself a Christian –  Let's Rock People.
—
p.s. our Jewish friends have every right to suggest that Hannah was in fact the first punk rocker via the song she sang in celebration of God similarly intervening and reversing the order of things in an earlier era. Indeed, Christians are only able to fully appreciate the writings and references in the New Testament – to the extent that we're familiar with the Hebrew scriptures.
This blog is a revised version of a blog that I originally posted on Elephant Journal and on Patheo's Faith Forward blog.
xx – Roger
Rev. Roger Wolsey is an ordained United Methodist pastor who directs the Wesley Foundation at the University of Colorado at Boulder, and is author of Kissing Fish: christianity for people who don't like christianity