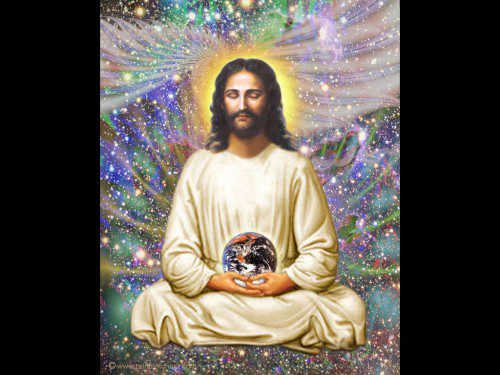 I recently stayed awake all night pondering Jesus' farewell address, especially his prayer to God on behalf of the rest of humanity, in John chapter 17. I've been reading it with fresh eyes and my. mind. has. blown.
…"Father, the hour has come. Glorify your Son, that your Son may glorify you. 2 For you granted him authority over all people that he might give eternal life to all those you have given him. 3 Now this is eternal life: that they know you, the only true God, and Jesus Christ, whom you have sent. 4 I have brought you glory on earth by finishing the work you gave me to do. 5 And now, Father, glorify me in your presence with the glory I had with you before the world began.

    6 "I have revealed you to those whom you gave me out of the world. They were yours; you gave them to me and they have obeyed your word. 7 Now they know that everything you have given me comes from you. 8 For I gave them the words you gave me and they accepted them. They knew with certainty that I came from you, and they believed that you sent me. 9 I pray for them. I am not praying for the world, but for those you have given me, for they are yours. 10 All I have is yours, and all you have is mine. And glory has come to me through them. 11 I will remain in the world no longer, but they are still in the world, and I am coming to you. Holy Father, protect them by the power of your name, the name you gave me, so that they may be one as we are one. 12 While I was with them, I protected them and kept them safe by that name you gave me. …
   13 "I am coming to you now, but I say these things while I am still in the world, so that they may have the full measure of my joy within them. 14 I have given them your word and the world has hated them, for they are not of the world any more than I am of the world. 15 My prayer is not that you take them out of the world but that you protect them from the evil one. 16 They are not of the world, even as I am not of it. 17 Sanctify them by the truth; your word is truth. 18 As you sent me into the world, I have sent them into the world. 19 For them I sanctify myself, that they too may be truly sanctified.

    20 "My prayer is not for them alone. I pray also for those who will believe in me through their message, 21 that all of them may be one, Father, just as you are in me and I am in you. May they also be in us so that the world may believe that you have sent me. 22 I have given them the glory that you gave me, that they may be one as we are one— 23 I in them and you in me—so that they may be brought to complete unity. Then the world will know that you sent me and have loved them even as you have loved me.
   24 "Father, I want those you have given me to be with me where I am, and to see my glory, the glory you have given me because you loved me before the creation of the world.

   25 "Righteous Father, though the world does not know you, I know you, and they know that you have sent me. 26 I have made you known to them, and will continue to make you known in order that the love you have for me may be in them and that I myself may be in them."

 
In that prayer, past, present, and future are melded together, and so are life, death, and resurrection,
– and so are Jesus, God, and the rest of us.
I've come close to grasping this before (I've even mouthed the words), but never so fully.
Others have "gotten" this before me.
Interdependence is and ought to be as much the ideal of man as self-sufficiency. Man is a social being. Without interrelation with society he cannot realize his oneness with the universe or suppress his egotism. His social interdependence enables him to test his faith and to prove himself on the touchstone of reality. Mahatma Gandhi, Young India, 1929
When we try to pick out anything by itself, we find it hitched to everything else in the Universe. John Muir, My First Summer in the Sierra, 1911
..for many of our white brothers, as evidenced by their presence here today, have come to realize that their destiny is tied up with our destiny. And they have come to realize that their freedom is inextricably bound to our freedom. Martin Luther King Jr., I have a dream, 1963
Moreover, I am cognizant of the interrelatedness of all communities and states. I cannot sit idly by in Atlanta and not be concerned about what happens in Birmingham. Injustice anywhere is a threat to justice everywhere. We are caught in an inescapable network of mutuality, tied in a single garment of destiny. Whatever affects one directly, affects all indirectly. Never again can we afford to live with the narrow, provincial "outside agitator" idea. Anyone who lives inside the United States can never be considered an outsider anywhere within its bounds. Martin Luther King Jr., Letter from Birmingham Jail
Independent thinking alone is not suited to interdependent reality. Independent people who do not have the maturity to think and act interdependently may be good individual producers, but they won't be good leaders or team players. They're not coming from the paradigm of interdependence necessary to succeed in marriage, family, or organizational reality. Stephen Covey, Seven Habits of Highly Effective People
So I see now that when the Beatles sang
"I am he as you are he as you are me and we are all together…
..Sitting on a cornflake, waiting for the van to come.
Corporation tee-shirt, stupid bloody Tuesday.
Man, you been a naughty boy, you let your face grow long.
I am the eggman, they are the eggmen.
I am the walrus, goo goo g'joob."
they really meant it!
We are literally – One.
God is in us and we are in God. And this is true for all that is… including cornflakes, t-shirts, blood, Tuesdays, faces, eggs, eggmen, walruses, sense, and nonsense.
At our most basic, literally essential selves, we, the world, everything – kosmos – are "star-stuff"
(bless you you utterly theistic atheist Mr. Carl Sagan).
We are simultaneously atman and brahman. We are a grand unified string field and ocean of cosmic intelligence. The One "in Whom we live, move and have our being," (Acts 17:28) lives in us … is us. As Paul put it, "it is no longer I who live, but Christ who lives in me" (Galatians 2:20). Jesus prayed that we would all enjoy and know the same intimacy and union that he and God enjoyed.
We access it through love — and God is love — by loving, being loved, making love, and being love.
This is true religion (from the Latin religare meaning "to bind together"), this is pure yoga (from the Sanskrit meaning "to yoke (yolk 😉 /attain union").
Let's awaken into our true divine walrus selves.
May this be so. Amen. Amin. Blessed be.
Namaste (that which is most essential and divine in me greets & honors that which is most essential and divine in you) y'all.
xx – Roger

(walrus, i mean Jesus, i mean us, in cobra pose)
p.s. If this is true, and I think it is,  this has implications for how we live — including our relationships toward ourselves, others, God, animals, our buying habits, and the environment.
So in everything, do unto others what you would have them do unto you, for this sums up the Law and the Prophets. Jesus, Matthew 7:12

Whatever you did for one of the least of these brothers[sisters] of mine, you did unto me. Matthew 25:40

Love each other as I have loved you. John 15:12

Rev. Roger Wolsey is an ordained United Methodist pastor who directs the Wesley Foundation at the University of Colorado at Boulder, and is author of Kissing Fish: christianity for people who don't like christianity
Click here for the Kissing Fish Facebook page