Happy Year of Faith, everyone!
On Monday, I think I raised some eyebrows when I expressed my fear of Latinos becoming "white." For the record: as proud and attached as I am to my Texican Hispanic heritage, I wouldn't mind being any number of other ethnicities — so long as they're Catholic. (As I've pointed out, until recently, Catholics have been excluded from being considered white.) My fear is not principally racial; it is cultural and religious.
Catholic culture is what I treasure and love. The folklore, the pageantry, and perhaps above all: the food.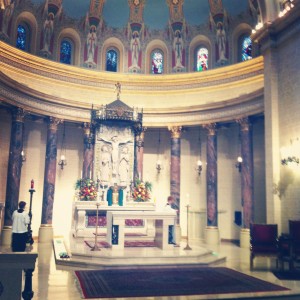 The Eucharist is the source and summit of our faith, of course. It is mystical, extraordinary food."Give us this day our daily bread." Ordinary food is important too, an everyday sacrament. Physiologically speaking, the two share gastronomic territory.
There is something eucharistic and liturgical about everything, but especially eating; and even more so while eating in a Catholic cultural environment, sharing a meal together in Catholic space and time. The Mass brings us to the altar: a table. There is sacred dining ware used and purified afterwards, so on and so forth, you get the point. Even through fasting we eat by not eating. In this sense, food is ubiquitous.
Food is intertwined with faith; together they weave a rich and thick tapestry of Catholic culture. Real life. Delicious. Tragic. This culinary sense of faith is something we cannot miss as we begin the Year of Faith.
A quick testimony: about a month ago, my wife and I took our boys to Holy Cross Catholic Church — the home parish of her paternal grandmother and late grandfather — for their annual Polish dinner and festival in Minneapolis. It was wonderful! (I took these pictures there.)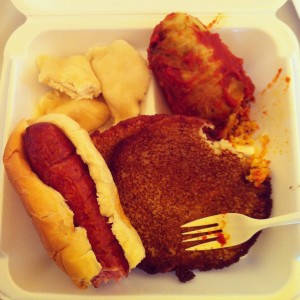 We began with Saturday evening Mass. "In the name of the Father, the Son, and the Holy Spirit." Before the final blessing, the celebrant (and pastor) invited everyone to exit to the outside tents behind the sanctuary, and it seemed like everyone accepted. After Mass, Mass carried on.
Out of the church doors, down the sidewalk, and into a giant tent we processed. Beer cans were cracked opened and libations began to flow, polka music was brewing, gambling slowly began at the pull-tabs table, and the sublime, singular aroma of kielbasa sausages, potato pancakes,  pierogi, and gołąbki incensed the whole block, sanctified it, and made us holy. And hungry. I don't think we even prayed before we ate (maybe just a quick sign of the Cross) — we had just come from Mass — the line was long and slow, the food was good and hot, we ate like animals once the styrofoam hit the table, whilst the accordions began to blare and the drums and bass kept a bouncy, flavorful rhythm. Dancing ensued.
In blessed, folkloric spaces and moments such as these, I feel Catholic. All the way down to my flesh and bones. I am at home and at ease. Happy. I may not recognize the racial or ethnic elements, but my Catholic soul knows that it's at home, across from the Mexican street where I grew up. In the same, universal neighborhood. The Church.
We stayed until dusk, eating and playing games and wasting money on something that money cannot buy: Catholic culture.