One of my favorite Christmas traditions is seeing all the Christmas lights. When my son was young we went to Temple Square often to see the incredible display of lights they always put on. It's awe-inspiring! One year we found a new thing called Giving Machines at Temple Square. My son was really into goats at the time, and we got a kick out of gifting someone a baby goat.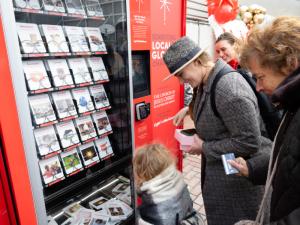 Well, guess what?! Those Giving Machines that were a hit with us have become a hit all across the world! And this year they are showing up in more places than ever. For the 7th holiday season in a row, charitable giving will once again be as simple as buying a soda or candy bar.
In less than a minute, you can use the vending machine-like Giving Machines to purchase items ranging from chickens and goats, blankets, hygiene kits, solar lamps, a hot meal for someone in need, polio vaccines, school desks, and even a community well.
We had fun as a family deciding what to give. And it's a wonderful way to teach your children how to give back. So many in the world benefit from the Giving Machines.
Giving Machine Impact
I found this inspiring video about the impact of the donations from the Giving Machines all around the world. For us, it was a fun thing to donate a goat to someone. But those who have received the donations have used them to build businesses, support their families, and lift entire communities. I'm thrilled that we got to be a small part of such a life-changing gift.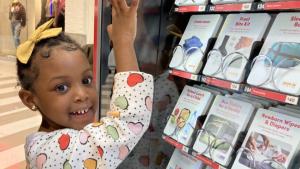 These Giving Machines have generated more than $22 million for charities since 2017. And they are expanding to 41 U.S. cities (and 14 international cities) in 2023 (nearly double the number of cities vs. 2022), marking the largest footprint ever for the campaign. 
You can donate anything that is comfortable for you. Items for purchase typically range from $7 to $200 and include everything from livestock (chickens, goats, and pigs), water purification tablets and irrigation supplies, polio vaccines, groceries for a family, clothing, and supplies for homeless shelters (coats, scarves, gloves, blankets), school supplies for at-risk kids, and soccer balls for youth programs. Here's a fun hack. Patrons can type in 777 to purchase one of everything in a machine.
Local and International
Each city's Giving Machines contain items for "purchase" from three international charity partners (such as UNICEF, American Red Cross, Care, WaterAid, etc.) and three hometown charity partners to benefit the local community allowing folks to either help their neighbor around the corner or a stranger around the world. 
For the first time ever, this year's campaign will officially kick off in Times Square on Monday, Nov. 27 at 11 am (on the eve of "Giving Tuesday"); the majority of the Giving Machines across America will "open for business" on Giving Tuesday. So if you are in the area, I encourage you to participate! Leaders from each of the charities benefiting from the Giving Machines will be there and share inspiring messages.
How to participate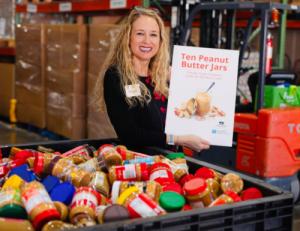 Where else will the Giving Machines be you ask? Here is an interactive site to show you where to find the machines in the US and all around the world. And if you prefer to donate online, that is available too! Beginning November 13, 2023 (it's already live) you can give online. 
The Church of Jesus Christ of Latter-day Saints annually organizes this effort as an easy way for people to make donations to vetted local and global charities during the holidays. All transactions benefit charities not associated with the Church, which covers all operational costs (including credit card fees), ensuring that 100% of every donation goes to the giver's desired charitable cause.
Who is involved
More than 250 local and global nonprofits are participating this year — more than all previous years combined. Below are the global nonprofits:
African Girls Hope Foundation
American Red Cross
Care USA
Care Canada
Church World Service
iDE
Lifting Hands International
Mentors International
UNICEF Australia
UNICEF Canada
UNICEF USA
WaterAid
Are you still here? I'm so glad! As I have learned more about the scope and depth of the mission of the Giving Machines, I am so inspired. Jesus Christ gave us the ultimate gift in His atonement. And to give to others as we commemorate His birth warms my heart. I am so grateful for so many good organizations around the world that seek to lift people and give them opportunities to grow. Donating to the Giving Machines is one way I can make a global difference. And that is something worth celebrating all year round.